Movie Night Inspires Basement Flip
Homeowners Tom Price and Julie Bitton transform their dated downstairs into a movie-inspired media room filled with vibrant orange, geometric patterns and surround sound.
When Dr. Tom Price and fiancé Julie Bitton, a TV producer, bought their 3,000-square-foot, three-story townhouse in the Toco Hills neighborhood of Atlanta, Julie immediately put overhauling the basement as the number one project on their to-do list. "There was no way I'd ever watch movies in the space as it was," Julie says. "It was stuffy and dark and felt like something out of A Nightmare on Elm Street."
From the start the couple knew that the space needed to serve as a comfy place to watch movies and TV, plus serve as computer area for Julie where she could keep up with the latest production trends and store DVDs of her latest projects. As far as what they watch for leisure, Tom is a huge fan of action and sci-fi. "My mostwatched movie is, hands down, Raiders of the Lost Ark," Tom says. "Next in line is anything Star Wars." As for Julie, she's all about locale, noting: "I'm French and Moroccan and I love movies set in Paris or Morocco. Amelie is probably by all-time fave, followed by Casablanca."
In its original state the basement had beige wall-to-wall carpet, putty-colored walls and dated black millwork. Julie says, "The black trim and built-ins made the space feel heavy and stuck in the 1980s. I told Tom from the start that the black accents would be the first to go."
Aside from just looking outdated, the space presented several logistical challenges that made it almost unusable. "The existing lighting plan was just not going to give off enough light. The basement simply had one flush-mount fixture which kept it way too dim," Julie explains. "I need to do work in there and it's hard to work without any light." The couple was quick to have the existing wall-to-wall the carpet torn out and replaced with laminate flooring. The new floors needed to be durable enough to keep up with Julie's 3-year-old nephew, Ari, who spends a lot of time watching movies with her and Tom.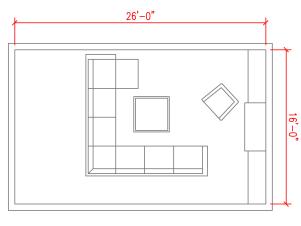 With the exception of the custom built-in, the basement had no set space plan. To maximize the space, Julie and Tom created one area for watching movies and another for enjoying meals or playing board games.
In addition to addressing lighting and flooring concerns, Tom and Julie created a full to-do list:
Lightening up the space with paint
Adding and relocating electrical outlets and switches
Installing speakers into the ceiling
Managing wires for cable and Internet access
Planning the space to accommodate peninsula-shaped seating for six
Creating a separate space with a table for dining or playing board games
Julie and Tom decided to set a timeline of less than two weeks and hired local contractor John Sluss to tackle all projects.
Rather than tear out the carpeting first, the couple decided to make the first step to paint. "We decided to paint while the carpet was still down because it allowed our painter to spill or drip without having to worry," Julie explains. "I'd never really thought about painting before tearing up old floor, but it really did make the most sense."
While many homeowners would choose dark paint in a theater space to create a cavernous feeling, Julie and Tom needed the space to also function as an office. They opted to make the space brighter by using a light gray Benjamin Moore shade called First Snowfall on the walls and ultra-white semigloss on the trim and millwork. A lighter color scheme made the space more welcoming and also allowed Julie to get her video-related work done efficiently when using the area as a viewing station.
While neither Julie nor Tom claim to have a handy gene in their bodies, both are excellent with planning and organization. This is evident largely in the fact that the entire basement viewing room update came to $5,000 and was completed in only 10 days, four days short of their goal.
"Thanks to the floating laminate floor from IKEA, our cost was only $1.15 per square foot and since it was so easy to install, our contractor had it down in a day and a half," says Julie. "When I told people we were getting a brand-new floor for less than $1,500 installed, they didn't believe me."
IKEA was also the couple's source for the peninsula-shaped sectional, a reconfigurable budget-saver that only set them back $1,400. Julie and Tom both agreed on the peninsula shape not only to maximize the number of guests to sit and watch movies with, but for the possibility of using the furniture in a different room in the house should they decided to replace it with theater seating later on.
"We really couldn't find any theater seating styles we liked," Julie says. "The ones that were comfortable didn't look so great. The ones that were stylish weren't all that comfy." Julie opted for sofas instead of chairs since she likes to sprawl out when relaxing to a movie.
Julie and Tom decided to save more money by sticking with Julie's 42-inch flat-panel TV from her previous home instead of splurging on the more popular and higher-priced 63-inch models. Julie says, "We planned the space so that we were only sitting about six feet from the screen. There was really no need to go gigantic with our TV. But now that we're using the space, I really do wish we would have gone a bit bigger. Not necessarily for my movies but more for Tom's. Action and sci-fi have a lot more bang! kazam! boom! and pow! on a big screen."
Determined to put all of the generous square footage of the basement to good use, Julie and Tom assigned the remaining space behind the sectional some pre-movie-viewing purpose. The couple brought in a round pedestal-base table with a 42-inch top that would easily accommodate four. Julie says, "My sister, Natalie, and my nephew, Ari, come over a lot to hang with Tom and I. Before we watch movies, it's nice to eat dinner at the table and save the candy and chocolate for the main event." To add some movie flair to the space, Julie hung a black-and-white print of Frank Sinatra mounted on foam core just behind the table. She incorporated her favorite actress, Audrey Hepburn, just a few feet away in the form of a canvas print hung above a modular orange sideboard.
With the flooring installation and furniture layout complete, Julie and Tom turned their focus to customizing the electrical and updating the back wall of their built-in. Julie says, "There were switches in odd places when we first moved in. To make it easier to turn everything on and off, we have one designated switch on the wall when you walk in. Now instead of having to walk across the room to turn on lights and media components, it's done instantly."
In addition to new switches, the room is now complete with theater speakers incorporated into the ceiling. Once the electric and audio/visual elements were tackled, Julie thought the walls behind the custom built-ins seemed bare, so she chose a geometric wallpaper in dark brown and silver to pick up on the dark tones of the floor.
Now that the project is complete, Julie's only regret is not having gone with a flat panel with a larger screen. "It works for now but I have a feeling we'll be updating to something bigger and better in the near future," the producer adds, "But for now, we're happy." And with an entire remodel as good looking as theirs for only $5,000, there's plenty to be happy about.