Upcycle Old Pallets Into Colorful Planter Boxes
Old wood pallets are a great (and often free!) source of weathered lumber – perfect for upcycling into a rustic planter box. Paint the slats in watery shades of blue and green for a beachy update.
old wooden pallet
wood screws
circular saw
drill
hammer
measuring tape
pencil
foam paintbrushes
exterior paint
4 heavy-duty casters
medium- or coarse-grit sandpaper
Using your circular saw and hammer, pull apart the pallet. Set aside the planks, removing any rusty nails. Cut the internal frame of the pallet apart, leaving clean cuts, so those boards will be easier to work with later.
Measure, mark and cut your planks to the desired height for your planter, using a chop or circular saw (Images 1 and 2). Lay them side by side, to determine the width of your planter, as well. Our planter has 4 planks per side (Image 3).
In the previous step, while your planks are laid out side by side, mark and measure for the internal brace boards (Images 1 and 2). These will hold the planks together. For two sides of the box, these boards will span all the way across. For the box's other sides, you'll need to leave a 1/2" gap on the sides (Image 3). This ensures that when you later assemble all four sides together, they'll fit snuggly.
Attach the brace boards to the planks using wood screws. Repeat for each side of the planter box (Images 1 and 2).
To assemble, butt the sides together and secure using long wood screws at the top and bottom (Images 1, 2 and 3).
You'll need support boards to run across the bottom of the planter box to hold the plant. Mark, measure and cut two boards using scrap from the pallet frame that are long enough to span the bottom of the planter box (Image 1). Flip the planter box upside down, line up the boards on the bottom and secure using wood screws (Image 2).
Adding casters to the bottom makes it easy to move the planter around. While the box is flipped over, simply line up casters in each corner and secure with supplied screws, using a drill.
Finally, using exterior paint, add some color to your planter box (Image 1). Paint it all one color or paint planks in alternating shades for a beachy-chic look. Hit the boards a few times with a medium- or coarse-grit sand paper for a more weathered look (Images 2 and 3).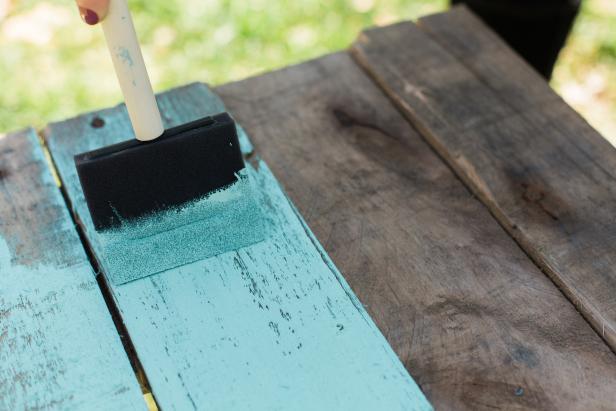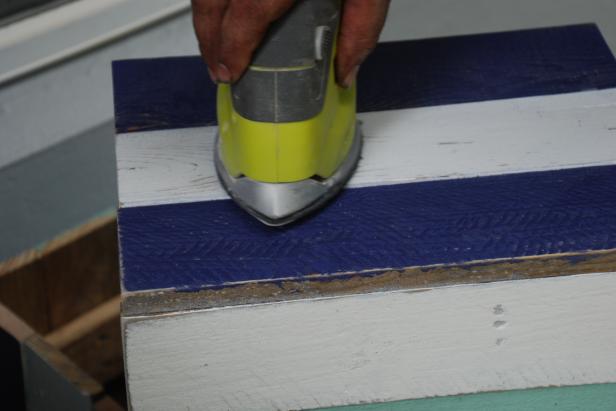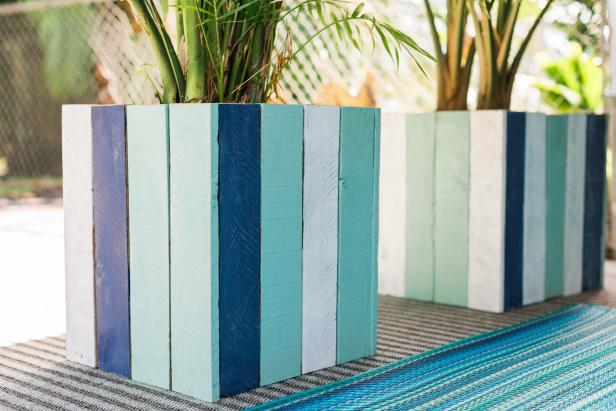 © Rustic White Photography, LLC