Is Heat-Treated Wood Safe for Gardening?
Get the facts about heat-treated wood, a safe alternative to pressure-treated wood, and find out how it can be used in the garden.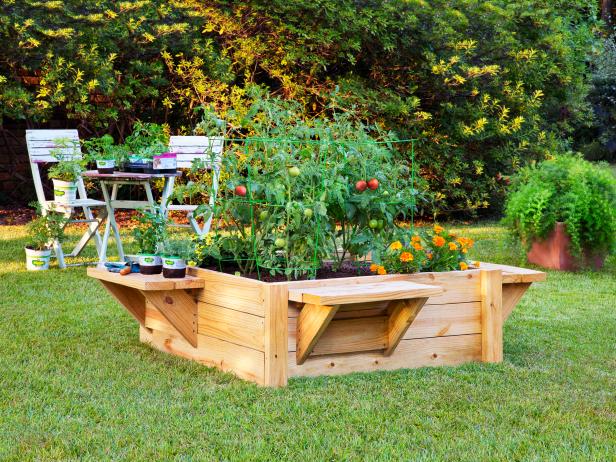 Raised Bed with Benches
Attached benches make it easier to tend your plants, especially if you have bad knees or a painful back, and this raised bed is higher than most. If you have moderate woodworking skills, you can build it in a few hours with plans from Bonnie Plants.
"Heat treated" refers to lumber that has been specially treated to kill pests and pathogens that may reside in wood. The process involves heating the wood to a core temperature of 56° C (133° F) for at least 30 minutes. A common use for heat-treated wood is for making packaging and shipping products (pallets, crates, skids and so forth) for international trade.
If your building project is more local – building a raised bed garden or a new compost bin in your back yard, for example – heat-treated wood is a good choice.
Heat-Treated, Kiln-Dried – What's the Difference?
Kiln-dried lumber is not the same things as heat-treated lumber. Wood is kiln-dried to reduce the moisture content by heating it in large oven rooms, or kilns. The wood is dried to reduce the weight and prevent excessive warping, but it is not sterilized.
Heat-treated lumber has gone through a strictly regulated sterilization process that eliminates any living organisms in the wood. After heat-treating, the wood is certified to be free of beetles, weevils, emerald ash borers and other insects, and pathogens such as Dutch elm disease.
You should be able to find heat-treated lumber at a local lumber supplier. Wood from certified manufacturers of heat-treated lumber are stamped with the letters "HT" along with other identifying marks and codes. If you have a source for old wooden pallets and plan to repurpose the wood to build raised beds or other garden structures, try to make sure they were built with heat-treated lumber, not pressure-treated lumber, which could contain substances that can leach into the soil of your raised bed.
Other markings you may see on the lumber you buy include the letters "KD," which stands for kiln-dried, S-P-F or SYP, indicating the species spruce, pine, fir, and southern pine. Markings may also include codes for the lumber grade, a certification marking, and the number or trademark of the mill where it was processed.
Other Materials to Use for Raised Garden Beds
When you're planning your garden, you have many options for framing raised beds. Here are a few to consider:
Wood is one of the most common material for use in raised beds. Untreated pine or spruce (whether heat-treated or kiln-dried) are good, inexpensive options. Unlike pressure-treated lumber, untreated or heat-treated wood contains no questionable chemical compounds that may leach into the soil within the bed. Untreated wood deteriorates more quickly in contact with soil and will have to be replaced, possibly every two to five years, though heat-treated wood may last a bit longer. Redwood and cedar are more rot-resistant and last longer, but are also more expensive.
Bricks can be stacked (with or without mortar) to form low walls for a raised bed. Stagger the bricks to make a stronger wall, and remember that the higher the bricks are stacked, the more likely they are to topple. The most convenient width for a raised bed is 4 feet, so that you can reach into the center from either side; the bed can be as long as you want it to be.
Rocks and Stones can also be stacked or arranged to create informal "walls" around raised beds and can be especially effective in a more free-flowing landscape design. They can easily be moved and rearranged to change or adjust the shapes of the beds.
Concrete Blocks are readily available and easy to use for framing raised beds. There is some concern that the blocks may, over time, leach lime into the soil and change the soil's acidity. It's a good idea to check the pH of your soil to assure optimum growing conditions.
More About Gardening in Raised Beds