25 Swoon-Worthy Outdoor Chandeliers for Every Design Style
Looking to light up your outdoor living or dining space? Check out these stunning outdoor light fixtures for every design style, many of which you can DIY for little money.
Over the past few years, outdoor rooms have become ultra-popular. People seem to love the idea of creating an indoor-like space outdoors. You get the comfort and luxury of the indoors with the natural ambiance of the outdoors. One of my favorite parts of the whole concept is lighting. Gorgeous chandeliers that were once saved for interiors are now having their moment in the sun.
We've rounded up 25 of our favorite outdoor chandeliers, including dreamy outdoor wedding lighting and a few DIYs for my avid crafters. Scroll through, and see which options best suit your style.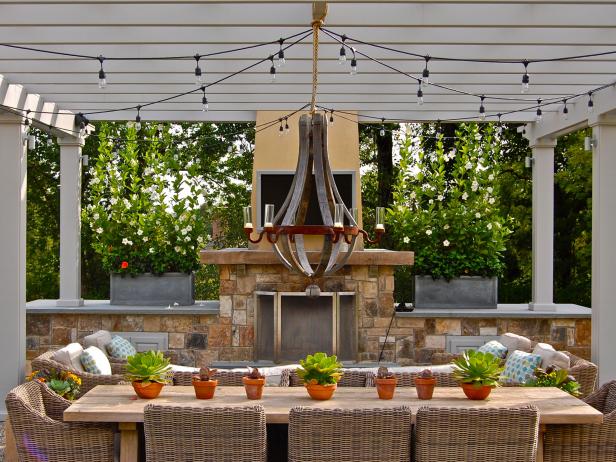 Howard Roberts, Liquidscapes
Pergola Covered Dining Patio With Chandelier and String Lights
There's nothing like a chandelier to create an elegant dining atmosphere. But wiring for an outdoor fixture can be complicated, and wet-rated styles are somewhat limited. One solution is to hang a candle chandelier from the beams of a pergola or covered patio, as designer Howard Roberts did here. Use battery-operated LED "candles" for easy operation. Add string lights radiating from the chandelier's mounting to create a magical canopy of light above diners' heads.
After: Outdoor Chandelier
The outdoor dining area gets a rope and metal chandelier to light up the space.
Chandeliers made of rope and galvanized or rusted metal create an industrial feel. This type of chandelier pairs well with transitional, contemporary and farmhouse-style spaces.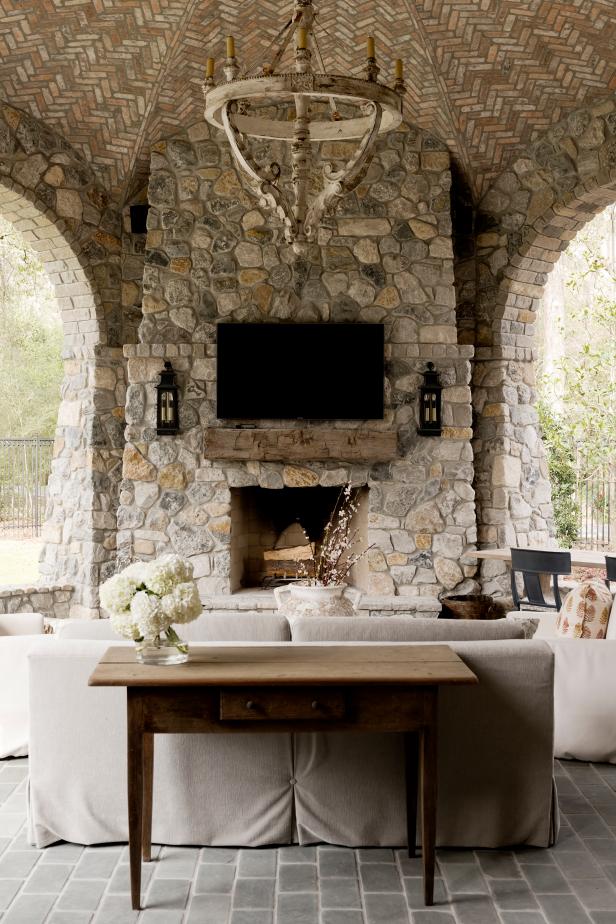 Gorgeous Stone Outdoor Fireplace
A large wooden chandelier and gorgeous stone fireplace lend a rustic feel to this chic outdoor living space. A small sofa and two armchairs provide seating.
To achieve a rustic look, search for heavy, substantial chandeliers made of materials like natural wood.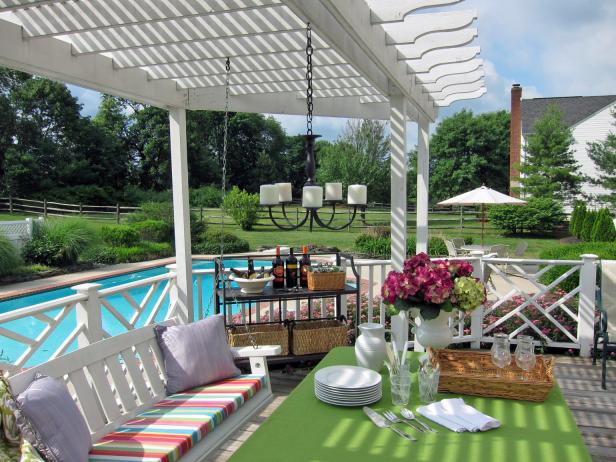 Pretty White Patio With Pergola
White furniture under a white pergola gives a fresh look to this outdoor spot for afternoon tea. A hanging chandelier with white votive candles and a hydrangea arrangement bring additional dimension to the space, which sits by a relaxing swimming pool and gorgeous landscape.
Contemporary Backyard Pergola With Glamorous Chandelier
This spacious backyard features a small sitting area with black Adirondack chairs and end tables, and a gray area rug. A pergola painted black and gray and finished with a glamorous chandelier tops off the look of the outdoor space.
If your goal is a timeless design, choose a chandelier with a classic body and neutral color, such as black or gray.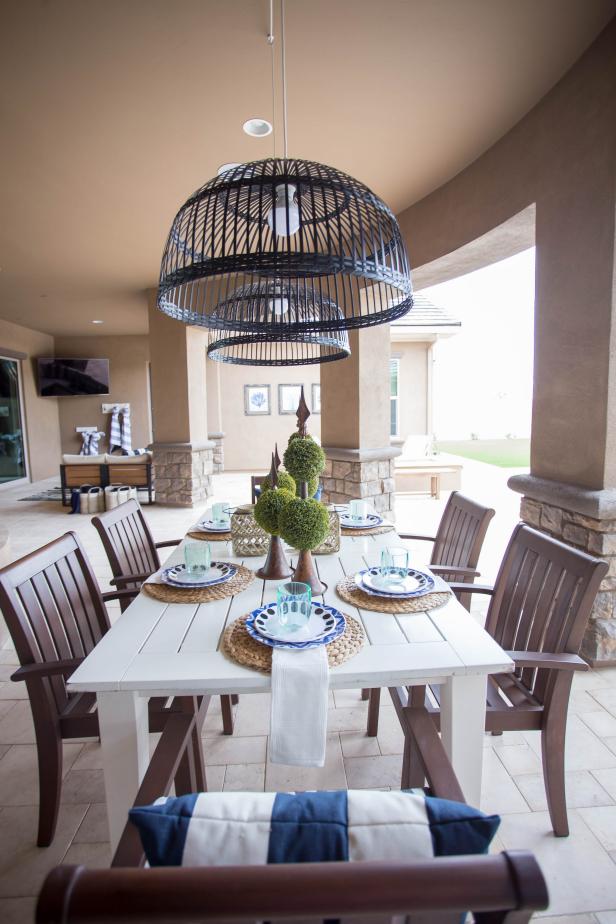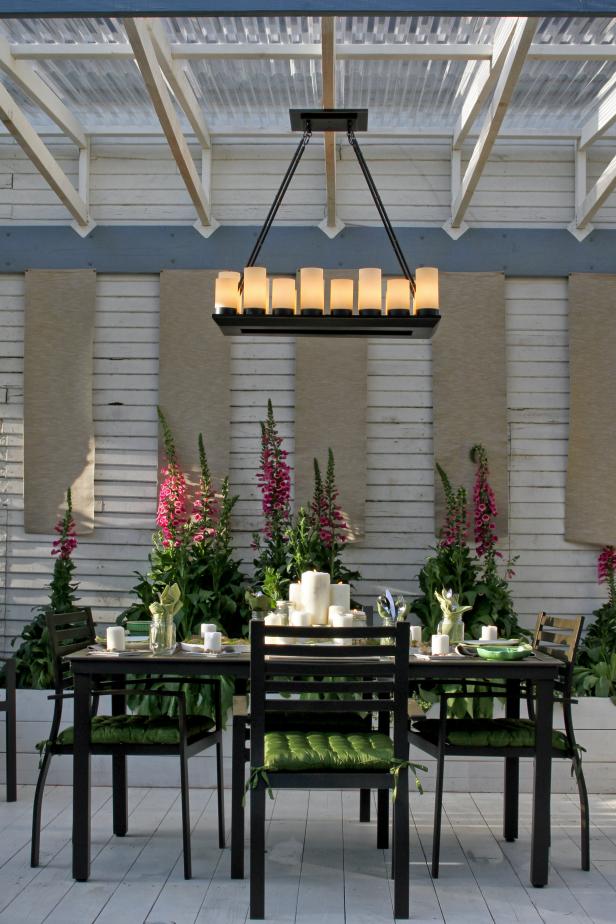 HGTV Going Yard Episode 110 - Fisher
Detail of the outdoor dining table at the home of Julie and Jon Fisher which will undergo a makeover that will take their large, mismatched back yard with bad furniture, no flow and ugly views and turn it into a vintage eclectic space to compliment their 100 year old Craftsman style home. There will be a deck built off their garage that will protect them from rain and sap dropping from their tree as well as give them a great outdoor dining space. A rock garden and rocks built into the landscaping and with a rock walkway will bring the asthetic together throughout the space. A couple other seating areas throughout the yard make the space fit for entertaining friends and family. A fence will go up to hide the ugly driveway from view and give the family a space to keep their antique bicycles in an artisticly pracitical way.
Do you want your lighting to make a statement in style? An on-trend basket chandelier is a great option. Or, to go totally contemporary, pick a sleek, clean-lined fixture.
A variety of chandeliers will work in an eclectic space. Shop with your existing furniture in mind, but don't be afraid to select an unusual fixture if it jives with your style.
For a Mediterranean Design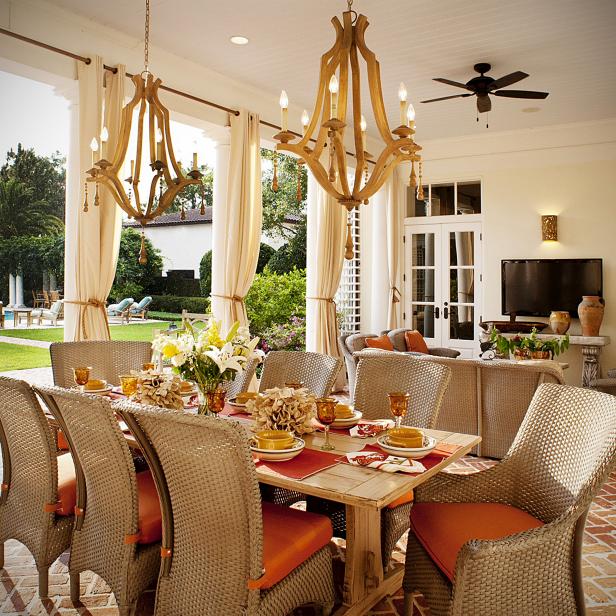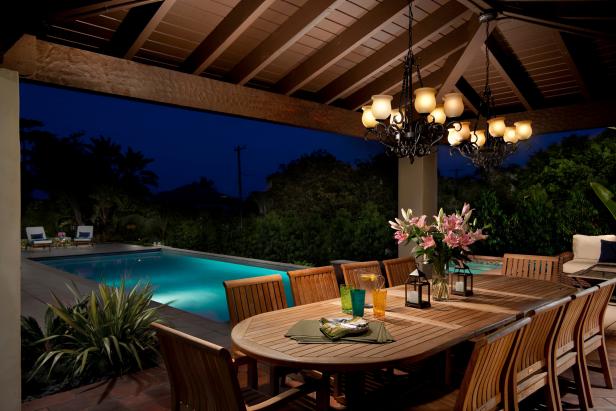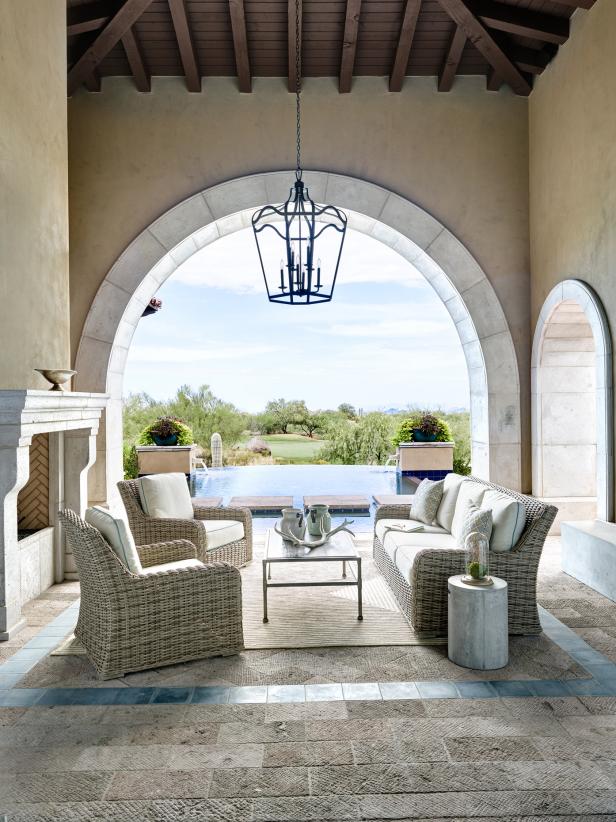 Pool House With Dining and Entertaining Space
A covered pavilion with herringbone brick floors creates a nice spot for dining al fresco in view of the pool. Peppy orange fabrics bring life to the woven indoor-outdoor seating, while unique wood chandeliers and a wall-mounted TV bring the indoors out.
Poolside Dining
A large outdoor dining table accommodates ten, with two wrought iron chandeliers illuminating the space. The partially covered area allows for outdoor entertaining even when the weather gets bad. Guests have the luxury to take a dip in the pool before or after dinner.
Southwestern Patio is Welcoming, Relaxing
Neutral wicker furniture is combined with a glass coffee table and elegant lantern chandelier for a comfortable outdoor seating area. Exposed wood ceiling, stucco walls and textured neutral brick patio evoke a southwestern feel, overlooking the beautiful pool area.
Wrought iron and heavy wood are the most common materials used for Mediterranean-style chandeliers. If you're envisioning something ornate and intricately detailed, try wrought iron.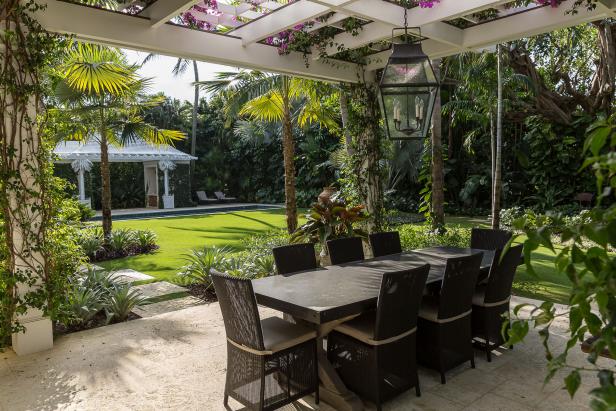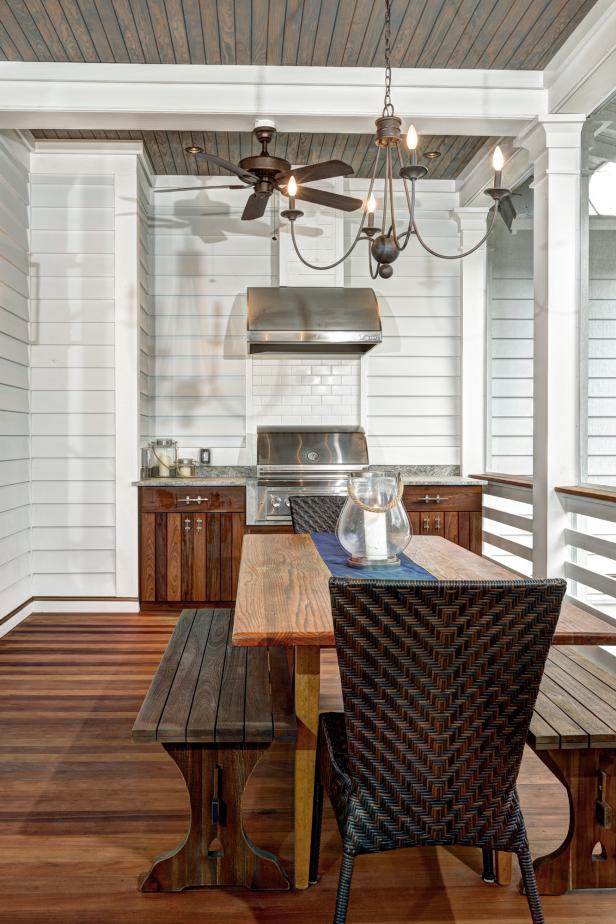 William Quarles Photography
Lantern Lighting Over an Outdoor Dining Area
Add a light fixture over an outdoor dining area, whether it's completely covered or underneath a pergola. Nievera Williams Design designed the pergola, which is covered in low water bougainvillea, in this Palm Beach, Fla., yard that won a Florida chapter of the American Society of Landscape Architects award.
Beach House Front Porch with Built-in Grill and Cooking Area
Here, a gorgeous coastal home featuring a beautiful front porch. With island breezes, there's no better place to sit on a summer evening than a screened in porch with all of the amenities for a cookout and gathering. For the winter months, there's a fireplace to keep cozy while enjoying the outdoors.
For a Tropical or Coastal Locale
A lantern-style chandelier works well for a tropical feel, while a galvanized metal variety can offer coastal undertones.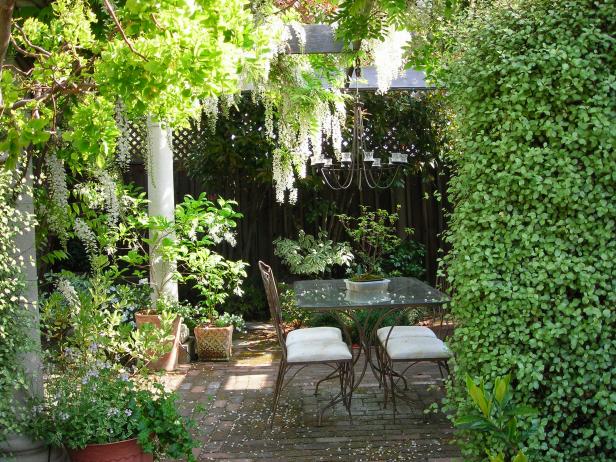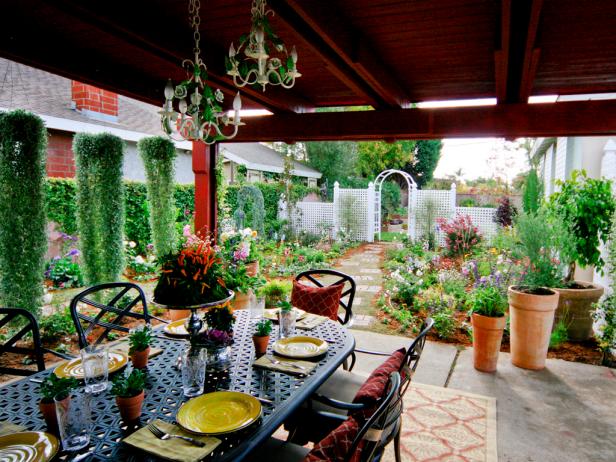 Backyard Garden Dining Area with Lush Greenery
A glass table and metal chairs are surrounded by abundant garden landscaping in this outdoor patio dining area. A candle chandelier hangs from an overhead pergola.
English Cottage Garden With Covered Dining Area
This beautifully landscaped courtyard includes an arched arbor and stone pathway that leads to a covered patio and outdoor dining area surrounded by container plants and tall topiaries. Traditional chandeliers are covered in leafy vines to continue the garden look.
For Cottage Garden Ambiance
Achieving cottage garden ambiance can be as simple as installing a candle chandelier in the middle of your cottage garden. To get the same effect on a patio, entangle ivy in the curves of a traditional chandelier.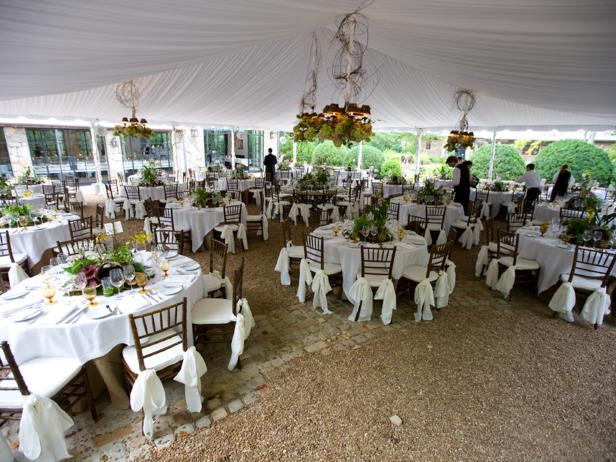 beall and thomas photography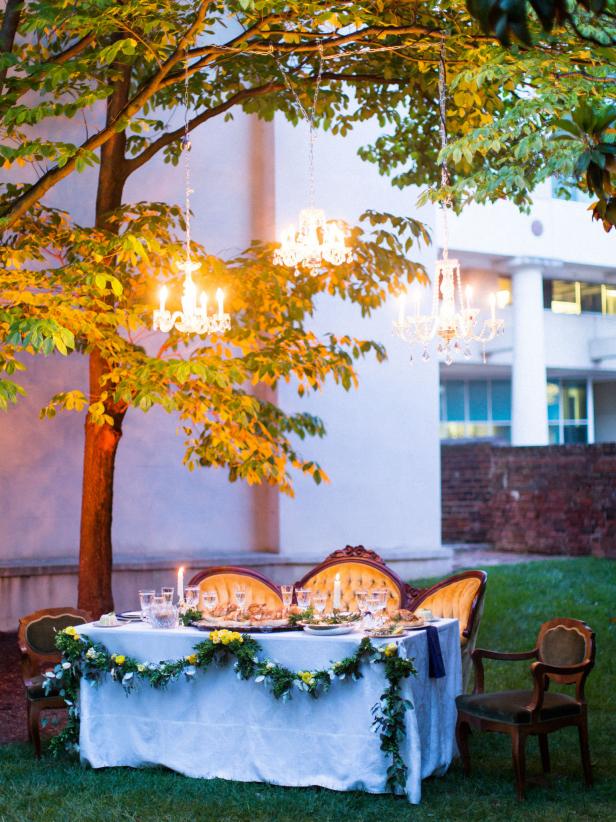 Stephanie Yonce Photography
Tables and Wedding Lighting
Tables give you the opportunity to link your wedding decor, lights, and florals, says Isaac, of 100 Candles. "(Your cake table) will be a focal point, so make sure to plan for a design that complements the tablescapes to maintain a consistent look throughout the reception."
For an Outdoor Wedding or Reception
Chandeliers can add romance and whimsy to an outdoor wedding or reception. If you're setting up a tent, consider hanging them inside. If not, crystal chandeliers look oh-so dreamy dangling from tree branches.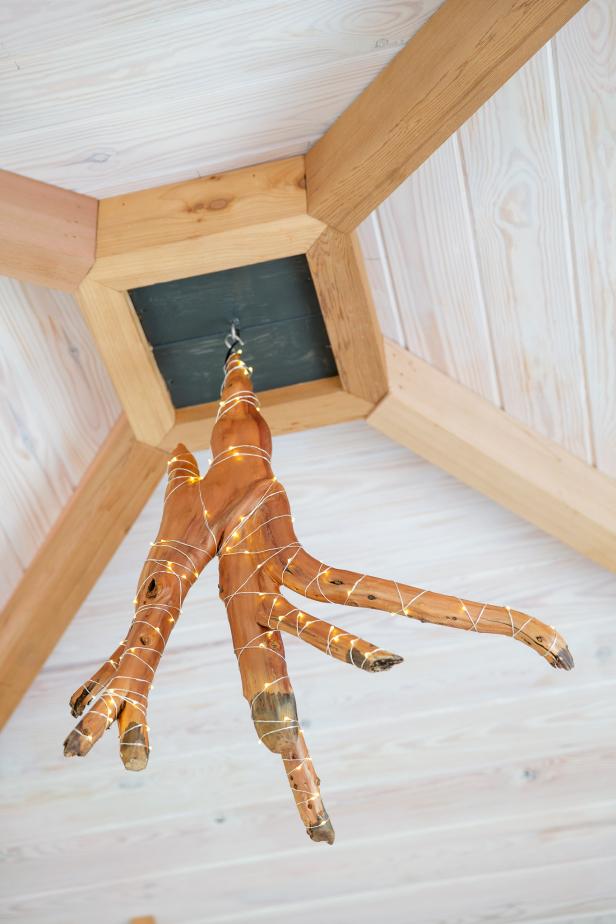 Photos: Christopher Shane/Styling: Elizabeth Demos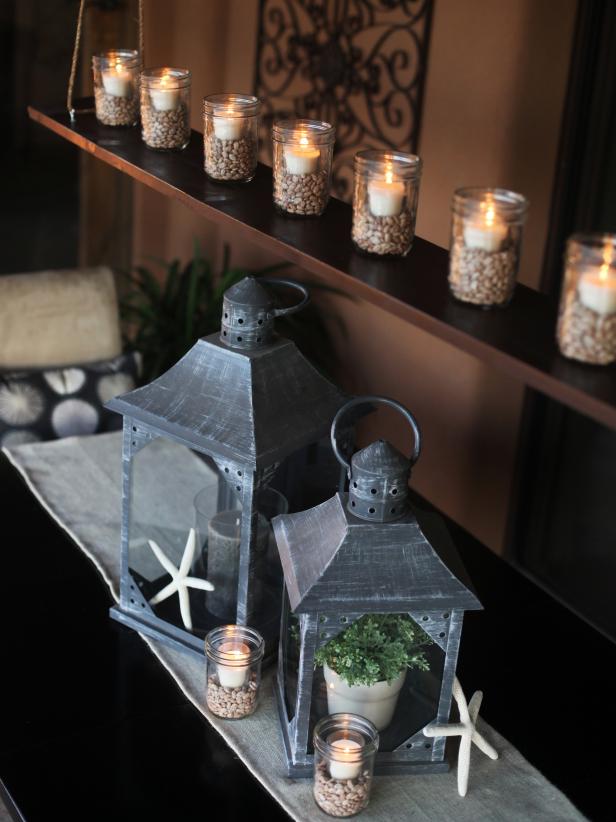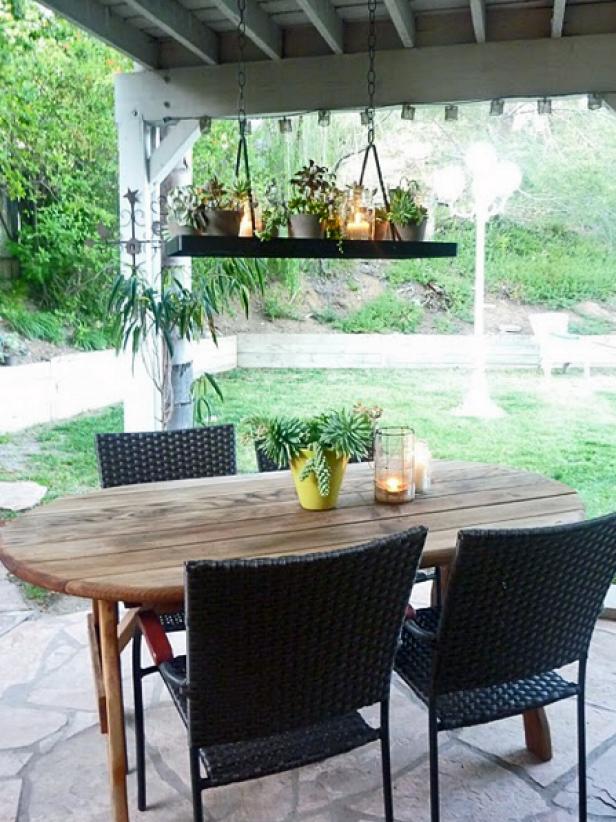 Pot Rack for Planters
When your pot rack just doesn't seem to suit the kitchen anymore, take it outdoors. Blogger Erin Lepperd revamped a hanging pot rack in her outdoor space by arranging potted plants, succulents and tea lights inside Mason jars. Suspended over her dining table, the new "chandelier" is whimsical, organic and perfect for alfresco.
There are lots of options for crafting your own outdoor chandelier. You can make one out of a cypress knee and fairy lights. You can build one with a wood board and Mason jars, or you can even upcycle an old pot rack by adorning it with candles and plants. If none of those options suit your DIY style, try the hula-hoop or solar-powered chandelier below.
For the backyard or front door, patio, garden or porch, find practical yet unique lighting solutions that work for you.