Are You Cleaning Your Outdoor Furniture the Right Way?
Different types of materials require different cleaning techniques. Find out which method is best.
Regular cleaning is important to keep outdoor furniture looking good, but it's never more necessary than after a long, messy winter. Harsh weather can leave patio or lawn furniture looking dingy, tired and less than inviting. These tips for cleaning outdoor furniture of all types are helpful for keeping that deck furniture looking good all year long. But you'll find these suggestions especially handy when it's time to spruce up those outdoor living spaces as warm weather finally returns and the backyard beckons for lounging, grilling or entertaining alfresco.
Dust, leaves and other loose debris are likely to gather on any furniture that has been left uncovered during extended periods without use.
Start your cleanup by using a brush or dry cloth to wipe away any loose materials. Wood, metal, plastic or fabric may be sprayed down using a garden hose with a spray attachment to dislodge lingering surface debris.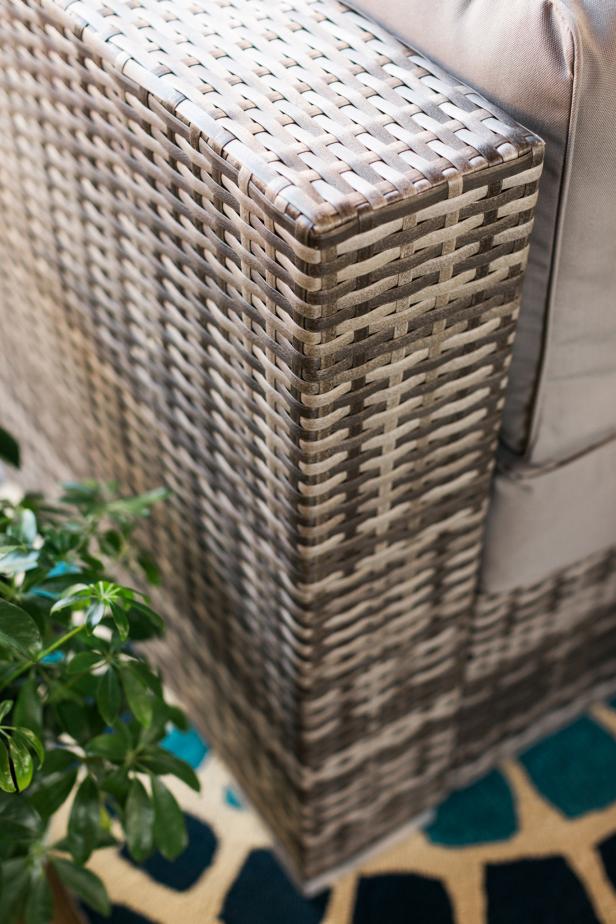 Screened Porch With Durable Sectional
Sectional sofas come in many materials, but woven resin options are much more modern in appearance and are remarkably durable. The sectional used in this porch came in many different modular components that offer a plethora of configurations.
Photo By: Flynnside Out Productions
Plastic and resin furniture is inexpensive and comes in a wide variety of styles, making it the most popular choice for deck and lawn furniture. It also happens to be the easiest to maintain. Skip the abrasives (which can scuff the surface) and simply spray with an all-purpose cleaner and wipe down with a sponge or damp cloth to keep plastic furniture looking good.
How to maintain it: These materials often don't require intense maintenance: if they're dirty, spray them down with a hose. More stubborn muck may require a scrub-down with a simple soapy water mix. Protect your plastic and resin outdoor furniture from cold-induced brittleness, which can cause cracking and instability, by storing them in winter.
How to fix it: If you spy suspicious spots on your plastic or resin outdoor furniture, you can use store-bought mold remediation solutions, or you can make your own. Harriet Jones, cleaning supervisor for Go Cleaners London, recommends a mix of warm water — a gallon or so — with a 1/4-cup of household bleach to banish the musty blight. Wearing gloves, scrub down the pieces with a soft-bristled brush. Leave the bleach mix on the chairs for 5 to 15 minutes, depending on the severity of the staining, then rinse clean and dry with a cloth.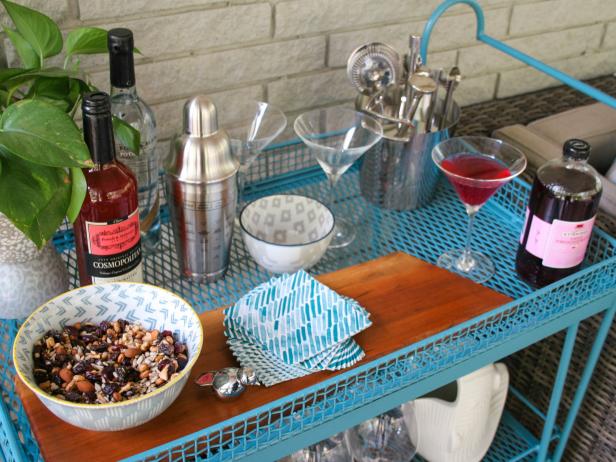 Bright Blue Bar Cart With Cocktail Supplies
A bar cart always looks best with some yummy beverages on it! Using both shelves of the cart is great for parties; you can store extra glasses and mixers on the bottom shelf and leave the top for drink prep and little snacks. Now let's party!
Cast Iron and Other Metals
Wrought iron and stainless steel are popular choices for outdoor furniture for their durability and ease of maintenance. In most cases, metal patio furniture will easily return to "like new" condition by using a sponge or brush to clean surfaces with a quarter cup of mild dish soap added to a gallon of warm water.
The greatest enemy of metal furniture is rust. Although metal patio furniture is often painted or coated with a rust-resistant finish, these will wear away over time.
How to maintain it: Cast iron can be cleaned like most other outdoor furniture: apply a mixture of soapy water, then rinse clean. Many newer metal outdoor materials are made to be rust-resistant, but if yours isn't, use paste wax or naval jelly to add an extra layer of protection. Check for any cracked paint and address it before the metal becomes exposed to the elements. Both iron and other metal furniture can be left outdoors year-round.
How to fix it: If you spot a rust spot on your outdoor furniture, don't let it fester. If you don't address it when it is a minor issue, the metal will continue to oxidize around the original spot, and the rust will spread and become a more serious problem, eventually resulting in weak spots and holes that will ruin the piece.
To safely address rust, you'll need to wear a dust mask and eye protection. Begin by working the rust off the affected areas using either a stiff wire brush or sandpaper. You may also want a paint scraper on hand to pull off any flakes around the rusted area. Once you've removed the outer layer, use a rust dissolver to get rid of any remaining oxidized metal. You're finished when you can see bare metal where there used to be rust. After the rust is gone, make sure the piece is dry. Apply a primer, preferably one intended specifically for metal with rust-inhibiting properties. After the piece is primed, you can repaint it.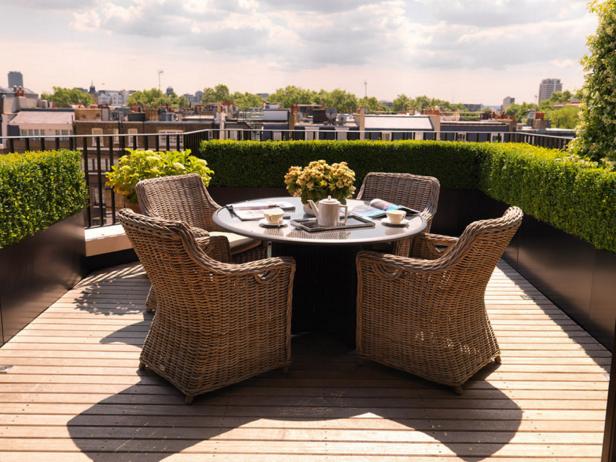 Urban Dining Deck With Privacy Hedges and Wicker Dining Chairs
Limit your exposure to nosy neighbors by getting creative with privacy provisions. Shrubs in planters (that you can take with you when you move) are a smart solution that architect Carolyn Trevor used in this lovely dining deck. "The formal evergreen topiary softens the edges and creates a pleasing backdrop whilst affording some privacy for the occupants. It's an efficient way of enclosing the deck and also providing a natural balustrade — without losing entertainment space. The architectural quality of the planting is also greatly enhanced when lit up at night," she says.
Adam Butler; Design By: Trevor Lahiff Architects
Wicker may require a toothbrush to get into the weave and can be time-consuming. To ease this chore, clean regularly to reduce build-up.
How to maintain it: Keep your wicker clean by regularly wiping it down with a microfiber cloth to remove dust and other detritus. Your vacuum cleaner and trusty crevice attachment are also helpful tools for keeping your wicker in good condition, or you can give it a deep clean with a household steam cleaner. If the coating on your wicker is deteriorating, re-seal it with a paste wax to maintain water resistance.
Store wicker during winter months, but be sure it is very clean: any moisture or grime can be a boon to mold and mildew spores.
How to fix it: If you start sniffing that tell-tale mildew odor on your wicker, you'll need to do a deep-weave clean to remove it. Use a 50-50 solution of white vinegar and warm water and make sure it penetrates the thatched layers. For any areas where there is visible mold, protect yourself with a dust mask and safety glasses, then use a small stiff paintbrush or toothbrush and scrub the fungus off. Wash the vinegar solution off with a gentle stream of water, then make sure the furniture dries completely — preferably in the sun. Always discard any brushes, cloths or sponges used to manage mold; you don't want spores to spread.
How to maintain it: New teak outdoor furniture should come with cleaning instructions. Follow those and keep the instructions in a safe place to refer back to them when needed. If you don't have care instructions for your teak, don't worry. If you want your teak to wear to its natural silvery sheen, just dust it regularly and clean with a gentle soapy water mixture when needed. If you want to maintain the golden glow, however, you'll need to apply a UV inhibitor and brush on tung or linseed oil three or four times a year. You can leave teak outdoors year-round.
How to fix it: If your teak has weathered and you want to reclaim its honey hue, a gentle sanding with sandpaper or steel wool should remove the silvery-gray patina. Apply oil to the wood until it no longer absorbs it. Wipe the piece down to remove excess oil and let dry completely.
Using a power washer may be tempting, but is likely to scar or otherwise damage soft wood and is strongly discouraged. Instead, use a mild oil soap or soapy water and a soft brush or sponge to remove any grit or grime.
Hard woods like teak and ipe will clean up nicely when you use a weak solution of laundry detergent or one of the many commercial products available specifically for the job. Work in small sections and dry thoroughly when finished. Resist the urge to use teak oil on your hardwood furniture, which can encourage mildew.
How to maintain it: Make sure your wood furniture sports an exterior-grade varnish — most store-bought pieces should be coated already, but if you've purchased a handmade piece (or made it yourself), this step is critical in both extending the life of your pieces and making maintenance and cleaning simpler.
Coated wood outdoor furniture can be cleaned with a mixture of soapy water — dish soap and water in a bucket should work fine. Use a sponge to gently wash the furniture, then rinse with clean water. Use a backyard hose either without a spray nozzle or with the nozzle turned to a gentler setting to wash the soapy mixture off the wood. Wood furniture (except teak and cedar) should be stored in a climate-controlled area for the winter.
How to fix it: If your wooden furniture is weather-worn, begin by using a stiff wire brush to scrub away splintered wood or cracked paint, says Kyle Gesuelli, a home improvement expert at Handy. After the surface is smoothed down, use a putty knife to apply wood filler to repair major cracks and holes, and after the repairs dry, sand the patches down flush with the original piece. After repairs are made, prime and paint the piece, applying finishes in the direction of the wood grain.
Hammocks, seat covers and stretched fabric look great, but get dirty quickly. Because they are manufactured from a variety of materials, both natural and synthetic, the safest method for cleaning is to use a solution of dish soap and warm water.
Whenever possible, consult manufacturer's instructions for recommended cleaning methods. In some cases, fabric may be removed and washed in a washing machine set to gentle. Air-dry to avoid damage from a hot dryer. Once clean, consider applying a water-repellant fabric protector to minimize future staining.
How to maintain it: If your umbrella has a wire frame, you should lubricate the joints at least once a year. For wood frames, care for it as you would other outdoor wooden furniture: first, make sure it's protective coat is in good shape. If it's not, you will need to sand off any excess coating and reapply. For covers that are in good condition but just need some basic cleaning, use a soft-bristled brush to apply a gentle soapy water mixture and give it a thorough but gentle scrub.
How to fix it: If your cover is showing signs of mold or mildew, try a scrub-down with the trusty 50-50 mix of white vinegar and water. Wearing a mask and eye protection, open the umbrella and use a brush with firm bristles to remove as much of the fungus as you can before applying the solution. After you've brushed away the dry spores, scrub the stains with the solution using a sponge or soft-bristled brush. For resistant stains, try a bleach solution of one tablespoon of bleach to a pint of warm water. Before you apply the bleach solution all over, give it a test run on an inconspicuous spot to ensure your umbrella fabric is colorfast. And remember that you may get bleach on whatever clothing you're wearing to do the cleaning, so dress appropriately for your umbrella undertaking!
How to maintain it: First, only use cushions meant for outdoor use on your patio furniture. "Indoor/outdoor pillows are mildew and waterproof, but when dirt, pollen and other foreign objects are exposed to the pillow, mildew can grow on those tiny pieces," explains Mary L. Delpit, VP for Business Development at The Blush Label. Regularly brush dust and debris off your cushioned furniture, and use a vacuum cleaner with a crevice attachment to remove dirt along the seams of the cushions, where it often becomes trapped.
How to fix it: For basic dirt and stains, Meg Roberts, president of Molly Maid, suggests combining 1/4 cup of mild dishwashing detergent with 1 gallon of warm water in a bucket. Scrub cushions with a soft nylon brush, then let the soapy solution sit on the cushions for about 15 minutes. Rinse them clean, then allow the material to air-dry in the sun. To treat mold and mildew stains, use the same cleaning process, but try a mixture of 1/2 cup bleach in a gallon of water — just remember to check for colorfastness before applying to the whole cushion. For oil-based spills (like sunscreen) that can leave greasy spots on your decor, wipe off the surface thoroughly, then treat with a generous dose of flour or cornstarch, which should soak up the oily residue. Clean off fully-soaked absorbents and repeat until the grease is gone.
How to maintain it: A clean grill is a happy grill. Never put your grill away while it's still coated with food debris, or you'll find pests waiting to pounce. Use a stiff brush and soapy water to clean off grill grates, then coat with a light rubbing of vegetable oil to prevent rusting. When it's not in use, cover your grill to prevent excessive wear-and-tear. Store your grill in a garage or storage shed over harsh winter months, but if you use a propane tank, leave it outside.
How to fix it: If your gas grill isn't heating properly, check the burner tubes. They may need to be cleaned. Remove the entire burner and tube assembly and check the tube holes. Brush the holes clean with a wire brush, and unclog any plugged holes with a paperclip or other small wire. Scrub down with soapy water and dry completely before replacing. For rusted grates, remove and scrub down with a soft-bristled brush to remove as much rust as possible. If the grate is still in good condition, return it to the grill and sprinkle generously with baking soda. Heat up the grill and the baking soda will remove the rest of the rust.
Rain and humidity often leave outdoor furniture damp and prone to the development of mold and mildew on its surfaces. To deal with mold, make sure the furniture is dry and scrub with a brush to remove surface mold and spray with a hose to rinse. Once dry-scrubbed, full-strength white vinegar and a hard brush will remove stubborn mildew. Diluted bleach is also effective in removing mold from hard surfaces, but may discolor some materials and isn't always the best choice. When in doubt, err on the side of caution.
When Cleaning Isn't Enough
After extended use, patio furniture may develop stains that are impervious to cleaning. If the cleaning methods outlined here aren't effective, it may require far more drastic measures. Hard wood furniture like teak can be surface-sanded to restore its luster, but for other wood or metal furniture, it may be time to strip or sand to reveal the bare surface before painting or staining to revitalize old furniture. Restoring plastic furniture can be more challenging. Although some will accept a coat of paint rated for plastic surfaces, the results may be short-lived.