3 Fun Ways to Take a Tomato Cage From Practical to Pretty
Plant brace no more! Turn unused and unwanted tomato cages into works of art that will decorate your home and life in unimaginable ways.
We're sorry, there seems to be an issue playing this video. Please refresh the page or try again in a moment. If you continue to have issues, please contact us here.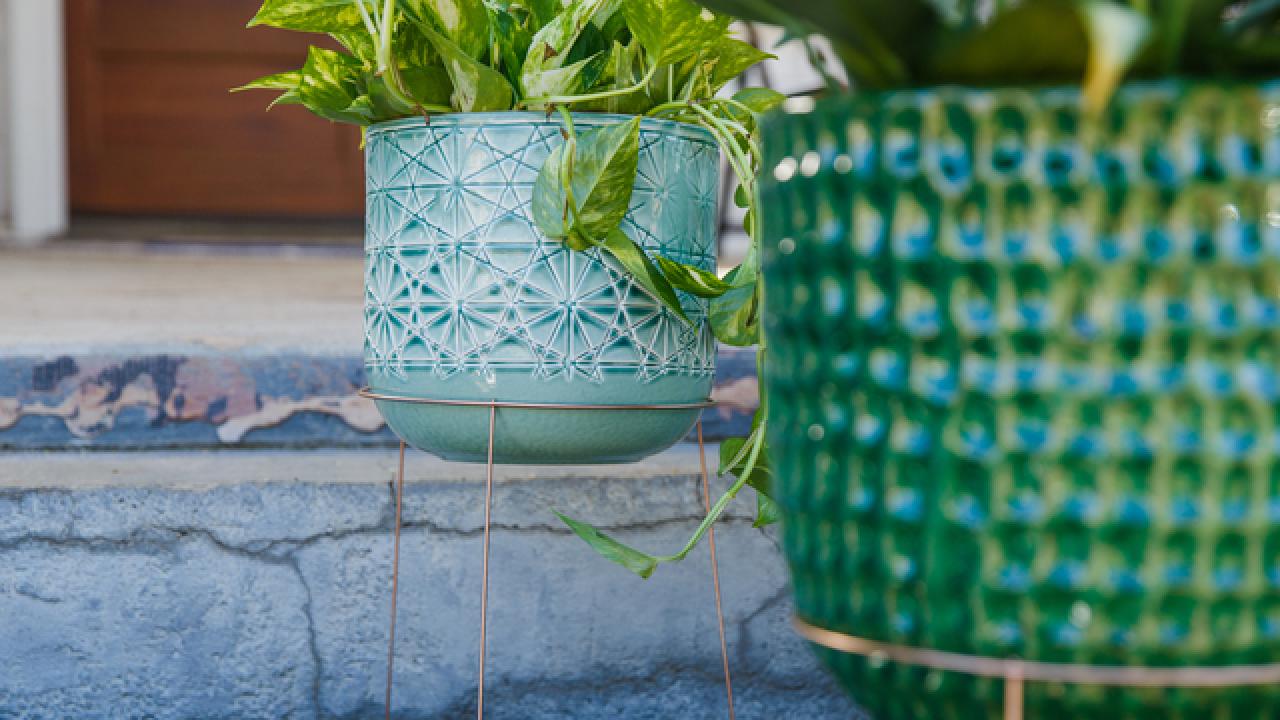 Transforming a tomato cage into something that is not well, a tomato cage, is a lot simpler than it may seem. However helpful these cages are in growing straight tomato plants, there are many other ways in which they can deck your home with all sorts of DIY goodness. Easy afternoon projects, here we come.

14" x 42" tomato cage
wire cutters
spray paint
round wood piece
chalk paint
paintbrush
chalk paint wax
towel
staple nails
hammer
pliers
Cut the tomato cage prongs down until you have a three-ringed base, and then spray paint it your desired color. Prep the round, wooden tabletop piece by covering it in a layer of chalk paint. Once the paint has dried, apply chalk paint wax to the surface with a cloth. Rub into the surface until smooth. Place the wood piece on a flat surface, and set the tomato cage piece on top with the smaller end sitting in the center of the wood circle. Secure the cage to the wood with staple nails and a hammer. Use as many as needed until the tabletop is securely attached to the base. Set in your favorite room, and decorate to perfection for a piece that is simply stunning and won't break the bank.

Create a simply beautiful birdbath with you guessed it: a tomato cage. And put those stray terra-cotta pot bases to good use while you're at it! Cut off the top metal ring on the tomato cage until the terra-cotta pot base fits securely into the tomato cage ring. For extra pizzazz, spray paint the cage before inserting it into the ground. Fill the pot base with water, and enjoy bird watching.

Love the idea of a plant stand, but can't stand the style or the price? Tomato cage to the rescue! Beginning with the pronged side of the cage, cut the tomato cage down until you have only two of the metal ring layers remaining. This will allow you to set a planter into one end while the other end sits evenly on the ground. Once cut, spray paint the cage in your desired color, and voila! You are ready to add your planter.