Take your garden to your closet with tips on making beet dye.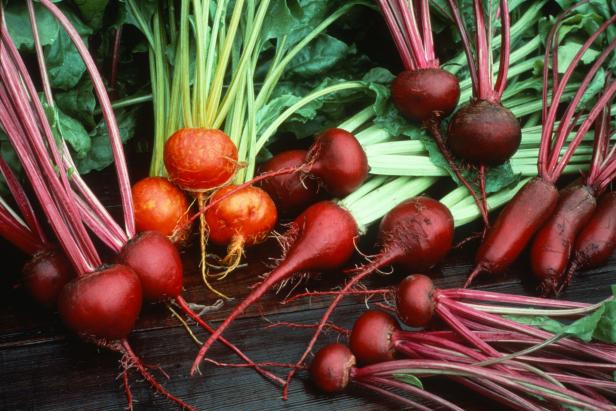 Beets
Vegetables that need moderate amounts of fertilizer are plants like beets, potatoes, okra and carrots. Start by planting them in loose, well-drained soil that's been enriched with compost, and mix fertilizer in the planting holes or rows. They probably won't need feeding again.
If you've ever cooked with beets, you know how quickly the bright red color can stain your hands, kitchen surfaces and other foods. That same color can be transferred to fabrics and yarns through a dyeing process. Making natural dyes is a fun and eco-friendly way for crafters to source materials and for gardeners to use their harvest in making crafts.

Here's one big tip about dyeing with beets: The color outcome depends on your textile origin. A plant-based textile like cotton or linen will dye differently from an animal-based fabric like wool or silk. This is especially true when using vegetable dyes such as beet or red cabbage, which work well on animal-based textiles but not on plant-based ones. Beets will barely dye cottons but will yield a lovely, subtle, peachy-brown tone on wools.

After you've finished dyeing, you should have yarn or fabric that's a lovely, ruddy shade. First-timers are often surprised that the resulting color is not as bright as the original beet. But I like the earthy tone, almost more reminiscent of a beet's flavor than its color.

Step-by-Step: Dyeing with Beets
Prepare your animal-based yarn or fabric using a mordant such as alum. This step is optional. You don't have to prepare the fabric or yarn, but it will make the color stronger and last longer.
Cut 3 or 4 beets into chunks. You may want to wear gloves while cutting to avoid staining your hands or, if you're like me, you go without protection and consider a little staining part of the fun.
Place the beets in a large pot of water, bring to a boil, and then simmer for an hour or so. You should use a non-reactive enamel pot like you'd use for canning.
When the water is obviously "red as a beet" (as the cliché goes), let it cool, and then remove the solids with a large slotted spoon. Be sure to capture as much of the solid material as you can. Toss the solids in your compost.
Now, bring the beet dye back to a simmer. Add your fabric or yarn and simmer for an hour or so. After an hour, you can remove the fabric, or you can remove pot from heat and let the fabric sit in the dye bath for several more hours to soak in the color.
Rinse the fabric or yarn thoroughly in cool water. You can save the remaining dye in a glass jar or leftover plastic bottle for another round of dyeing. To further set the color after dyeing, I often soak it in a water-filled sink with a little salt and vinegar.