How to Ombre Dip-Dye a Duvet Cover
Transform a simple set of white bedding into a fresh and modern masterpiece with your favorite color dye and just a few hours.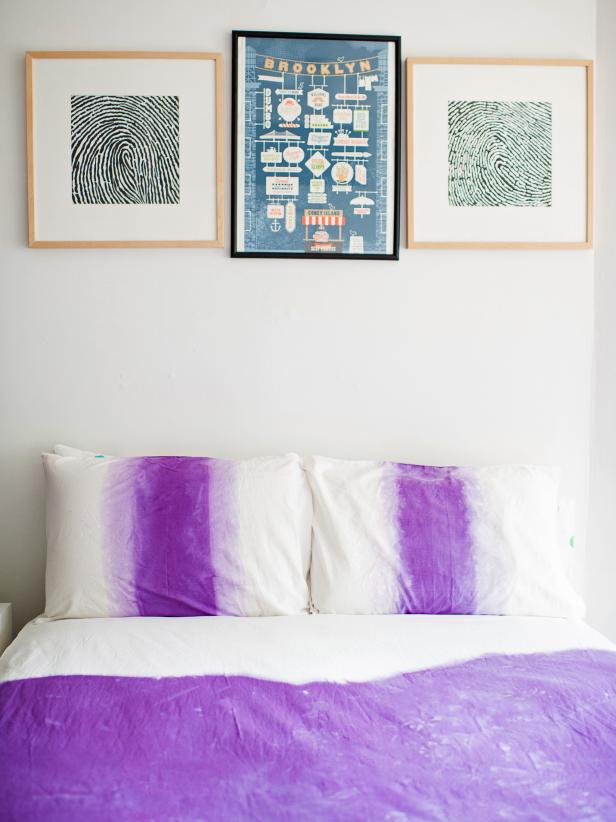 Contemporary Purple Tie-Dye Bed With Fingerprint Art
Purple tie-dye pillows and comforter make a bold pop against the neutral walls of this bedroom. The vertical dyed stripe on the pillows counters the horizontal dye line of the comforter. Two fingerprint photos in matted frames surround a blue Brooklyn themed poster.
large plastic container filled with hot water
plastic bucket filled with hot water
two containers of liquid dye in your desired color
rubber gloves
cotton white duvet set with pillowcases
Add Liquid Dye to Container
Add liquid dye to large container filled with hot water. Stir.
Saturate duvet cover and the pillowcases in water.
Fold duvet until it's the width of the plastic container (Image 1). The center of the duvet should be the folded side. Dip folded side of the duvet cover into the dye bath. Immerse the duvet cover halfway into dye bath (Image 2). Let the remaining fabric drape over the side of the container (Image 3).
Fold a soaking-wet pillowcase in half. Dip folded side of each pillowcase into dye bath. Drape pillowcase over the side of the container, leaving half in the dye (Image 1). Let fabric sit in the dye for a few hours. The longer it sits, the darker the color will be. After a few hours, take fabric out of the dye bath (Image 2).
Unfold pillowcases and duvet cover (Images 1-2). Hang duvet cover and pillowcases outside to dry (Image 3).