This Woodworking Couple Gives New Life to Salvaged Wood With Custom Furniture
Get to know the makers behind the sustainable, Tacoma woodworking studio Birdloft. Then shop our favorite custom-made pieces.
Keep in mind: Price and stock could change after publish date, and we may make money from these affiliate links.
Jeff Libby and Adrienne Wicks met as students in architecture school with big plans of compositional design and a structurally sound future. Cue the recession. In 2010, the two decided to hit the road on a long-haul, post-graduation adventure that ultimately paved the way for brand new titles: married business partners. Over time, a growing accumulation of salvaged wood filled their tiny apartment, leaving little room for anything else but making furniture. And before they knew it, a "just-for-fun" hobby turned into a busy, woodworking 9-to-5 with two clear goals: repurpose centuries-old wood into something lively and new, and make it all available on Etsy.
With so many people offering trendy, live-edge and old-wood furniture, Birdloft proudly stands out among the crowd with its sustainable process, like thoughtfully salvaged wood and build techniques that allow the wood to move and breathe. "We've been doing this for more than 10 years," Adrienne says.
"And one thing that sets us apart is that we do everything in house, from design to fabrication," Jeff adds. "We do it all under one roof — the wood, the steel, and the air our pieces float on. So there's a connectedness between the materials."
Cloud shapes are very in. And it just so happens that one of Birdloft's most popular items comes from a tree that looks an awful lot like a cloud. The cypress tree species thrives in wet, loose soil, making it better suited than most for growing along the cool, rainy maritime slopes of the Pacific Northwest. Their nimbus cloud table combines the idea of a fluffy nimbus cloud and a sturdy, curvy piece of cypress wood.
"The design for our open air bookshelf came from a conversation with a customer," Jeff explains. "She wanted something long and low. That phrase - long and low - was the beginning of the idea."
One of the many beauties of this piece is the hairpin steel legs that hold it together. "I'd never worked with round bar before, but I could shape it at room temperature with only a bender," Adrienne says. "And the steel could be easily pulled apart and flat-packed for shipping, which is another bonus."
Follow the build of the open air bookcase from salvaged wood haul to piece-by-piece assembly, and learn how Jeff and Adrienne work in harmony to complete a custom piece.
"Many of the things we make are available in standard sizes, if that's what a [client] wants," Jeff says. "Other customers have an idea or vision of a furniture piece — maybe it is clear in its overall gesture, or they have some phrases to describe it. In those cases, which we love, we get to act as design interpreters for them, modeling things in digital space [and] collaborating until we get to a piece that's perfect, something that feels effortless and inevitable."
"Our North | West bench was an argument first," Adrienne laughs, "probably about nothing more than composition, shouting through respirators and earphones. We were looking at a piece of reclaimed live edge maple, trying to decide a base for it. For whatever reason, it made sense to spin one of the legs 90 degrees. And that one little move changed everything — suddenly [it] was alive in every direction."
The pair toys with lots of different designs and draw on inspiration from their time in architecture school. "We are always looking at buildings [and] spatial composition — all that good stuff — and relating it back to furniture," Jeff says. "In school, we [used to] complain to each other that we were being too slow, too exacting, acting like we were building furniture. And now, when we are building furniture, we sometimes laugh and remind ourselves that we are not making jewelry."
"We are both fans of midcentury style and clean, modern lines," Adrienne says. "We have several of our own pieces at home blended with vintage and contemporary elements."
"Our customers always seem to know how to find us," Jeff says. "It is amazing — all the interesting, innovative lives our customers lead. We talk a lot about dimensions with them, because 95% of what we do is custom or made-to-order. So our customers know they are going to get something balanced and light, beautifully composed and of high quality. Something all their own."
We're sorry, there seems to be an issue playing this video. Please refresh the page or try again in a moment. If you continue to have issues, please contact us here.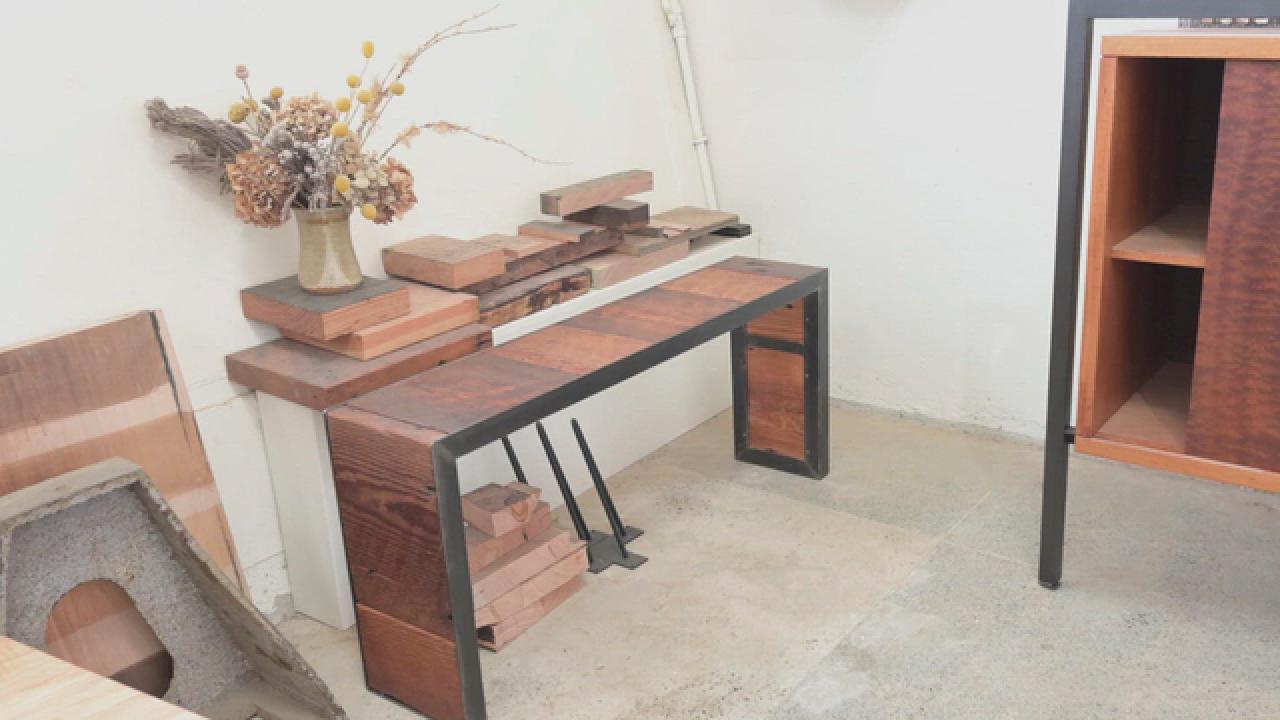 Woodworking Artists + Custom Furniture
He's completely at home in front of the camera, but J. Pickens' true talent is in making masterful pieces of custom furniture right in the middle of New York City.
As seen on Fixer Upper, carpenter Clint Harp is known for his stunning designs and use of reclaimed wood. Check out a few of his best pieces from the show!
Thinking about installing a reclaimed barn wood accent wall in your home? Here's a look at what the project entails to help you decide if you should try it yourself or hire a professional.