How to Make Flameless Party Crackers
Make festive party crackers filled with goodies for your Fourth of July party.
6 toilet paper tubes or English party cracker tubes (available online)
6 cracker snaps (available online)
crepe paper fold
white ink pad
star-shaped stamp or wood cutout
red and white baker's twine
scissors
craft glue
cracker fillings: confetti, candy, small toys, etc.
Cut and Stamp Crepe Paper
Cut one 30x20" piece of crepe paper fold and hand-stamp a star pattern using an ink pad and stamp. Once dry, cut the paper into six 10x10" squares.
Secure one end of paper to the cardboard tube with craft glue, and then roll/wrap the entire tube securing the second end with additional craft glue (Images 1 and 2).
Place cracker snap inside of tube, securing it in place by tying one end shut with baker's twine (Images 1 and 2).
Fill cracker with confetti, candy and small toys. Secure contents by tying the remaining open end with baker's twine.
When you're ready to use crackers, pull both ends. The loud pop and surprises spilling out will be fun for kids and adults alike.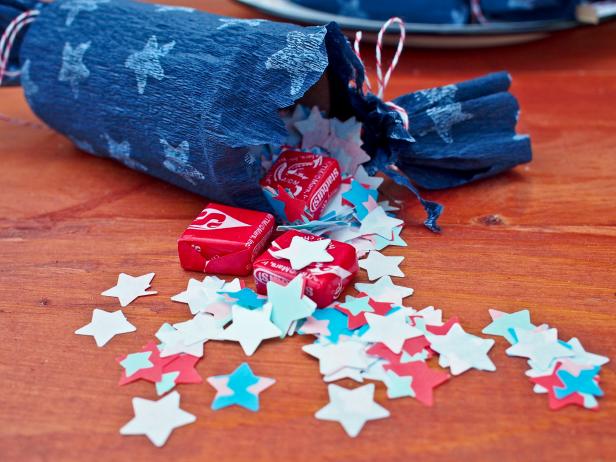 Flameless Party Cracker Treats
Kids and adults alike will love playing with party crackers filled with their favorite treats. Make your own using toilet paper tubes, glue and crepe paper.