How to Make Ombre Table Linens
Bring style to your Fourth of July tablescape with handmade ombre table linens.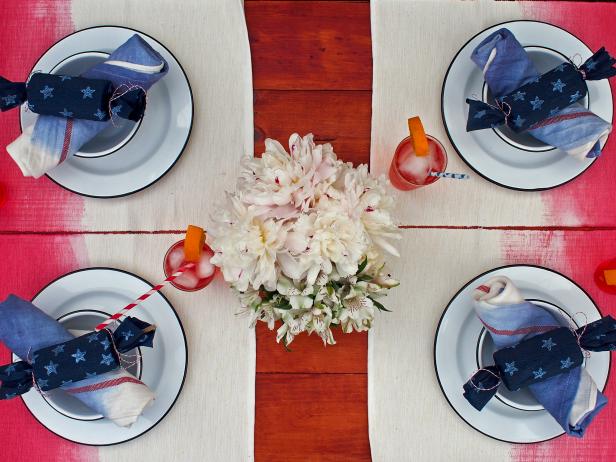 Ombre Party Tablescape
Give your plain white placemats and napkins a modern and patriotic update. Dip-dye using red- and blue-colored dye for a stylish look that can be used all summer long.
solid white or cream-colored cotton placemats and napkins
1 package fabric dye
paint stick or metal stirring tool
large 3-5 gallon bucket
1 cup salt
Combine the contents of dye packet with 2 cups hot water and mix well. Pour dye mixture into large bucket full of 3 gallons of hot water and stir well. Note: All dye brands are different, as well as powder and liquid options. Please look at the specific directions on your package.
Quickly dip fabric into dye, submerging halfway, slowly pulling it upward out of mixture allowing more color to saturate as you go. Repeat several times for more concentrated color at the edge of your fabric, finally holding just the bottom edge in dye to allow color to soak upward for an additional 5-10 minutes. Alternate between red and blue for a patriotic look (images 1 and 2).
Set color by washing linens in cold water mixed with 1 cup salt.