Make a Festive Potato-Stamped Rug
This custom potato-stamped rug is festive and unbelievably easy to make. Plus, its geometric look is perfect all year round.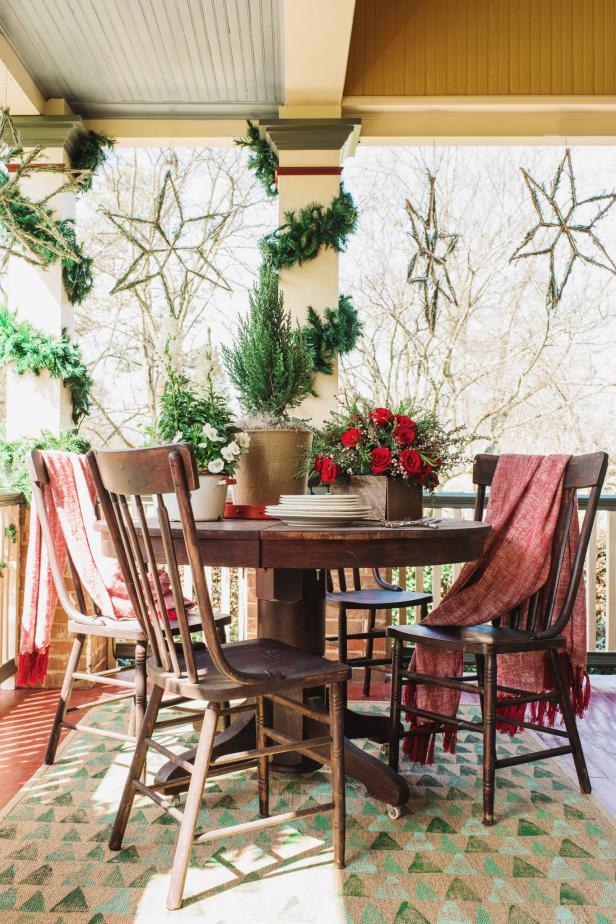 Outdoor Dining
Although the winter months are cold, it's nice to sit outside and enjoy the bright winter light on warmer days. Create a welcoming vibe in your outdoor dining area by dressing up chairs with throw blankets your guests can use to snuggle up and keep warm with over a cup of tea or coffee.
Flynnside Out Productions
sisal rug in desired size
3 large baking potatoes
3 shades of green paint
3 paper plates
latex gloves
craft knife
drop cloth
Cut a baking potato in half, then use the craft knife to carve a simple triangle (tree shape) into the potato, cutting away excess as you go. Repeat this step two more times to create one potato stamp for each shade of paint (three total).
Pour each shade of paint onto a paper plate. Dip the potato stamp into the darkest shade of paint so that the tree shape is fully coated.
Begin stamping in the upper-left corner of the rug. Press down to make sure you make as much contact with the rug as possible and hold for a few seconds. Gently lift away the stamp and set on a paper plate before moving on to the next stamp and shade.
Continue stamping, using the next shade of paint and a fresh potato stamp. Again, press down on the stamp to ensure you make contact with the rug. Repeat this process with the lightest shade of paint.
Continue stamping the rug, working your way from left to right and down the rug until it is filled with the tree pattern. Tip: It is important to work from the top down to avoid stepping on any fresh paint.
Flynnside Out Productions
Let dry, then place furniture on top. This natural rug is the perfect holiday addition to your outdoor space.