How to Turn a Plain Sweater into an Ugly Christmas Sweater
Learn how to craft a Christmas tree from pompoms then attach it to a plain sweater to make festive holiday wear.  
sweater vest
green yarn
yellow yarn
brown yarn
fabric glue
oversized rickrack ribbon
scissors
Follow the manufacturer's instructions for making yarn pompoms. The more yarn, the puffier the pompom.
The tree calls for 15 green yarn pompoms. A smaller yellow yarn pompom for the star in top and a slightly larger brown pompom for the base.
Use fabric glue to attach pompoms in the shape of a tree onto the back of the sweater.
Use fabric glue with decorative trim to embellish front of sweater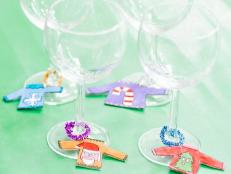 Hosting an ugly sweater party this holiday season? Make these adorable mini-sweater charms so your guests can keep track of their cocktail or wine glass. 
Bold in flavor and color, this drink is perfect for a holiday brunch, cocktail party or other joyful gatherings.