How to Mat and Frame Artwork
Finding artwork you love is a lengthy and expensive process. Make custom art using anything flat, from a vintage album cover to a page from a book or magazine.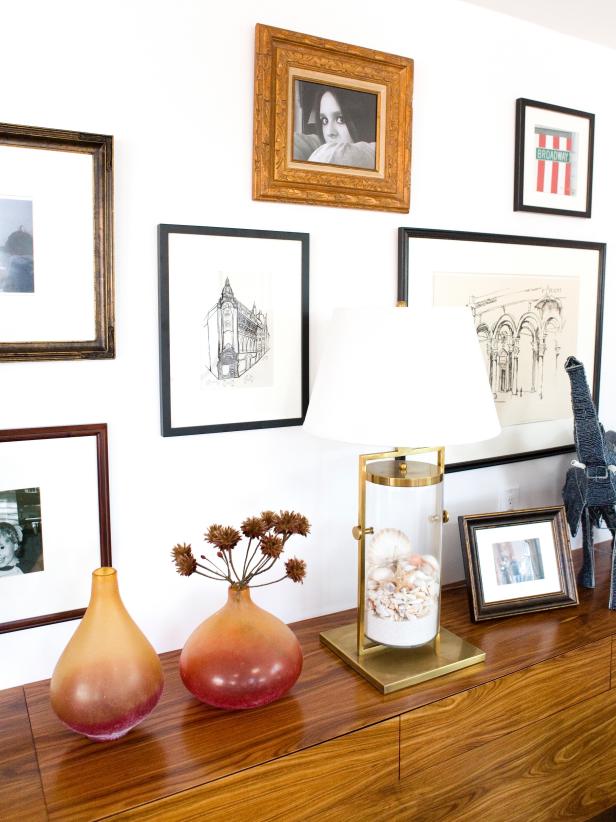 Eclectic Art Gallery Wall
"Art is a great go-to for giving your space a more luxurious, unique feel. A lot of people are intimidated by art because it can be so expensive. But you don't necessarily have to spend a fortune on art. All of my favorite art comes either from artist friends or from flea markets and thrift stores. You can update vintage art by framing it in a fresh new frame." -Orlando Soria, Creative Director, Homepolish
picture frame
mat board
metal straight edge
utility knife
tape
pencil
measuring tape
art book, postcard, etc
Lay your knife on the outside edge of the page you want to cut from your book. Score the page enough to lightly cut it without cutting through multiple pages. Pull the page from the book.
Measure the size of the opening you want your page to have. Have a local craft store cut the mat board to your measurements or you can also cut the mat yourself with a metal straight edge and utility knife.
Lay the page face down on a clean work surface. Apply a long piece of tape on the top of the page, with only half the width of the tape overlapping the paper.
Turn the page picture-side up and hold the pre-cut mat over the page to decide where you want the image in the opening. Do not let the exposed tape touch the mat until you have decided placement.
Turn the mat and attached page face down on your clean work surface. Press firmly on the back of the tape to ensure it is well adhered to the mat. Avoid touching the front side of the mat with your hands, as you risk smudging dirt on it.
Place the mat and attached art into your frame.