5 Things You Can Clean With Shaving Cream
Shaving cream is not just for your skin. It is also a budget-friendly cleaner that can be used on many household items, including stainless steel appliances, shoes and mirrors.
Shaving cream contains a lot of the same ingredients as soap and moisturizers so you can use it as a gentle cleanser on a variety of materials such as wood, fabric, glass and more.
We're sorry, there seems to be an issue playing this video. Please refresh the page or try again in a moment. If you continue to have issues, please contact us here.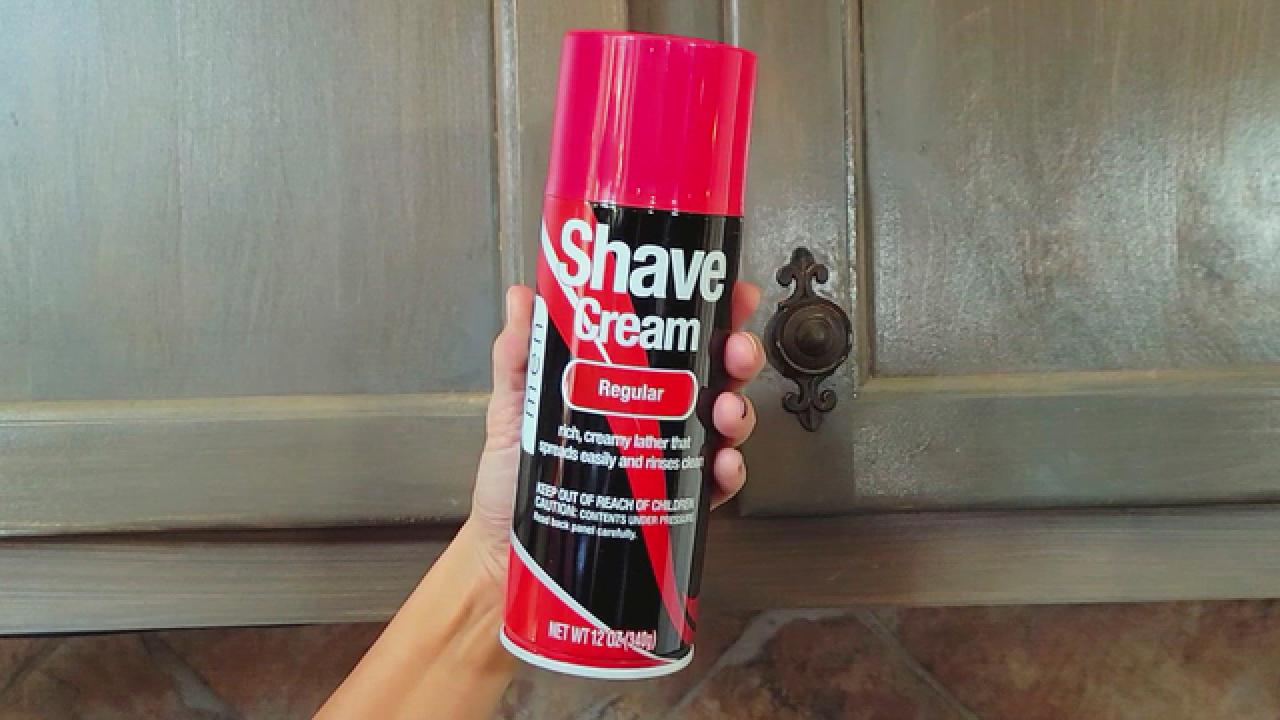 1. Defog Bathroom Mirrors
A thin coat of shaving cream on a bathroom mirror will help prevent it from fogging up. Use a microfiber cloth to apply a thin layer of shaving cream to the mirror. Don't rinse it off; simply use a different microfiber cloth to buff it off.
Shaving cream also works at cleaning smudges and fingerprints off of eyeglasses, and it leaves a thin coating that will help defog them. Use the same method as you did for cleaning mirrors — apply a thin coat of shaving cream with a microfiber cloth and then wipe it away with a clean, dry microfiber cloth.
3. Remove Stains From Suede
Shaving cream can be used to remove stains from suede and other fabrics. Before applying the shaving cream to any fabric, especially upholstered furniture, test it in an inconspicuous space first. We used shaving cream to clean up an old pair of suede work boots. To start, cover the stain in shaving cream. Leave it on for 20 minutes. Then lightly rub with a microfiber cloth until the cream disappears. Allow the fabric to dry completely. Fluff with a soft shoe brush.
4. Clean Painted Wood Furniture + Cabinets
Need a gentle cleaner to remove smudges and fingerprints off painted wood furniture or food stains from painted kitchen cabinets? Shaving cream will do the job. Spray the cream onto a microfiber cloth then run it under the faucet to dilute the cream with water. Scrub away food stains and fingerprints. Wipe off any residue with a clean, dry cloth.
5. Make Stainless Steel Shine
Shine your stainless steel appliances and sinks with the help of shaving cream. Use a microfiber cloth to rub shaving cream on a stainless surface. Wet a soft cloth and then gently wipe and buff the surface.
Home cleaning experts share their best hacks and tips for tidying up your kitchen, bathroom and more.