Surprise your sweetheart with a home-cooked meal and custom-made wineglasses this Valentine's Day. A few simple steps are all it takes to turn basic stemware into heart-accented pieces you'll use for every romantic occasion.
basic wineglasses
heart stickers in a variety of sizes
1-inch wide painter's tape
etching cream
foam brush
paper plate
sponge
sink with room-temperature water
Add Painter's Tape to Glass
Use painter's tape to cover the top few inches of the glass stem (Image 1). Apply small pieces of painter's tape to the inside of the glass (Image 2). Line up the tape with the rim of the glass (Image 3).
Apply the heart stickers in a random pattern all over the glass (Image 1). Use big hearts and small hearts to create any pattern you want (Image 2). Wherever you put a sticker, the glass will remain fully transparent and clear when finished.
Apply Etching Cream to Glass
Pour out a small amount of the etching cream onto a paper plate. Paint on the etching cream in a thick layer all over the glass (Image 1). Make sure to cover the whole glass and the stickers (Image 2). The thicker the layer, the better. Let sit for 15 minutes.
Wash Off the Etching Cream
Wash off the etching cream under room-temperature water by using a sponge.
Peel off all the heart stickers (Image 1). You'll start to see how the hearts are clear and the rest of the glass is frosted (Image 2). Once all the stickers are off, dry your glass and drink up (Image 3)!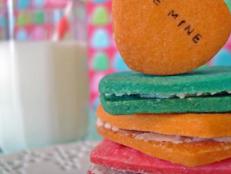 This Valentine's Day, swap chalky conversation heart candies for colorful (and delicious!) vanilla sandwich cookies stamped with custom messages.
Make this inexpensive and modern string art heart to decorate your home for Valentine's Day. Bright, florescent pink and metallic gold make for a bold conversation starter that will fill your home with a dash of color.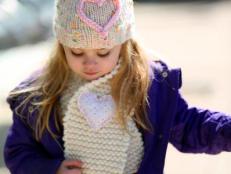 New to knitting? This is just the project for you! Keep your little one bundled up this winter with a hand-knit scarf that's a snap to make. Finish it off with a plush, embroidered heart pin that's the sweetest embellishment.