Beach-Themed Fairy Garden (Shark Included!)
Add some beachy bliss to you home no matter where you live.
We're sorry, there seems to be an issue playing this video. Please refresh the page or try again in a moment. If you continue to have issues, please contact us here.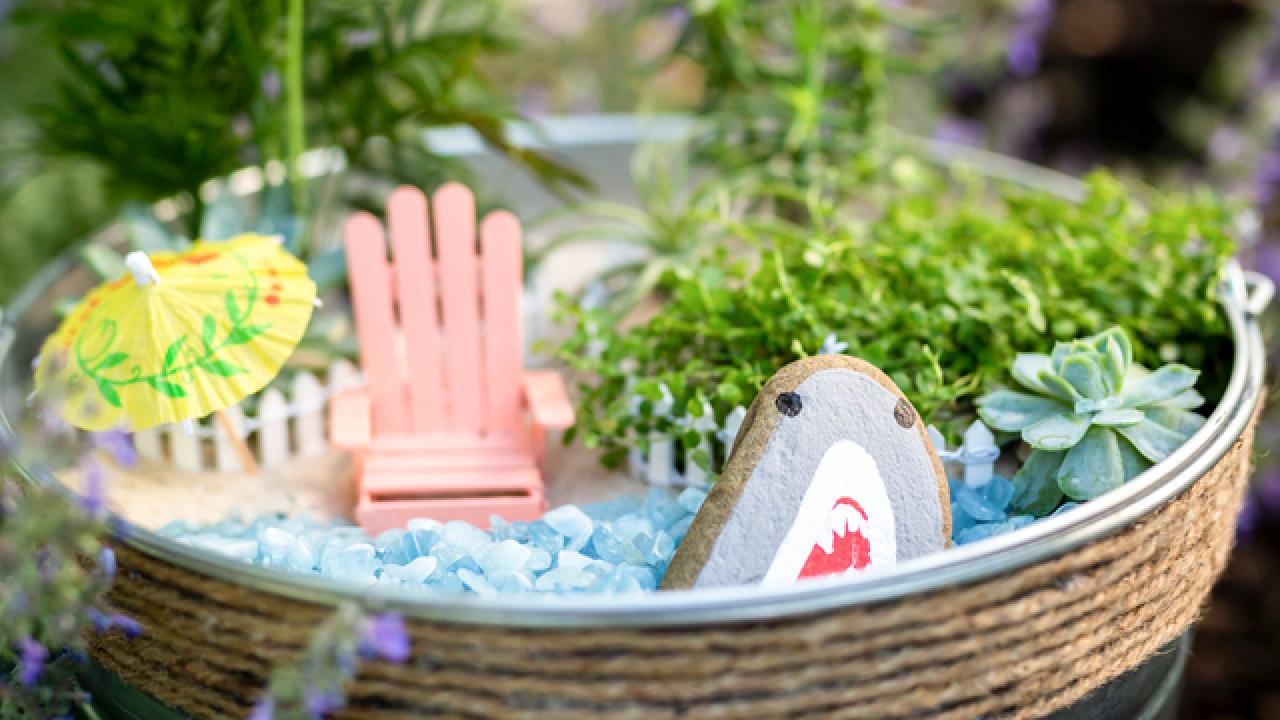 If you love plants as much as we do, you're always up for new ways to incorporate more into your home. This beach-themed fairy garden is the perfect way to bring you some tropical bliss when living on the beach just isn't an option.
Turn Your Rock Into a Shark
Begin by painting your rock to resemble a shark. We happened to find the perfect shark-shaped rock, so it took nothing more than painting on skin, a mouth, teeth and a couple dots for eyes. If you can't seem to find the perfect rock, you may have to get more creative. We chose a light blue-gray color for the skin, white for around the mouth and red for inside the mouth. Naturally, we chose white for the jagged shark teeth and black for the eyes.
To build the perfect tiny beach chair, you'll need to cut popsicle sticks into the following pieces:
(4) 1-1/2 inch
(1) 1-5/8 inch
(4) 1-3/4 inch
(3) 2-1/2 inch
(4) 2-3/4 inch
Start by assembling the seat with hot glue. Bridge two 2-3/4-inch pieces together using four 1-3/4-inch pieces. Place one on the end and the remaining three on the top. Next, assemble the back of the chair. Place two 2-3/4-inch pieces next to one another with one 2-1/2-inch piece on each end. Brace together using the one 1-5/8-inch piece across the top and a 2-1/2-inch piece near the bottom. Slide the back of the chair into the seat and glue where it meets the 1-3/4-inch piece of the seat. Finish off by adding front legs and arm rests using four 1-1/2-inch pieces.
Once all of the hot glue has dried, paint your beautiful beach chair in a bright hue so it really stands out — we chose coral!
Make an ordinary galvanized bucket extraordinary by wrapping a jute rope around it a few times and securing with hot glue. Next, to take up space and help with drainage, fill the bottom of the bucket with empty water bottles and small rocks. Next, layer in potting soil until the bucket is filled halfway.
Place small potted plants around the backside of the bucket, leaving them in their pots or planting in the soil.
On the side opposite of the plants, create a faux ocean using blue aquarium rocks. Surround the plants with miniature white picket fence to "protect the dunes." Finish this ocean escape off with your beach chair complete with a cocktail umbrella for shade. And don't forget to place your shark in the water where it belongs!
Here's a creative way to show love for your weathered sea glass.
A fabric shower curtain serves as the perfect base for this no-sew, oversized beach blanket.
HGTV shows you how to make a fairy garden.