DIY Citrus-Inspired Perler Bead Drink Covers + Coasters
Quietly steal your kids' Perler beads, because we've got a DIY you'll want to make ASAP. Turn your favorite summer designs into drink covers that double as coasters. Party on!
circular pegboard (19 pegs in width or larger)
fuse beads (in desired colors)
parchment paper
Decide on your pattern. You can follow one you've found online, or get creative by creating your own. I made a simple lemon pattern using white and yellow beads.
Determine the size you want by putting your cup or glass in the center of the pegboard. I created the lemon design using a pegboard that's 19 pegs wide. (This size is perfect for a standard pint glass.)
Place your beads following the pattern on the pegboard. Be sure to leave a circle in the middle for a straw, approximately three pegs wide in diameter. Tip: If it's easier and more efficient for you to pick up and place the beads with tweezers, definitely use them!
Place your pegboard on a flat, heat-safe surface. Set the iron to the medium setting. Place parchment paper over the pegboard, then begin to iron your project in a circular motion for 15-20 seconds. Your project is complete when the beads are fused together but still have open centers. Let cool. Tip: Lift paper occasionally to see how the beads are fusing. Adjust time as needed.
Remove the parchment paper and your project from the pegboard. Flip over to expose the non-fused side. Place parchment paper on top, and iron in a circular motion again for 10-15 seconds. Let cool. Once cool, remove the parchment paper.
This is the perfect party favor or housewarming gift for guests, and you can customize the design to their interests. And although the designs can be a bit time consuming, these drink covers/coasters are super handy to have at outdoor parties, picnics, on the lake and while camping.
Use them as drink covers...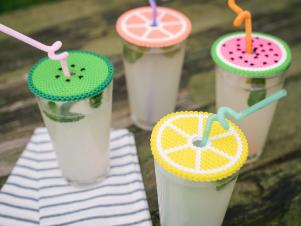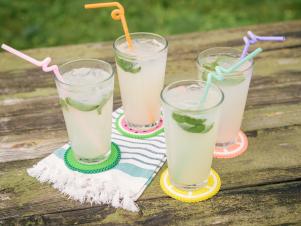 Cheers to a simple craft...