Turn a Plastic Storage Container Into a Mobile Toy Box
Breathe new life into a basic plastic storage bin by adding jute rope, metal casters and a colorful fabric liner.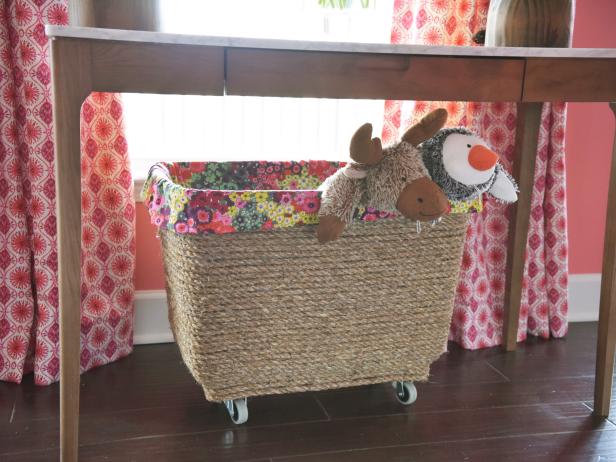 How to Make a Jute-Wrapped Storage Bin
Breathe new life into a basic plastic storage bin with jute rope, hot glue, lumber and metal casters.
Flynnside Out Productions
plastic storage bin
hot glue gun
glue sticks
50' spool of jute or sisal rope
drill
3/4" paddle bit
1x4" board
(4) metal casters
3" wood screws
table saw
measuring tape
marker
fabric liner (optional)
Determine the length and width of the bottom of the plastic bin. Next, mark the board to size using a marker, then cut two identical strips for the length and four identical strips for the width. Piece together two length strips and two width strips to create a two-layer rectangle. This will become the support structure for attaching casters. Next, use a drill and wood screws to add pilot holes into all four corners.
Add all four casters to the wood strips using a drill and wood screws.
Place two of the wood strips along the bottom of the plastic bin, then secure them in place with a drill and wood screws directly through the bottom support structure.
Unfurl the jute or sisal rope, then cut into two 6-inch strips. Next, use the drill and 3/4-inch paddle bit to add two holes for each of the rope pulls. Knot one end of each rope pull, then insert through one of the drilled holes, securing in place by knotting the opposite end.
Cover the plastic bin in jute or sisal rope by wrapping it around the exterior from top to bottom, then securing it in place with hot glue. Allow each layer to slightly overlap the other; this will ensure proper coverage without exposing the plastic.
For an extra layer of texture and color, add a fabric liner to the inside of the bin. This not only adds a more polished look, but it keeps precious items safe and protected, too.