5 Clever Ways to Upcycle Laundry Detergent Bottles
You've cleaned your clothes. Now clean up Mother Nature with these creative ideas for upcycling your used detergent bottles.
We're sorry, there seems to be an issue playing this video. Please refresh the page or try again in a moment. If you continue to have issues, please contact us here.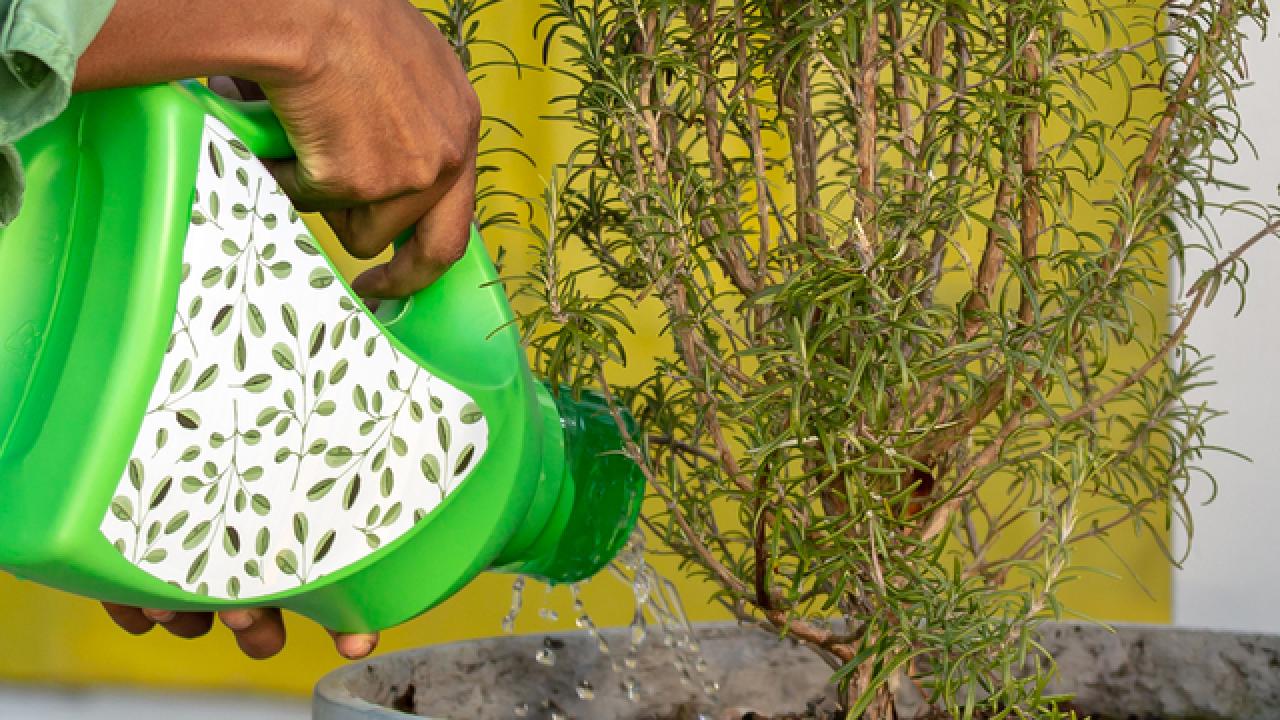 Wait! Before you toss that empty detergent bottle in the trash, stop and consider all the upcycling possibilities. You could turn it into a watering can, a toy carton, a tablet stand or even a unicorn night light. If you like the idea of upcycling, but it sounds too time-consuming, we've got some tips and tricks that will make upcycling used detergent bottles quick, easy and fun.
empty detergent bottle
parchment paper
pencil
scissors
decorative contact paper
drill + 1/8" bit
protected drilling surface
With its handle and skinny spout, a detergent bottle was practically made to become a watering can. Sure, you could just fill it with water and water your plants as is, but we've got a quick way to make it cuter and more effective. After cleaning and emptying the bottle, trace the shape of the labels using a pencil and parchment paper (Image 1). Cut out the shape, then fold a piece of decorative contact paper in two and cut the same shape out of the contact paper (Images 2 & 3). You should be left with two label-sized pieces of contact paper. Peel the backing off the shapes and use them to cover the labels (Image 4). Lastly, place the lid on a protected surface and use a drill with a 1/8-inch bit to drill 10 holes in the top (Image 5). This will make your new upcycled detergent bottle perfect for watering.
clear detergent bottle
night light kit
LED bulb
utility knife
colorful faux fur fabric
hot glue gun + sticks
colorful yarn
scissors
black craft foam
pencil
fabric unicorn horn
faux flowers
shiny gold fabric
white felt
If you have a leftover clear detergent bottle, then you have the beginnings of an adorable unicorn lamp. First, use a utility knife to carefully cut an "X" shape below the base of the handle, then poke a night light kit fitted with a LED bulb through the hole (Images 1 & 2). Using this specific kit and bulb is pertinent for cutting down on heat. Next, cut a colorful piece of faux fur fabric to the length of the bottle and hot glue along the handle, starting at the spout and working downward (Image 3). Cut short pieces of colorful yarn and hot glue around the base of the spout until adequately covered (Image 4). Remove the lid and set it aside for later use, then hot glue a fabric unicorn horn to the spout (Image 5).
For the unicorn face, draw cute eyebrows on black craft foam and cut out using scissors (Image 1). Hot glue the eyebrows to the side of the bottle opposite the handle (Image 2). If necessary, give your unicorn's yarn bangs a little trim first. For the unicorn snout, cut small nostrils out of the foam, glue them to the lid and glue the lid below the eyes (Images 3 & 4). To help cover the area around the base, tear the stems off of faux flowers and hot glue them around the spout (Image 5).
For a final cute touch, this unicorn lamp is going to need some ears. Make some magical ears by cutting a right triangle out of white felt, then a slightly smaller triangle out of shiny gold fabric (Image 1). Stack the gold triangle on the felt and attach using hot glue (Image 2). Bunch the fabric together at the bottom and secure it with hot glue to form the shape of a unicorn's ear (Image 3). Repeat the process for the second ear. Lastly, glue the ears to the base of the spout between the flowers (Image 4). Now, just plug in your creation to bring it to life.
empty detergent bottle
construction paper
parchment paper
pencil
scissors
utility knife
hot glue gun + sticks
sanding block
hangtag
Tired of stepping on toy blocks? Give your child (and your feet) the gift of a detergent bottle block scoop. If you desire to organize the blocks by color, start by creating color-coordinated construction paper labels using the same parchment paper tracing process as the watering can how-to (Images 1 & 2). Since the construction paper lacks its own adhesive, use hot glue to cover over the existing labels (Image 3).
Next, remove the lid and use a pencil to draw a larger circle beneath the opening (Image 1). Using a utility knife, carefully cut the top off of the bottle (Image 2). Smooth the cut edges using a sanding block (Image 3). To aid in your little one's organization, draw a toy block on the scrap construction paper, cut it out using scissors and tape to a hangtag (Image 4). Attach the tag to the bottle's handle for easy and effortless toy block organization (Image 5).
empty detergent bottle
spray paint
pencil
utility knife
scissors
sanding block
If you're like us, you are constantly propping your tablet or phone against random objects to watch videos. It's time someone thought of a better way, and upcycled detergent bottles are once again the quick fix. To turn a detergent bottle into a tablet stand, first wash and dry it out. Next, use scissors to cut the side opposite the handle off, leaving only a lip at the bottom to hold the tablet in place. This may be more easily done in three steps, by drawing the outline and cutting with a utility knife before finishing with scissors (Images 1-3). Once cut, smooth the sharp edges using a sanding block and paint the bottle with your favorite color of spray paint (Images 4 & 5). Once dry, you're ready to use it to prop up your tablets wherever you need them.
Last but certainly not least, if you can't find a use for your empty detergent bottle, you can surely find a use for the lid. These small plastic lids are perfect for storing small objects in drawers and cabinets.