How to Pick the Perfect Area Rug for Your Living Space
Scale. Style. Function. Let us help you select the perfect area rug for your living space with these helpful tips, and find some great options to shop, below.
Keep in mind: Price and stock could change after publish date, and we may make money from these affiliate links.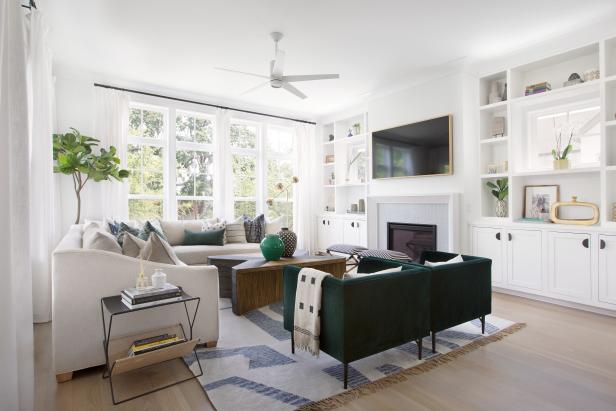 Transitional White Living Room With Green Chairs
This light, bright living room has a few style surprises. The rug's big, bold pattern instantly brings visual interest to the mostly white decor. And twin chairs in a dark jewel tone are a beautiful way of layering in depth.
Margaret Wright Photography
Finding the perfect area rug is not an easy task. Thanks to the internet there are, quite literally, endless area rug options available at our fingertips. And while we love a wide selection, the unlimited options feel less like a gift and more like too much of a good thing. But, not to fret! We're here to share the scoop on how to find the perfect area rug for your space.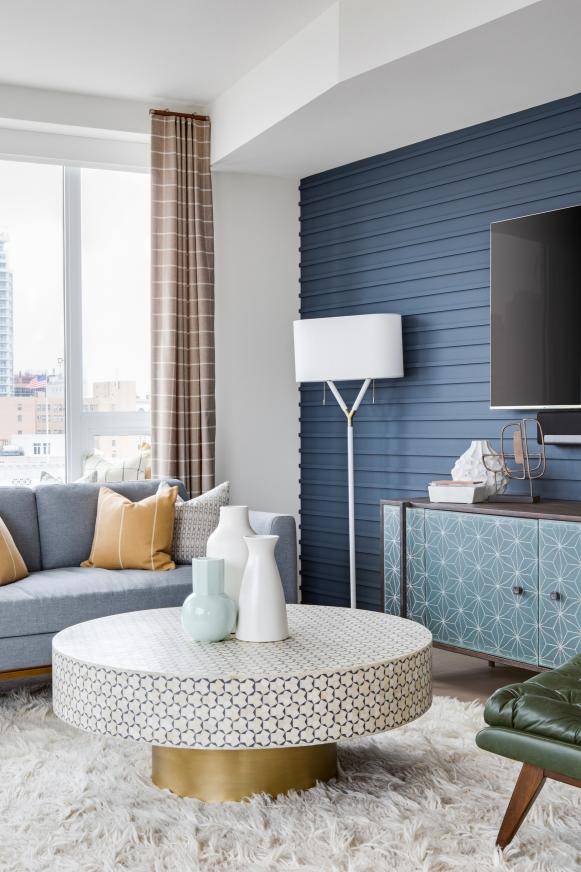 Midcentury-Modern Living Room With Blue Accent Wall
A blue accent wall acts as a colorful focal point in this midcentury-modern living room. A low, round table centers the sitting area while displaying stylish knickknacks.
Our secret? Scale, style and function.
If you make scale, style and function your top priorities while rug shopping, you will score a carpet that fits your design vision and household needs in no time. Keep reading to learn more about how to decorate with rugs and to shop our favorite area rugs for your home.
A too-small rug creates an unfinished, unsightly floating effect that detracts from the design. In contrast, a rug that's too large for your space will make the room appear tight and overstuffed. Our advice? Avoid both scenarios and use the measurements of your room to guide you on your quest of choosing the best size rug for your space.
There are endless sizing guides online with rug suggestions based on standard room measurements, but a good rule of thumb is to select a rug that is two feet shorter than the smallest wall in the space. For example, choose an 8'x10' rug for a 10'x12' room, a 5'x 8' rug for a 7'x10' room or a 3'x5' accent rug for a 5'x7' room.
Still not sure if you're on the right track? Your area rug should fit entirely or partially beneath all major furniture in the room. If you're working with a smaller area rug, position it at least halfway beneath all your key furnishings (think: sofa, bed, armchairs) to create a cozy and secure floorplan. Pro tip: Layer your small area rug on a larger natural rug to yield curated, texture rich flooring that fits the scale of your design.
Ceilings are often called the "fifth wall" in design. Well, consider your area rug the sixth. Rugs are available in every color, pattern and pile imaginable and their distinct motifs and color stories are often synonymous with specific interior styles. Couple that with the fact that area rugs take up a lot of visual real estate in a room and it's easy to see how a rug can influence the aesthetic of your space.
A hand-knotted Heriz or Kashan area rug will look at home in traditional interiors, while the popular Beni-Ourain Moroccan lattice rug is best suited for modern, contemporary or bohemian style designs.
Aztec kilim rugs provide southwestern and eclectic rooms with kicky pattern underfoot and geometric color block carpets enhance midcentury modern and Hollywood regency interiors, alike.
Every room has a distinct function, rhythm and level of foot traffic. All of these things must be considered when selecting the perfect area rug for your space.
Homes with muddy pawed pups and sticky fingered kiddos should choose a rug that can withstand the chaos of everyday life without falling apart after 6 months. Machine washable and performance fabric area rugs are our go-to for busy households and indoor-outdoor designs are wonderful, too. Natural rugs (think: jute, sisal, seagrass) are also great options for bustling areas and we especially love that natural rugs are readily available at budget-friendly prices.
High-end area rugs with high-piles or woven from silk viscose make enviable additions to homes with lower foot traffic, calm pets and households with older children that are less prone to mess.