3 Easy Upcycled Hanging Planters
We turned three household objects into hanging planters for your home.
We're sorry, there seems to be an issue playing this video. Please refresh the page or try again in a moment. If you continue to have issues, please contact us here.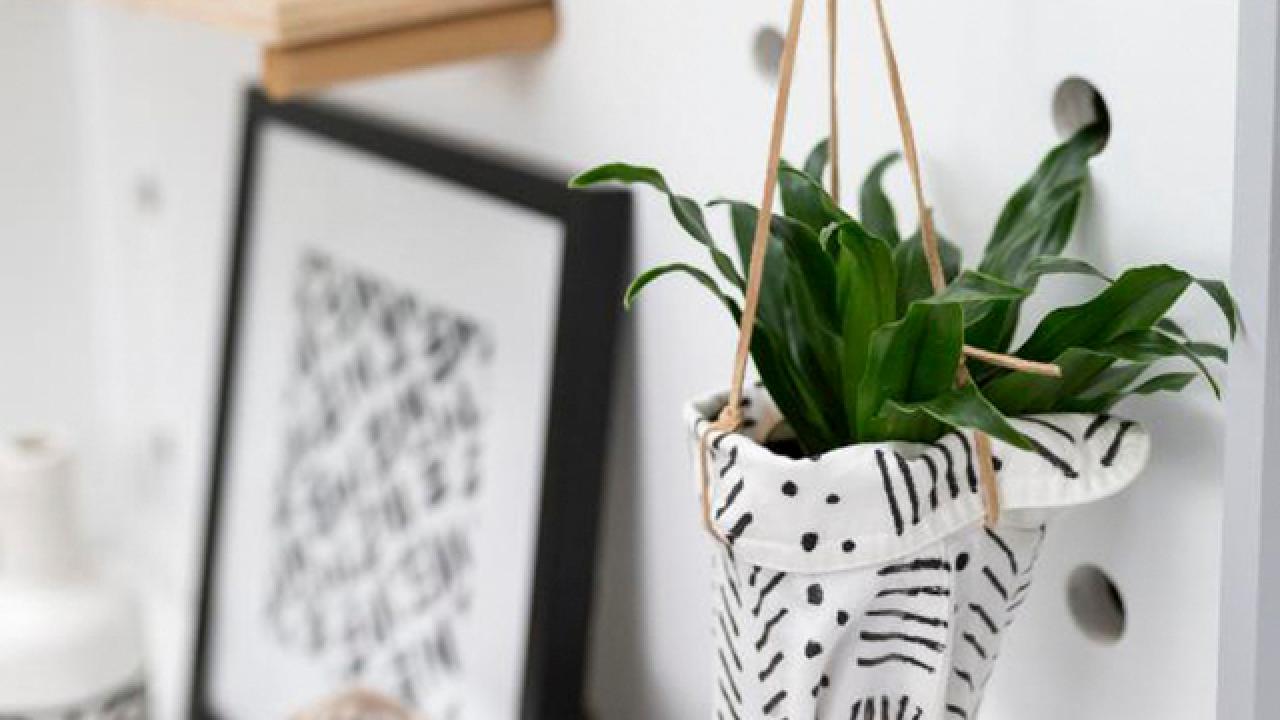 crochet potholder
coordinating yarn
scissors
plastic yarn needle
(4) wooden beads
small potted plant
Cut four strands of yarn long enough for hanging your plant. Tie each strand to each corner of the potholder using a plastic yarn needle (Images 1 and 2).
Embellish by adding a large wooden bead to each corner and double knotting (Images 1 and 2). Place your potted plant inside (Image 3), and hang somewhere in your house or office.
Shampoo Bottle Materials:
empty shampoo bottle
utility knife
scissors
hole punch tool
copper wiring
pliers
potting soil
river pebbles
small indoor plant
Remove the label, and rinse out the shampoo bottle. Cut the top of the bottle with a utility knife (Image 1). Trim it with scissors to get clean edges (Image 2).
Add two inches of pebbles to the bottle to add internal drainage (Image 1). Top it with potting soil (Image 2).
Punch a hole at the top on each side (Image 1). Use pliers to thread wire through to create a hanger (Images 2 and 3). Add the plant to the bottle (Image 4).
old white shirt
fabric scissors
fabric marker
small, sharp scissors
rubber band
leather cording
small potted plant
(1) wooden bead
Cut about half of a sleeve of an old white shirt (Image 1). A shirt with stiff fabric and a cuff works best for this project. Use a fabric marker to draw your desired design. We went with mudcloth (Image 2). Fold the cuff over, and continue drawing the pattern (Image 3).
Turn the sleeve inside out (Image 1), and cut three slits around the seam of the cuff using small, sharp scissors. Make the base by gathering the bottom of the sleeve and tying tightly with a rubber band (Image 2). Turn the sleeve right side out (Image 3).
Cut three strips of leather cording long enough to hang your plant. Thread each cord through a slit in the sleeve and knot to secure (Images 1 and 2). Place your potted plant in the sleeve (Image 3). Thread and tie a wooden bead halfway up the cords, double knotting the cord to keep the bead in place (Images 4 and 5).