Meet 'Home Town': Old Home Love, Small Town Living
Coming in March, HGTV brings you a new renovation show set in a tiny town in the Deep South. Start getting ready now for Home Town.
Heads-up to all you fans of that wildly popular HGTV series featuring that irresistible couple from Waco, Texas. (What's it called? Fixersomething?) There's a new show on the horizon — and another compelling young couple — and we've got a feeling you'll fall for them, too. The couple is the Napiers, Ben and Erin to be exact. We've only seen a couple of episodes of their new series, but already we're hooked.
Ten episodes have been shot for the first season, each one featuring a vintage-home renovation set against the backdrop of a tiny Southern town. As for hosts Erin and Ben, well, they're certifiably adorable.
Here are the basics. Ben and Erin Napier are bona fide Southerners who love fixing up old houses. (And restoring old cars, but that's another story.) But more than that, they love small town living, and they're striving, on a variety of fronts, to make their own Mississippi home town more livable, lovable, welcoming and fun.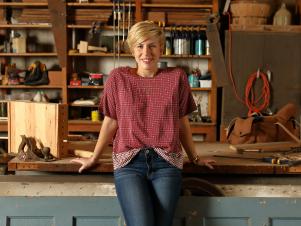 Todd Douglas/ Getty Images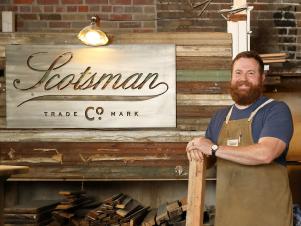 Todd Douglas/ Getty Images
There's something about the pace, the sense of community and the common language in a small town that's got an undeniable appeal. But, on the flip side, those same towns can be at risk when it comes to financial vulnerability, outmigration and potential loss of the very history and features that define their original charm.
Fortunately, in the ultra-finite universe that is a small town, a couple of heroes can make a big difference. "Our town is going through a major rebirth" says Erin, "and it's so exciting to be a part of it." Aside from saving old homes one at a time, the couple is heavily involved in the city's downtown revitalization.
The story began when, as newlyweds, the couple purchased and faithfully restored a 1925 Craftsman style home. Their passion for seeing old homes get a new life grew, and they decided to make a collective career out of doing the same thing for other residents and newcomers to their town.
And when it comes to restoring historic old homes, the couple's got the necessary skill set. Both are graduates of Ole Miss. Ben has a degree in history as well as first-hand building experience and he's a skilled woodworker. Erin brings the decorating and design sense, and her background in drawing and graphic design is integral when it comes to communicating style and vision to clients.
Both Ben and Erin cherish the ideals of preserving the past, respecting a home's history, staying authentic to original architecture, and, whenever possible, incorporating period elements and reclaimed materials into their restorations.
The Willett House Restoration
Take, for example, the restoration featured in Home Town's pilot episode. A young couple, Ross and Laura, who had tastes (and stature) similar to those of Ben and Erin, were moving to town and in search of a real forever home in a historic neighborhood.
One of the two houses Ben and Erin showed them was a bland brick home known locally as "The Willett House" – so-called for its long-time owner and former resident. "Now, Mr. Willett didn't build this house," explains Ben "but he lived here for so long that now it's known as 'his' house. You've got to invest a little time and story into a place before it can be 'your' house." The house was built in 1940 and, on the outside — with its plain brick exterior and porch wrapped in aging louvered glass — left little to write home about.
"So a great thing about living in the South, especially in a small town," continues Ben, "are the porches...Except for this porch." That was before the renovation. But the asking price for the home was right, and the interior came with some nice attributes that offered promise — like high ceilings and a partially finished attic.
Ben and Erin would be content with no less than a complete transformation of the home's exterior. The sagging porch was made level, the brick skirt removed, and the facade completely redefined with new columns, railings and stairs. "In this small town, the porch is just as important as the living room or kitchen," says Erin. "It's where you gather. It's where you hang out. So [we treated] this porch like a living space." The updated porch is spacious enough to accommodate a seating and dining area, and — a key element for any good Southern home — a porch swing.
The kitchen came with high ceilings and was fairly large, but dated and, in its current configuration, still felt confining. For the renovation, a wall separating the kitchen from the dining room was removed, freeing up the space, and the kitchen was completely remade with the original hardwood floors revealed (once six layers of old flooring were removed) and refinished, and new cabinets added with black honed-granite countertops. Ben custom-made a small center island using wood reclaimed from homeowner Ross's family cabin.
Stay tuned. You'll likely be hearing a lot more about the Napiers and this exciting new series. Home Town premieres Tuesday, March 21 at 10p | 9c. Check back at the Home Town show page for updates, and follow along on Twitter: #HGTVHomeTown.