Why We're Obsessed With Mexican Pom-Poms
These colorful tassels and garlands are big in Mexico, and they're going global. See how to decorate with this trendy accessory.
One of my favorite countries in the world is Mexico. I love how colorful the culture is, from the marigolds of Dia De Los Muertos to the neon textiles in the markets. It's like a fever dream of embroidered florals and Otomi animals, and you can't go far without seeing the vibrant, multi-colored pom-poms. The look has gone global in the fashion world with recent trends such as sandals with pom-poms or yarn tassel earrings. And with all that neon, you might think it's a new thing, but these pom-poms have been around for ages.
Authentic pom-poms come from Chiapas, the most southern state of Mexico, and they're made by the Tzotzil, an indigenous Mayan people. Traditionally they were made from cotton, but these days you'll find many artisans opting for acrylic yarn as it looks much brighter.
"[Tzotzil] women use the pom-poms in the braiding of hair," said Mexican artist Alejandra Fernandez. "They hang pom-poms from the end of the braid."
Fernandez, a native of Mexico City, has spent the last decade as a tour guide in Mexico and said she's gotten to know a lot of indigenous people in Chiapas. "There are more tourists coming to the region," she said. "So they're using the same traditional technique of the decoration of their hair, but they started making garlands."
And it's not just garlands. The pom-poms have become very trendy in Mexico. "People use them to decorate their homes or their bags or curtains," said Fernandez.
Fernandez lives in a small village just south of Mexico City. She started her online handmade store Mexican Beauty Shop in 2016 where, with artisans from Chiapas, she makes gorgeous pom-poms, embroidered hearts and other traditional textiles.
"I love pom-poms," she said. "They're so fun. I love that they are colorful. They make you happy."
Culturally, you can find hanging pom-poms in other countries such as Thailand, but these Mexican pom-poms are different because there's so much color. "The colors represent the sun rays," said Fernandez. "It has to be hot red, bright pink, yellow. No pastels."
If you love these tassels as much as we do, read on to see how to style these accessories in your home. Here are four ways to get the look.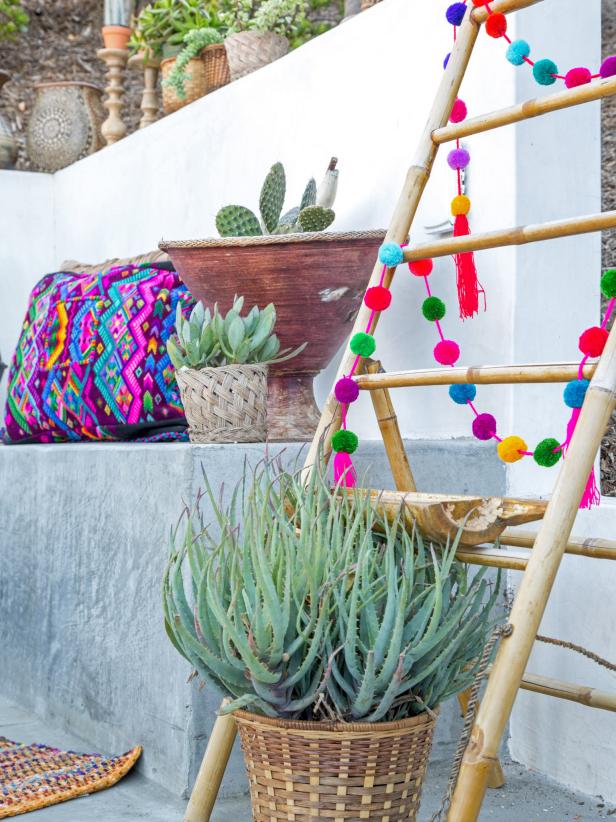 Colorful Pom Pom Garland Decorates Mexican-Inspired Patio
Fun details bring some personality and vibrancy to the outdoor space. A colorful pom pom garland is simply strung across a vintage easel and paired with a large succulent plant. On chilly nights you can hang cozy blankets on the rungs of the easel to switch up the look even more.
Bethany Nauert; Styled By: Paige Geffen
Garlands are great for decorating outdoor spaces, especially areas for entertaining. You can hang garlands like a banner or drape around shelving and furniture such as this outdoor ladder.
You can hang multiple strings of pom-poms vertically to make a larger art piece such as this heart installation I saw in Puerto Vallarta.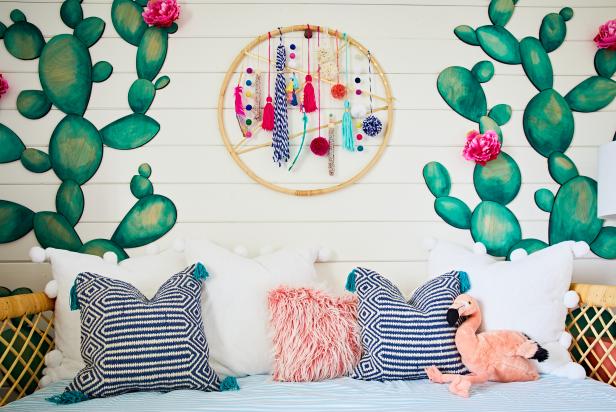 Boho-Chic Girl's Room With Dreamcatcher, Watercolor Wall Art
A woven dreamcatcher hangs over the bed, its bright blue and pink tassels echoing the colors in the throw pillows. Two watercolor cactuses laser-cut and hand-painted by designer Joanna Gick balance the piece on either end.
John Woodcock Photography
Or you can take individual tassels and pom-poms and display on an embroidery hoop or piece of wood such as the custom piece in this boho-chic bedroom.
Just a single pom-pom makes a great accessory, too. Dress up a purse or beach bag with a tassel or use as your keychain this summer.
If you're inspired by these pom-poms and want to DIY your own decor, a great craft to start with is trim. You can turn colorful placemats and napkins into a fiesta-ready tablescape.
Get the Look
Add festive pops of color to any tabletop with these cheerful, decorative fabrics.
Or turn plain blankets and pillows into festive decor with a simple, no-sew pom-pom trim.
Get the Look
Whip together these pillows in about thirty minutes or less. No sewing skills required!