Why Designers Still Love White-on-White Rooms
Yes, your home can wear white after Labor Day. Pick up a few ideas from designers for your next room makeover.
White rooms may seem easy to pull off. One color palette, no problem. Not so fast.
A few missteps will disrupt the fresh, calming vibe. Instead, take cues from designers like Melanie Turner Interiors, which created a beachy white living room with linen slipcovered chairs and lacquered tables.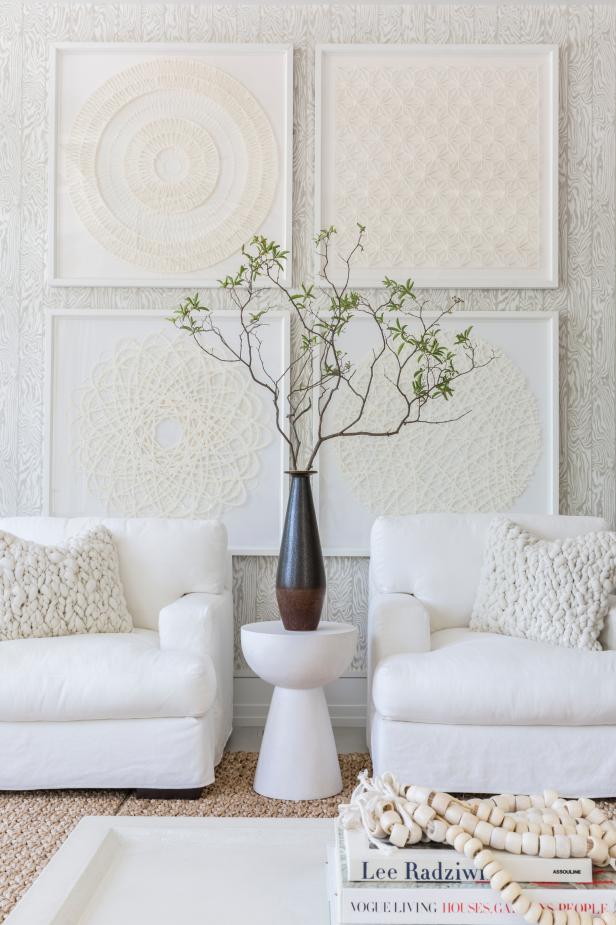 Beachy Bohemian White Living Room
Melanie Turner Interiors designed this beachy bohemian white living room.
She further elevated the look with texture from framed artwork (made of intricate paper cutouts), linen drapery with ragged edges and knit pillows. Even the luxury wallpaper looked like white paneling.
"It's just timeless," Turner says. "Nobody ever gets tired of simplicity, especially in our hectic lives."
White decor is not only a year-round staple, but can be used to fashion any room, ranging from coastal to contemporary.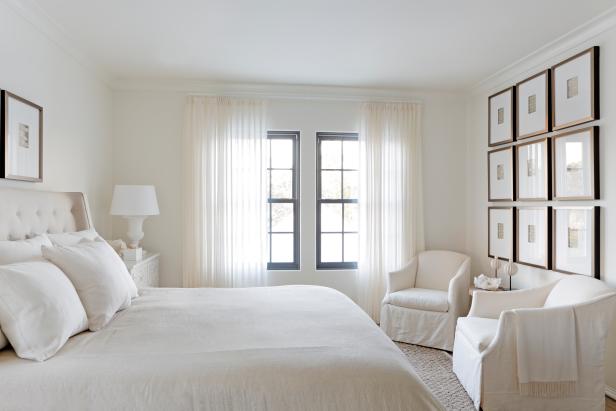 Sophisticated White Bedroom with Sculptural Furniture
Melanie Turner Interiors designed a sophisticated white bedroom with sculptural furniture and slipcovered chairs.
White rooms not only look beautiful but appeal to designers for their delicate nature and for the ability to mix periods and styles. With pristine white walls, designers curate furniture, art and accessories to complete the look.

Finishes, like lacquered or mirrored tables, and different shapes and patterns add rhythm to the space, says designer Robert Brown.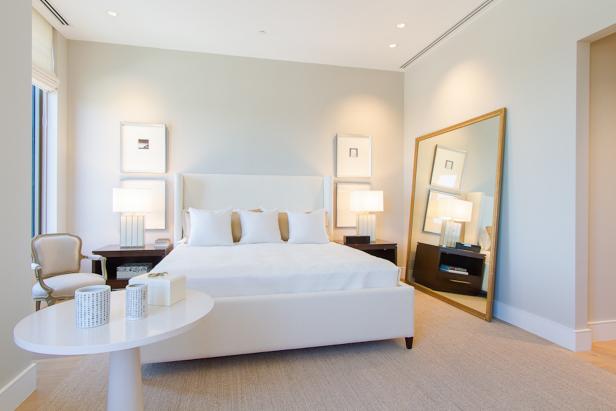 Classic White Bedroom in a Condo
Robert Brown Interior Design played off the white walls in a high-rise condo with his signature classic style. He balanced the white table, artwork, linens and bed with metal accents and dark wood matching end tables.
The Residences at Mandarin Oriental, Atlanta
In a high-rise condo, he played off the white walls with his signature classic style. He balanced the white table, artwork, linens and bed with metal accents, matching dark wood end tables and an antique French chair.
"It's a great backdrop if you have a great antique collection," Brown says.
Tufted furniture and the straps and frames around mirrors also add eye appeal to white rooms.
Sometimes your view demands a white palette. In a high-rise condo, designer Kohl Sudnikovich with Cantoni knew when he walked in that the skyline demanded the attention. From a low-profile, contemporary L-shaped sectional in white, residents and their guests could enjoy the city backdrop.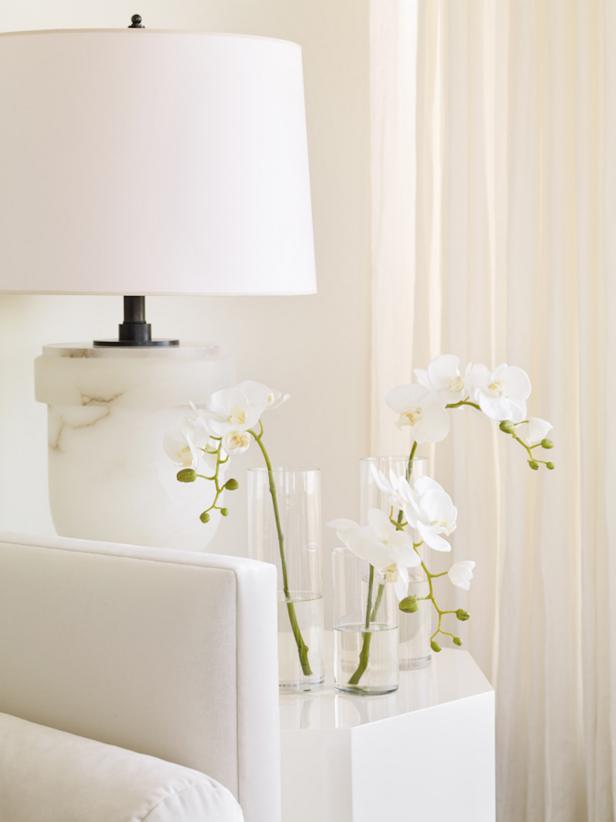 White Lacquer Table and Floral Blooms
A white lacquer table, table lamp and floral blooms work together in a luxury condo decorated by Melanie Turner Interiors.
Use sculptural floral arrangements to continue the white-on-white decor. After all, white blooms brighten rooms all throughout the year.