See Why Basket Walls Are the New Gallery Walls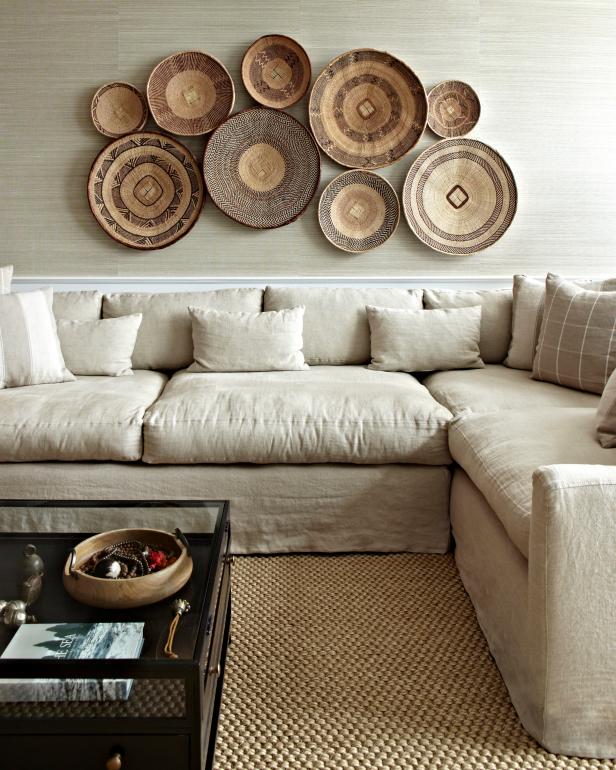 Basket Wall Art
Woven baskets add a natural and unsuspected detail to this contemporary living space. The baskets add another layer of color and texture to the neutral palette.
It's hard to scroll through my Instagram feed and not see a basket wall. These babies are trending big time.
If you're wondering what a basket wall actually is, we've got the scoop...and it's actually quite simple. It's a collection of baskets grouped together and hung on a wall. The look works for a variety of different styles, including boho, traditional, rustic or coastal. They're inexpensive and easy to recreate in your home. In fact, check out these totally doable and totally inspiring basket walls we're currently totally crushing on.
Using a variety of baskets in various styles, colors and textures is a great way to create a unique basket wall of your own. If you're unsure how to arrange them, copy this setup and try to form a loose triangle on your wall.
Use Baskets Instead of Art
Here's an example of a loose, expansive basket wall. In this case, the baskets and other accessories completely eliminate the need for artwork. Since you can often find great baskets at the thrift store, this is a smart way to save money in your space.
Another great spot to put a basket wall is directly over a fireplace mantel. This tightly grouped basket wall is a great way to bring the eye up to the ceiling and provide a nice backdrop for the other accessories.
Most baskets are a neutral color; however, there are definitely more colorful baskets out there. If you want to focus on color, try to find African or South American baskets. It might take you a bit longer to collect the colorful ones, but they really make a big impact.
Another great trick for anyone who's unsure about basket placement is to surround an object that's already on your wall. In this example, there's a beautiful basket wall surrounding an entryway catchall.
If you've been stumped about what to hang above your desk, add some baskets. Again, a basket wall over your desk will completely eliminate the need for additional artwork. In this example, the baskets are paired with some wicker accessories for an extra punch.
While variety is always great, you can still create a beautiful basket wall using baskets that are all the same size. In this example, the wall features different style baskets; however, most of them are roughly the same size. It helps the space feel a bit cohesive.
I really want a proper backsplash in our kitchen one day, but for now, I need a solution that will cover up the blank, white walls. My solution? A basket backsplash. I hung a variety of baskets all over my kitchen to fill up the space between my counter and cabinets. The entire design cost me around $15 since I found all the baskets at Goodwill.
If you're loving the look of your wall, you can slowly but surely keep adding to it. Even if you just have a few baskets when you start out, don't let that stop you from starting up your basket wall. As you find more and more baskets at the thrift store, you can keep adding to your collection.
Here's a great example of a pulled together, purposeful basket wall in a dining room. Various sized baskets are hung equidistantly to create a chic, boho space that doesn't require any additional art.
The DIY Route:
Other Ways to Use Baskets in Your Home