Learn how to build an outdoor gazebo to store bikes, outdoor equipment or just make it a place to relax in the shade.
This 10' x 12' outdoor room can be built to cover a patio, carport or just use as storage for bicycles and recreational equipment. We built our structure with painted, pressure-treated wood and heavy-duty corrugated PVC roof panels to make sure it will last for years to come.
We're sorry, there seems to be an issue playing this video. Please refresh the page or try again in a moment. If you continue to have issues, please contact us here.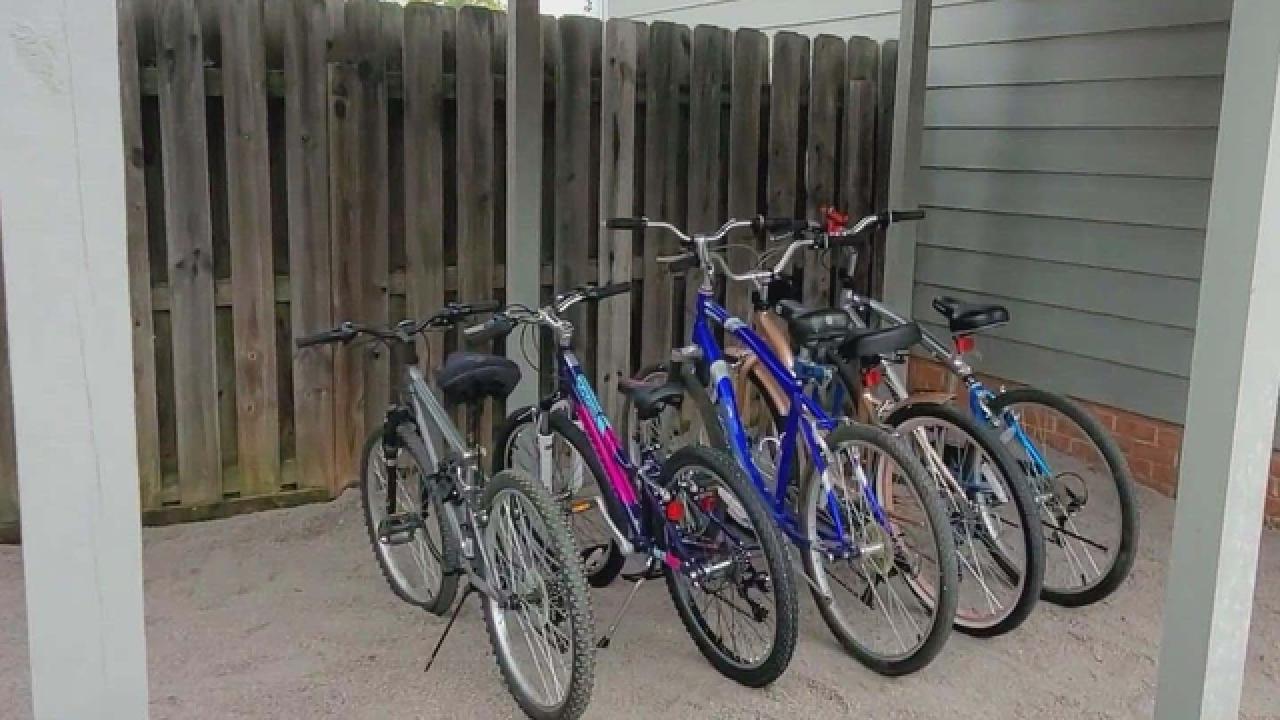 work gloves and safety glasses
shovel
post-hole digger
(2) 50lb. bag of gravel
(8) 50lb. bag quick setting concrete
(6) 4x4 x 10' pressure-treated posts
(1) 2x4 scrap piece of wood or stakes for bracing posts and stirring concrete
measuring tape
(5) 2x6 x 10' pressure-treated wood
(6) 2x6 x 12' pressure-treated wood
(8) 1x2 x 8' presure-treated wood
48" level, a line level and a post level
nylon mason line string
(1) gallon exterior paint (we used Behr color "Iron Gate"- MQ2-60 )
(1) mini paint roller and tray
circular saw
(1) box 4" exterior wood screws
(1) box 2" decking screws
drill
(6) joist hangers
(1) box of #10 – 1-1/2" connector screw
(1) box 1-3/4" decking screws
(6) 12' PVC roofing panel (Castle Grey is the color we used)
(1) box 1" fasteners
(1) plastic closure strips
(1) hex socket set
landscape fabric and pins
small 3/16" rock or gravel
Determine how big your gazebo is going to be and lay out where to dig the post holes. We used six posts in two evenly spaced rows. The two rows are 10 feet apart and the posts in each row are spaced five feet apart. Our total overall footprint is 10' x 12'.
Use a post-hole digger to make the six holes two-feet deep. Check with your municipality's code authority if you think your frost line may be deeper than two feet. If you don't have a post-hole digger, a shovel works too. To make the task even easier, rent a large power drill with an auger bit from an equipment rental company.
Fill the holes with 2" of gravel before putting the pressure-treated posts in place. Pro Tip: Insert screws pointing up at an angle at bottom of each post. This will help the post really grab the concrete as it sets. Attach a post-level to the wood to ensure that it's standing straight. When it is level, brace it with scrap 2x4s to hold it in place while the concrete dries. Pour a bag of concrete into the hole and add water; use the manufacturer's recommended ratio. After the concrete is completely cured (about 24 hours), back-fill the last few inches with dirt.
Use an orbital sander to smooth any rough spots off the posts. Paint all posts and the rest of the wood with exterior paint. We chose to paint our posts when they were standing, but you can also paint them before they're installed.
We made the roof of our gazebo sloped so rain and snow will easily run off. The slope of the roof is shallow, it has a 2/12 pitch, meaning for every 12 inches the roof drops 2 inches. Check your local codes to see if there are specific requirements for angles. If you live in an area with heavy snowfall, you may have to pitch your roof at more of an angle. Use a circular saw to cut the posts down to create a slope away from the house. Use nylon string and a line level to ensure the three sets of two posts are even.
Frame the exterior of the posts with 2x6 x 12' boards along the front and back, and use 2x6 x 10' boards along the sides. Fasten the wood with decking screws. Use a level as you go to make sure all the pieces are even.
Install joist hanger brackets just below the outer horizontal frame pieces on all the posts. When you insert the 2x6s into these brackets, they need to be level with the bottom of the outer frame pieces you installed in the last step. Insert the 2x6 boards into the brackets and secure them with connector screws.
On top of the supports, secure a 2x6 board every two feet for the length of the structure. Use 2-1/2" decking screws to secure them through the outer frame pieces.
On top of the joists, use 1-1/2" decking screws to secure 1x2 rafters spaced two feet apart.
Lay the PVC roof panels on top of the rafters. Overlap the panels as you go and screw them in place with the manufacturer's recommended sealing washer fasteners. You can add plastic closures for a more a finished look.
Lay landscape fabric out over the entire ground. Landscape pins will hold it all in place. Cover with a 2" layer of fine gravel. Add a border of large rocks where needed.