10 Best Outdoor Storage Sheds You Can Buy on Amazon Right Now
Today's options are a lot cuter than you think.
Keep in mind: Price and stock could change after publish date, and we may make money from these links.
Outdoor sheds are a great way to hack some garage-style square footage if you don't have a garage. And while they've kind of earned a reputation for being eyesores, today you can find tons of attractive options, from rustic-chic to modern style. And if you think an outdoor shed is out of your budget, think again. We found some great sheds on Amazon — most for less than $500. Some even less than $200! Read on and shop our top picks.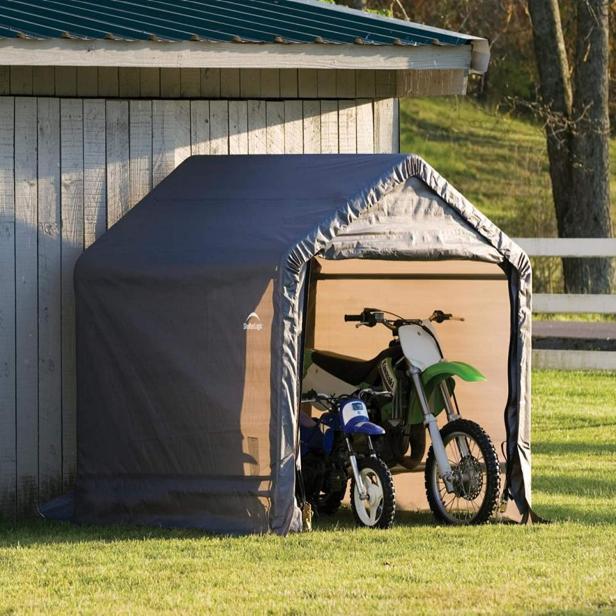 You don't have to buy the mega-expensive shed. In fact, if you live in a rental, definitely check out an easy-to-assemble pop-up shelter. These tent-like structures are the most affordable way to get a shed for storage. And they come in several different sizes.
Buy It
For Your Patio Accessories
There's nothing better than dining alfresco and living that #patiolife in the spring, summer and fall. But come winter, the patio usually gets abandoned. And while most outdoor furniture and textiles can withstand heavy snow, your furniture and accessories will last longer if you store them through the cold months. This modern, steel shed is just the right size for storing chairs, cushions, outdoor rugs and fire pits.
Buy It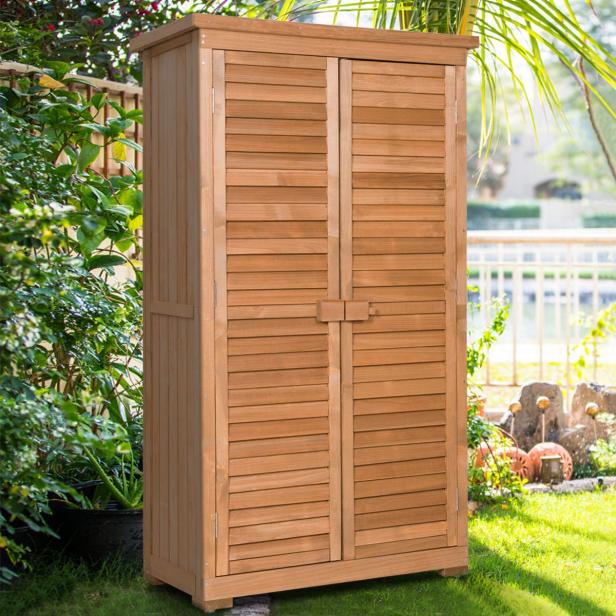 If you just need storage for smaller equipment such as yard tools, this wooden locker is your best bet. The extra vertical shape is perfect for storing tools with long handles like shovels and rakes. And the fir wood design is pretty hip. It wouldn't look out of place at all on a patio.
Buy It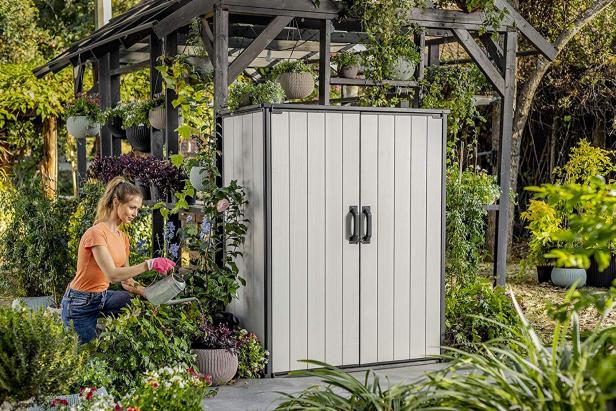 Outdoor sheds are perfect for storing and organizing holiday decorations, from faux wreaths and garlands to spooky Halloween headstones. This charcoal gray storage locker could easily sit on a patio or corner of the yard without taking up much space or drawing attention.
Buy It
Keep firewood dry and protected with this sturdy steel structure that's weather- and rust-resistant. The simple, modern design wins bonus points for style. There's something so satisfying and pretty about seeing stacked wood, too.
Buy It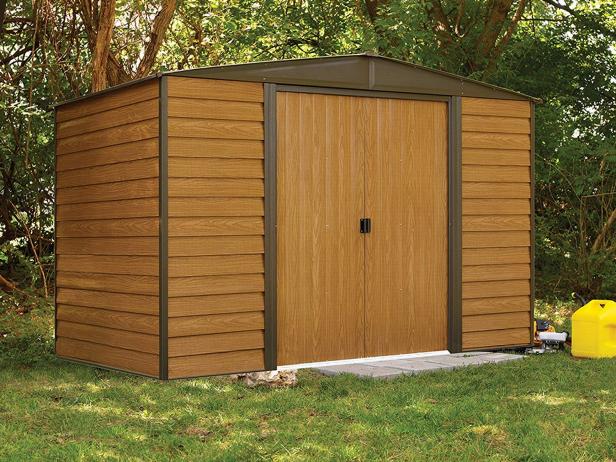 Create an oasis all to yourself with this cute wooden shed. The options are endless for uses for this space from an outdoor yoga retreat to an art studio. The double doors slide open for crafting or painting ventilation. Just remember: Never store paint or painted art pieces outside. The fluctuating temperatures will ruin the paint.
Buy It
For Your Gardening Supplies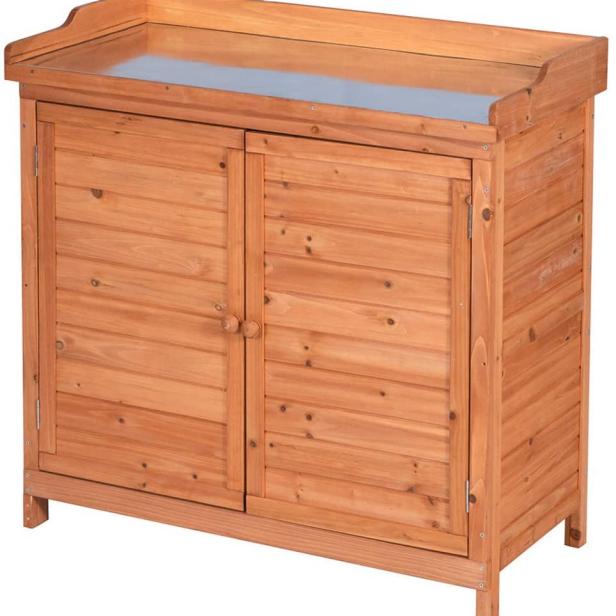 Technically, this is a storage cabinet. But it's a really big cabinet with a built-in potting table, which is perfect for gardeners. It has two deep shelves to store pots, soil and tools. Plus, the convenient flat top makes potting new plants super easy. No need to lug your soil around the yard.
Buy It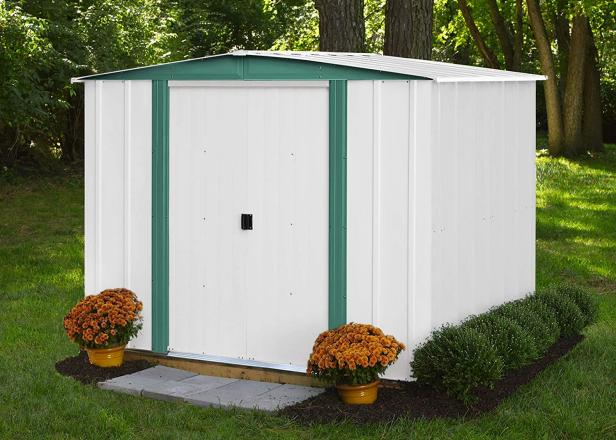 If your family has a lot of outdoor gear, this waterproof and UV-protected shed is a solid buy. There's enough room for all of your adventure supplies, from kayaks to hiking and camping gear. Just remember: Never store food outside in a shed, even if it's vacuum-sealed camping food.
Buy It
Having your own backyard pool is great until the end of the season when you realize you have a ton of floats and noodles and no more space in the garage. This charming outdoor shed is perfect for storing all of your pool toys through the colder months. During the summer, leave the shed doors open for a stylish mini pool house.
Buy It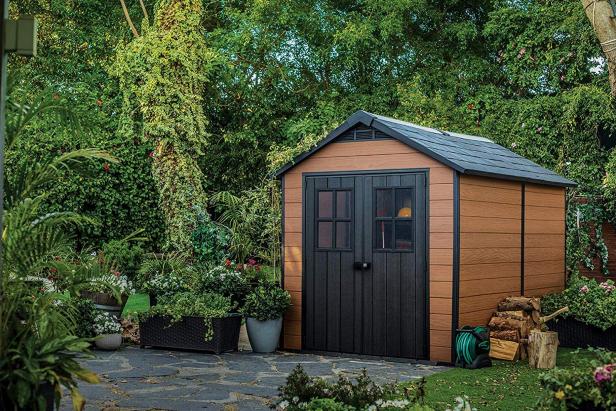 If you need some serious storage — like big enough to house multiple lawnmowers and other big equipment — this is your shed. Most of the extra-large storage sheds online are metal and basic, but this cutie looks like a tiny house that you'd find in the Gaines' backyard.
Buy It
More Backyard Shed Inspiration