Backyard Shed Buying and Planning Guide
An outdoor shed may be the key to your storage bliss. Discover options for pricing, sizes, materials and designs.
When it comes to the cubic footage you need for storing garden tools, sports gear and stuff you can't do without, but don't know where to put, nothing beats a shed. A shed is a versatile way to increase your storage capacity without gobbling up space in your house or garage.
But there are just about as many types, styles and sizes of sheds as there are homeowners. Here's what you need to know to get one that's right for you and your budget.
Choosing a location for your shed is key. It's best to choose a spot that's easily accessible. Although it's possible to put a shed directly on the bare ground, it's best to place it on a level, 4- to 6-inch deep bed of gravel or sand to keep it stable and increase its longevity. The ultimate foundation is a poured concrete slab.
Before you finalize a plan, check your local codes and ordinances to see if there are any restrictions on the size of a shed or its proximity to property lines.
Sheds are available in all shapes, sizes and prices for every need and budget. Before buying, think about what you'll be storing and how easy it will be to remove items you regularly use, such as lawn mowers and bicycles.
Storage shed sizes usually are described in terms of square footage.
Small sheds offer 20 to 60 square feet. A shed that's 6x6 feet (36 square feet) will house a lawn mower with the handle extended, a bicycle and gardening tools.
Medium sheds are about 60 to 120 square feet and will house a riding lawn mower, two bicycles, a snow blower and an assortment of tools and supplies.
Large sheds are 120 square feet and up. Plan for a large shed if you have several big items such as a motorcycle, large riding lawn mower, wheelbarrow or other bulky items. Some large sheds are big enough to be an artist's studio, kids' playhouse or personal yoga retreat.
Most storage sheds are made of either vinyl, metal, resin or wood. They come as kits for self-assembly or, if you prefer, for a professional to build. They include roofing and hardware, and some include flooring and windows.
Vinyl sheds are modestly priced and readily available at home improvement stores in a wide variety of styles. Vinyl is durable, weather- and insect-resistant, dent-proof and virtually maintenance-free. A 7x7 vinyl shed with double-door access runs $500 to $700.
Disadvantages: Some people don't like the look of vinyl, and it's difficult to customize.
Metal sheds are one of the least expensive options. They're lightweight and kits are easy for a DIYer to put together. They resist weather and insects, and those made from aluminum won't rust. A 6x8 metal shed with a single access door runs $200 to $400.
Disadvantages: Metal sheds are prone to dings and dents; steel parts can rust over time; style choices are limited.
Wooden sheds offer some of the most attractive designs and can be customized to complement or match your house's paint colors and architectural features. They're also the most expensive option. Kits come pre-cut for easy assembly but basic carpentry skills are helpful. An 8x10 wooden shed costs $800 to $3,000.
Disadvantages: Prone to rot and insect damage; requires regular maintenance, such as repainting.
Resin sheds are made of tough polycarbonate materials that stand up to weather and are insect-resistant, rot-proof and maintenance-free. Sheds are built with resin panels reinforced with a steel framework and come in many styles and colors. The walls can be drilled to add modifications such as shelves. A 6x8 resin shed with double access doors runs $500 to $1,200.
Disadvantages: Resin material can't be painted; hard impacts may crack resin panels.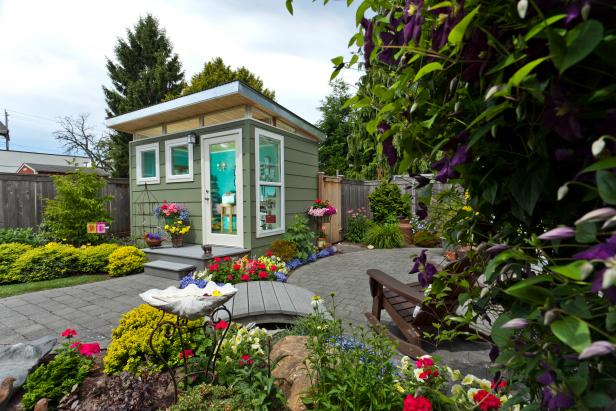 Utilitarian Ideal
Super fancy utility shed, man cave or mini-office, this sustainable creation from Modern-Shed can fulfill a variety of needs for the yard and is made from materials certified by the Forest Stewardship Council which promotes high environmentally conscious standards in wood products.
Image courtesy of Modern-Shed, Inc.; photography by Dominic Arizona Bonuccelli / AZ-Foto


Shed designs range from a basic box to a minor architectural masterpiece. Most designs are fairly straightforward and utilitarian, while others include details and embellishments that make them look like small houses and barns. If style is important to you, look for a shed that complements the look of your house in terms of roof pitch, window shape and exterior colors.
Some manufacturers offer options that give your utilitarian shed additional capacity and functionality including:
shelves that take advantage of wall space
windows and skylights that add daylight
flooring to prevent moisture seepage and rodent infestation
lockable doors for security
Naturally, tricking out your shed with electricity and/or plumbing adds to the cost. If you DIY an electrical line to a shed, plan to spend $100 to $200; a pro electrician will charge around $500. DIY plumbing, including water supply lines and drain lines, can get expensive: $1,000 or more to DIY it and at least twice that for a professional plumber.
Whichever combination you choose, a shed is a useful and versatile addition to any yard.
These little storage sheds won't break the bank or become an eyesore in the yard.