DIY Two-Tiered Garage Storage Stand With Ramp
Double your garage or shed storage space with this two-tiered stand ideal for wheelbarrows and utility carts.
We're sorry, there seems to be an issue playing this video. Please refresh the page or try again in a moment. If you continue to have issues, please contact us here.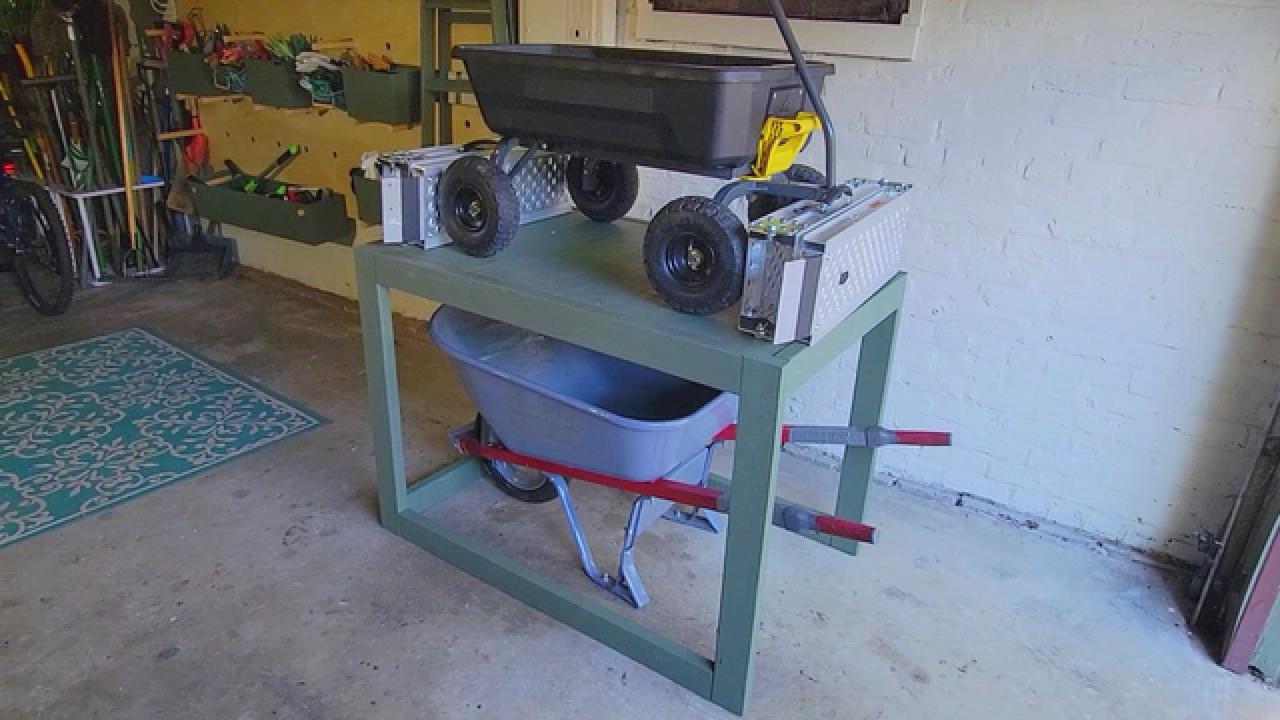 (7) 2x4 x 8' wood boards
circular saw
pocket hole jig system
drill
(2) clamps + larger trigger clamps
wood glue
speed square
3/4" plywood
1-1/4" exterior screws
paint
paintbrush
folding ramp set
Use a miter saw or circular saw to cut 2x4s down to two 43-inch pieces and two 36-inch pieces (Image 1). Create pocket holes on both ends of the 43-inch pieces (Images 2 & 3). Use wood glue and pocket hole screws to connect the 43-inch boards to the 36-inch pieces to make a rectangle (Image 4). Next, create an identical second rectangle (Image 5). Pro Tip: Clamping the pieces to a work table will help keep the wood in place while drilling in the screws.
To secure the two pieces you just made together, first cut two 2x4 pieces to 28 inches and create pocket holes on both ends of those pieces. Using a large clamp for support, use pocket hole screws and wood glue to attach one of the 28-inch pieces to the front to join the rectangles together. Then, add the second 28-inch piece to the back.
Flip the base over so it's standing. Cut another 2x4 piece to 28 inches and create pocket holes on both ends. Add wood glue and pocket hole screws to secure the piece on one side of the bottom of the base.
Cut three more 2x4s to 28 inches each and create pocket holes on both ends of the pieces. Make a line 3/4 of an inch below the top of the table (Image 1). Use clamps to place a board on each end of the frame and one in the middle. This will allow the top to drop in and fit snugly. Secure the pieces with pocket hole screws (Image 2).
Cut a 4x8 piece of 3/4-inch-thick plywood down to 28 inches x 47 inches. If you don't have a table saw, have it cut at the hardware store. Sand it all down. Next, drop the plywood down onto the shelf supports (Image 1). Secure it to the three supports with 1-1/4-inch screws (Image 2).
Paint with two coats of high-quality durable paint. Choose a color that will complement the surroundings.
Use a portable ramp when rolling heavy carts or wagons up to the top shelf (Image 1). The ramp will fold away and store neatly. (Image 2).
More DIY Garage Storage Ideas to Try
Say goodbye to clutter for good with the addition of these easy-to-assemble, extra-large garage cabinets.
Hang large cleaning tools in your garage by building a holder made from scrap wood and pipe straps.
Custom garage storage can cost a pretty penny. Luckily, we've got the perfect DIY garage shelves project for you.