How to Build a Gas Fire Pit
A DIY gas fire pit gives you opportunities to express your creativity. Learn easy options for building your own gas fire pit.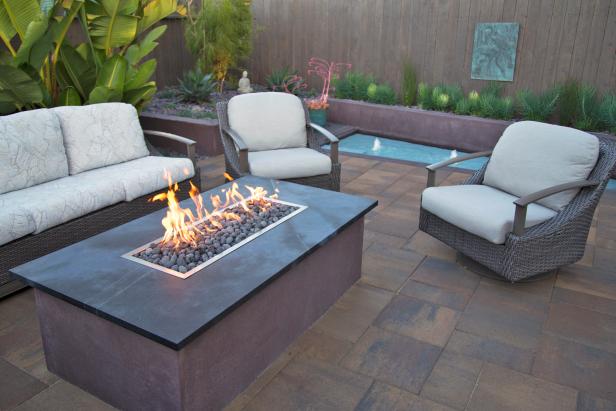 Outdoor Coffee Table With Fire Pit
Lush subtropical greenery surrounds comfortable seating for five beside a large outdoor coffee table with a gas fire pit.
An outdoor gas fire pit can give the illusion of flames that float, drift, and flicker—all at the flip of a switch. There's no wood to gather, no stoking required, and you'll enjoy the same warm ambience a wood-fueled fire provides. DIY propane fire pits can be a snap to install if you purchase a manufactured bowl or other design that requires only minimal assembly. Learn the ins and outs of building an outdoor gas fire pit, including practical tips.
Before you set your sights on learning how to build a gas fire pit, consider the most basic fire pit safety concerns. Make sure your site is well away from flammable surfaces. While gas flames don't generate sparks or flying embers, you do need to consider heat production. A gas fire pit can melt vinyl siding if placed too close to it. Always double-check local restrictions regarding burning open flames on private property.
You can run a gas fire pit on propane or natural gas. Most fire pit kits can be converted from one gas source to the other, but make sure before purchasing. A propane fire pit offers the option of portability when you're fueling from a small propane tank. That means you can easily shift your fire pit from a patio, to a spot in the backyard, to a campsite. Attaching a gas fire pit to the natural gas line of your home requires a permanent fire pit structure, but it pays off in the long run by yielding cheaper fire compared to propane.
The easiest way to build a gas fire pit is to purchase a manufactured drop-in fire pit kit. The kits usually feature a bowl shape and come ready to install into the fire pit enclosure of your choice. You need to create the enclosure, which can be as simple as stacked bricks, cinderblocks, or concrete pavers.
You can also order powder-coated steel frames that come with a gas fire pit kit. You purchase and screw cement board to the frame, and finish with mortar and stone, brick, or tile. Installing the burner comes next, followed by fill material, like lava rock or fire glass. The result is fairly goofproof. You can also purchase unfinished frames in curving shapes. It's a good option for the average do-it-yourselfer that lets you customize the finishing touches.
Another quick outdoor gas fire pit is a manufactured propane-fueled fire pit. These kits only need to be attached to a propane tank, much like a gas grill.
With gas fire pits, a burner pan is optional, but it really helps support the burner and the material you use to cover the burner. Choose a heat-tolerant material, like lava rock or fire glass, to cover the burner. When you use fire glass, you can select different colors and sizes to create a truly custom fire pit experience. Fire glass also absorbs and releases heat, effectively producing more heat than lava rocks.
Do not use river rock or regular stones inside your gas fire pit, where it will be exposed to the intense heat of flames. If these stones contain any water, enough heat can change the water to steam, which can make the rocks explode.