Landscaping Rocks and Stones
Use rock and stone landscaping to create beautiful pathways, steps, patios and more.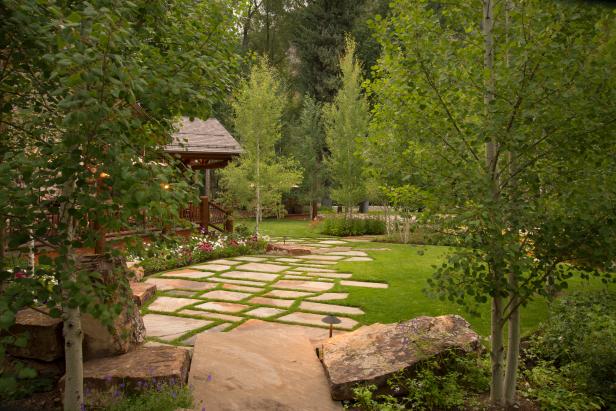 Stone Paver Walkway
Lean trees surround the idyllic backyard and stone paver walkway.
D.A. Horchner/Design Workshop, Inc.
Landscaping with rocks and stones can be an elaborate process, but one that also has the potential to yield beautiful, long-lasting results. Whether you're looking for flagstone patios, stepping stones, rock walls, groundcover or other uses for natural stones, our rock landscaping pictures and stone landscaping ideas will set you on the right path.
Although there are universal favorites among landscape designers, rock varieties can vary by region – from the largest landscaping rocks down to the tiniest of pea gravels. Georgia flagstone, for example, looks different than Oklahoma flagstone. National big-box retailers might carry many of the same varieties state-to-state (be sure to check if the stone is natural or "cultured" i.e. made of synthetic or concrete composite materials), whereas a locally owned landscape supply company might use natural stone products native to your region. The best place to begin your exploration of rock styles and types is on the web or in magazines. Get a feel for what you like, then you can decide how and where it might fit into your landscape design plan.
Retaining walls, property line walls, garden walls, patio walls; there are endless barriers you can build with landscaping rocks of all shapes and sizes. Natural-looking stacked field or river stone walls provide a visual divide but lack the strength and longevity of a mortared wall.
The beauty of a flagstone or natural slate patio is hard to top. For a more natural look, stones may be laid across a bed of sand with joints filled in with small gravel. A cleaner, smoother and more durable patio will have flagstones laid on top of concrete with mortar in the joints. Some contemporary patio spaces use small gravel as groundcover and larger stones around the borders.
Using rock pathways or stepping stones as part of your stone landscaping plan enhances your natural spaces with visual intrigue. It's easy to think of gravel as blah or gray, but the material comes in so many colors and sizes, it has become a handy filler for just about any area in your landscape plan. Multi-colored gravel can have camouflage effect; dyed or white gravel makes the path more visible. Flat fieldstone works for stepping stones – just make sure that if the pathway is steep, rocks aren't titled at an angle.
Fountains, pools, barbecue pits and other structures can be created from landscaping stones and rocks, both natural and synthetic. Bluestone is a trendy choice for natural stone hardscapes. Check with your local landscape supplier to discuss the porosity of the rocks you're interested in.