How to Make Garden Stepping Stones From Giant Leaves
Got big elephant ears? Use them to make a garden pathway. We used large leaves such as hosta, elephant ear, sunflower or rhubarb to make these easy and inexpensive stepping stones.
Use your landscape greenery to stamp leaf shapes into concrete to make a cottage-style garden pathway. We used a variety of different-sized leaves to give our path a natural look then painted them all with concrete stain to add a touch of color.
We're sorry, there seems to be an issue playing this video. Please refresh the page or try again in a moment. If you continue to have issues, please contact us here.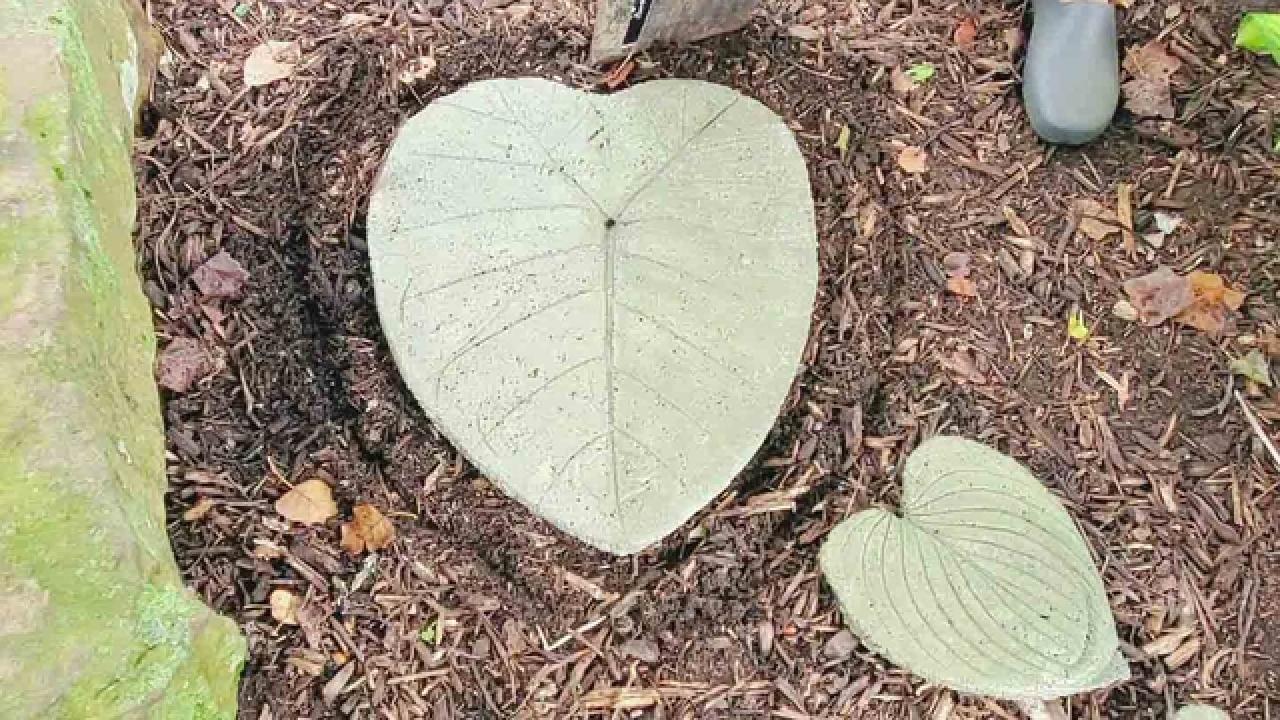 garden clippers
large garden leaves - hosta, elephant ear, sunflower, rhubarb
large piece of cardboard
plastic drop cloth
garden gloves
10-quart mixing bucket
metal garden trowel
waterproof work gloves
cooking spray
spray bottle filled with water
paint stir stick
Gather Leaves and Supplies
Clip various large leaves from your landscape. Hosta, elephant ear, sunflower and rhubarb leaves are perfect for this project. Florist will often carry these if you don't have them in your yard. Place cut leaves in water until just before you use them to keep leaves firm and fresh. Gather all supplies so everything is close by. Once you start the process you need to work quickly because the concrete sets fast.
Lay out a plastic drop cloth on your work surface. A table will work for a smaller leaf while a larger piece of scrap cardboard is ideal for the bigger varieties. Place leaf face down with ribbed side up. Cut chicken wire to the basic shape of the leaf, but a little smaller and then set aside. Be sure to wear gloves as you are clipping wire.
Mix quick-set concrete with water in a bucket until you reach a thick but pliable consistency. Remove any rocks in the mix before adding the water. This will keep your stone smooth and lump-free.
Cut the stem of the leaf to about 1". Spray the leaf and plastic with cooking spray.
Scoop the concrete onto the leaf. Use your hands to mold edges to the shape of the leaf. Press down often to remove air bubbles and work the mixture into the ribbed leaf pattern. Place the chicken wire on top of the first layer of concrete then apply a second layer of concrete. Do not skip the chicken wire, it will strengthen the structure and reinforce the concrete so it won't crack.
Smooth the edges and shape with your gloved hands. Spritz with water to keep the concrete moldable. Fold over the plastic to completely cover the leaf for one hour.
After the concrete has set a bit, remove the plastic. Gently flip and peel the leaf off the concrete. Use a wire brush to smooth the edges. Allow the concrete to harden for 24-48 hours.
When the concrete is dry, your leaves are ready for staining. Tinted concrete stain is very durable and comes in a variety of colors. Apply a thin layer of stain to the stone and let it dry. Just like wood stain, adding another coat will offer a deeper color.
Use a garden spade to outline the shape of the stepping stone then remove the stone while you shallowly dig the shape. Fill the hole with paver base before placing the stone into position. Surround with mulch or soil.