Choosing the Right Crape Myrtle for Your Landscape
Follow these tips to help you choose the right crape myrtle varieties for your yard and learn how to care for them.
Crape myrtles are wildly popular in the South for good reason. They bloom in the summer, when there are few other trees and shrubs providing that service. The larger varieties grow rather quickly, providing a bit of shade in addition to the seasonal color.
Whether you spell it crape or crepe (keep in mind that the Crape Myrtle Society of America uses the "a"), or play it safe with the universal Latin name Lagerstroemia, the versatile shrubs and trees are sturdy backbone plants that provide both lush summer flowers and striking winter texture; many have intense orange, yellow, or red fall colors as well.
What makes crape myrtles so irresistible are the spectacular late spring, summer and fall flowers. The super frilly, crepe-like individual flowers of white, pink, lavender or deep red — and even some bi-colors — are arranged at the ends of twigs in either small loose clusters or tight, heavy football-size panicles, and appear all season on new growth.
After flowers fall, small round seedballs form, which can be left on or cut off to stimulate a strong flush of new flowering growth.
While there are a handful of insect pests that feed on crape myrtle, the plant itself is very resilient and generally blooms unfazed by this annoyance. Overall they are quite simple to grow and very rewarding with color, shade and architecture for the landscape.
As time goes by and newer, more cold-hardy varieties become available, they will continue to spread into cooler zones. If you are considering adding a crape myrtle to your landscape, it is important to understand how to make a good buying decision.
All crape myrtles are sun lovers, generally cold hardy in Zones 7-10, although there are some that will work in Zone 6 as well. They are extremely heat-tolerant and quite drought-tolerant once established.
Plant them in full sun, amending the soil with soil conditioner to provide a moist and well drained situation that will allow for quick root expansion during the establishment period. A starter fertilizer will help as well. Water deeply once or twice a week during hot weather through the first growing season.
Severe yearly pruning can create gnarly, knuckle-like scars over time. This may be fine when the tree is clothed in foliage but does nothing for the winter landscape. To avoid pruning too often, choose a suitably sized variety to add to your landscape.
When to Trim Crape Myrtles
Pruning should be done in late winter, just prior to bud swell. Pruning is most important during the early years of a crape myrtle's life to create the shape you desire. Remove branches smaller than a pencil's thickness, then prune for good branch structure. Remember, crape myrtles are multi-stemmed shrubs. If you have or want to have a tree form you must remove lower branches and pinch suckers away to create or maintain that look. In severe winters I have had massive stem dieback even on older plants — but no problem: I cut the plant to the ground and it grew back.
We're sorry, there seems to be an issue playing this video. Please refresh the page or try again in a moment. If you continue to have issues, please contact us here.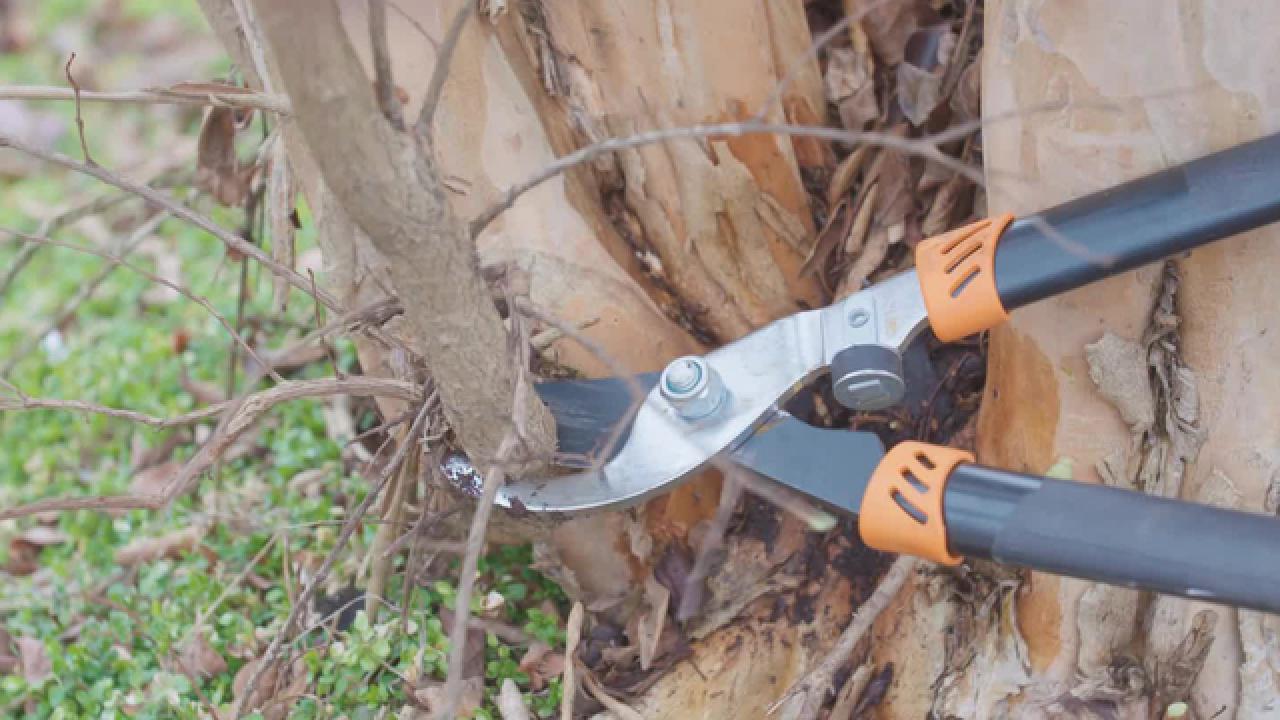 Other than pruning, care is minimal for crape myrtles. Fertilize in spring with a general purpose shrub fertilizer — cottonseed meal works great — and keep it mulched to maintain consistent soil moisture and temperature. Water periodically during dry spells. Even with its superior drought tolerance, there's no need to allow it to become stressed when it can be avoided.
The major problems with crape myrtle include Japanese beetle, aphids, whitefly and powdery mildew. Again, providing a good location and proper sizing to fit the site will minimize most of these problems, but monitor for them and treat as needed.
Spraying a large crape myrtle can be difficult, so systemic drenches are often the recommendation treatment. I'm not a fan of these types of products for curing infestations, but they seem to do a tolerable job as preventatives where the problems have been known to exist in the past. For a bad infestation on a large specimen, you may want to have a professional handle the job.
Grow crape myrtles as specimen and accents, narrow trees for fast shade, allée along streets or driveways, screens, or stately groups underplanted with groundcovers, bulbs, or small shrubs. Small varieties grow well in large containers mixed with other smaller plants.
At a reputable garden center in your town, expect the varieties on hand to be well-suited to your hardiness zone. Further, most of the commonly available varieties are superior to those that are outdated in terms of disease and insect resistance. This leaves size and color as the main points of consideration as you shop for a new crape myrtle. Since there is a broad color offering in each size range, go ahead and plan for a particular color, and then choose a variety with your color choice that stays within your size limits. This strategy helps you minimize pruning and avoid problems in the future.
The plants come in a wide array of sizes and shapes, from statuesque trees 30 or more feet tall, to low-growing mass-groundcovers that stay under 3 or 4 feet. Different varieties can be naturally rounded or upright and vase-shaped, and are easily pruned to accentuate either.
'Natchez' - white
'Tuscarora' - dark coral pink
'Muskogee' - light lavender
'Sioux' - dark pink
'Catawba' - purple
'Dynamite' - red
'Acoma' - white
'Tonto' - fuchsia
'Zuni' - medium lavender
Animal series - 'Pink Pig', 'Purple Cow' and 'Red Rooster'
Magic series - several varieties in shades of coral, pink, purple and white
'Chickasaw' - lavender pink
'Centennial' - bright lavender
Razzle Dazzle series - several varieties in shades of red, pink and white