How To Care For a Wood Fence
A wooden fence can be a great way to give a home a definitive border and add style. Learn the proper maintenance required to make sure your fence lasts a long time.
A wood fence can be a great way to give a home's property a definitive border. It keeps both kids and pets safely in and stray animals out. It also changes the look of the house. But over time, wood fences rot away. However, you can make wood fences last longer with a little care.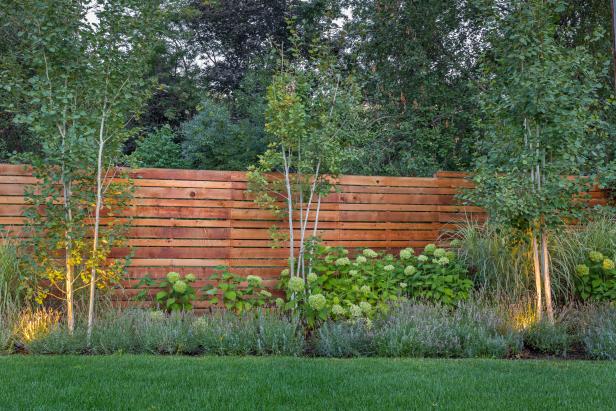 Garden and Fence With Up Lighting
A wood fence is a warm backdrop for this garden of aspen trees, hydrangea, lavender and ornamental grasses. At night, landscaping lighting gives the garden a golden glow.
Michael de Leon Photography
Typically, wood fences, especially those going up around newly constructed homes, are made of cedar or redwood.
"They are more resistant to rot and decay than other species," says Jack Holt, owner of Holt Lumber in Fresno, Calif. "They're not structurally as strong as Douglas fir, which is used in framing a house, but for anything that is exposed to the elements, those are the two species of wood used."
In buying wood for fences, people should get pressure-treated wood for posts, says Ethan Elaison, co-owner of Elaison Lumber in Fresno. Posts should be pressure-treated because they go into the ground, where they are susceptible to insects and moisture.
"When they go through the mill, they are chemically treated to resist bugs and water damage," Elaison says. Addressing concerns about the effects of arsenic and other chemicals used to treat the wood leaching into the ground, Elaison says they "are not anything to worry about. The chemicals aren't extremely potent, especially lately. The chemicals have been toned down."
Pickets don't need to be pressure-treated because they are above ground, say Holt and Elaison.
Frame your yard, add privacy and security and enhance your curb appeal with one of these gorgeous fence ideas.
Within the first year of installation, the wood may warp or split as it dries, says John Elaison, co-owner and founder of Elaison Lumber. In five to eight years, the fence may start to lean, but it should last 10 to 15 years overall. To keep the wood from rotting, apply a wood preservative to seal it. "It's like wax on a car," Holt says. "It helps protect it from the elements, from water, from sprinklers."
Water-repellent preservatives and sealants are sold at home-improvement and hardware stores. Exterior stains, which usually also are sealants, are another option if homeowners want their fence to coordinate with the exterior of their homes.
If the wood has been pressure-treated, a sealant isn't necessary, as the wood already has been injected with preservatives, John Elaison says.
Homeowners also should keep sprinklers from wetting the fence, which causes the wood to rot faster. And bushes and vines should be kept off the fence.
"The less weight on the fence, the better," Ethan Elaison says. "The vine will keep it moist and help it rot faster."
Whether you're looking to spruce up your yard, keep your pet from wandering off or need more privacy, check out these innovative wooden fence designs.