A Raised Bed Twist: Straw Bale Gardening
An easy, inexpensive raised bed solution.
Photo by Van Chaplin courtesy of Bonnie Plants.
Straw bales create the frame for this raised bed, which is filled with soil and planted. This method is a good option for gardeners looking for a temporary raised bed garden.
If you're looking for an inexpensive, readily available and easy-to-work-with (read: no power tools required) material for a raised bed garden, try straw bales.

Straw bale gardens offer the same benefits of any raised bed, including: better soil for gardeners with poor native soil, comfortable access to plants without a lot of bending or kneeling, and fewer pest problems (as plants are up and off the ground).

Straw bales are especially useful for gardeners looking for an impermanent raised bed solution. As the straw decomposes, it adds nutrients to your garden, but after a couple seasons, all the materials can just be taken up and composted (except, possibly, for any synthetic twine). So this is also a no-waste gardening method.
We're sorry, there seems to be an issue playing this video. Please refresh the page or try again in a moment. If you continue to have issues, please contact us here.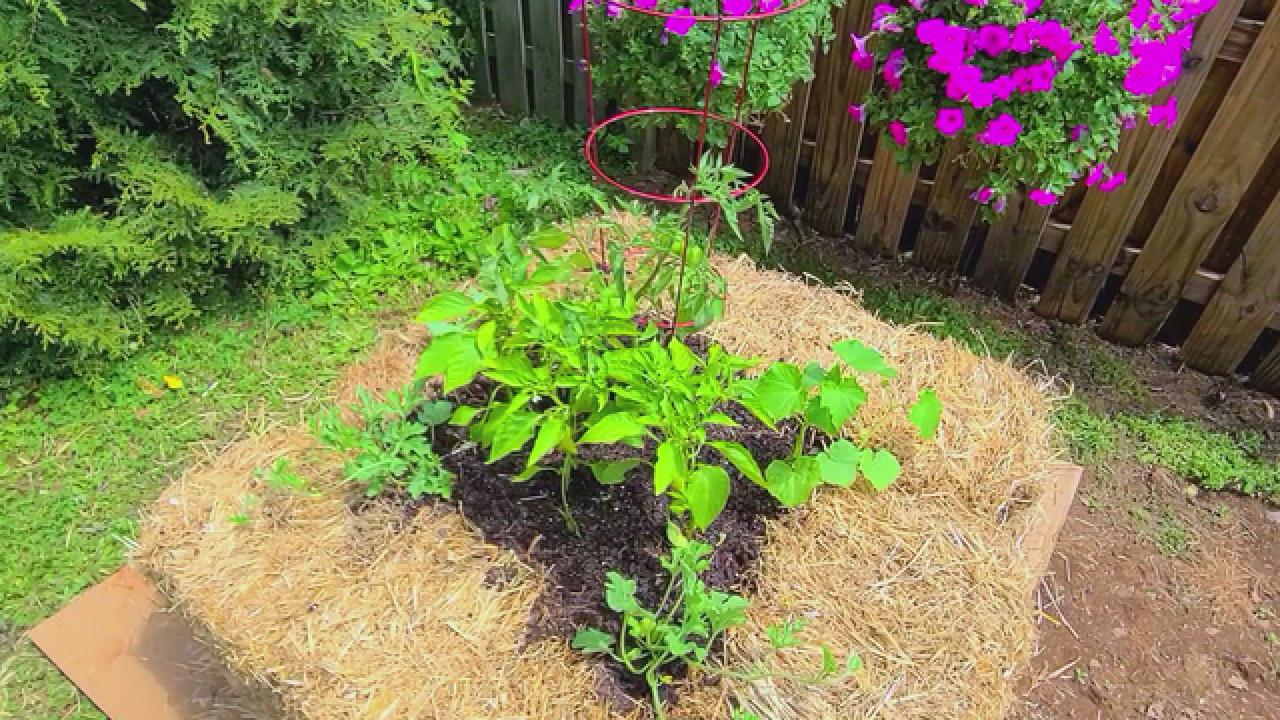 Look for real straw rather than hay. Straw bales can be made from wheat, oat, or alfalfa. Because straw is harvested after the grain and chaff have been removed, it doesn't include a lot of seed material. Hay, on the other hand, contains lots of seeds, which will sprout and (in addition to making your bed look like a chia pet) could invade your veggie crops. Pine straw isn't the best choice, as the waterproof pine needles shed water too well for this application.

While decomposition of the straw provides some nutrients to plants, straw doesn't contain a wealth of nutrition like good garden soil does. You'll need to fertilize and water plants often. Depending on your climate (decomposition is quicker in warm areas), bales will last for two to four years.
The Traditional Raised Bed Method
In one method of straw bale gardening, you use bales, bound tightly with twine, to form the frame of a raised bed, and then fill the bed with soil. This method is quick and easy, but the added soil requires a bit more expense.

Start by placing the bales in your desired shape, usually a square or rectangle. Fill the interior space with garden soil and compost, and then plant in the soil as you would any raised bed. In this method, you can plant and grow almost anything you'd like, as the plants are placed directly in the soil.

To keep weeds down and reduce decomposition of the twine, you can place newspapers under the entire area, including the interior where the soil will go, before arranging the bales.
The Direct-Planting Method
Another method is to plant directly into the straw bale (or multiple bales). You'll need to first cure the bale, which takes a few weeks. The goal of curing is to hasten the process of decomposition inside the bale so that it becomes a more soil-like environment.
First, decide where you want the bale, as it will become heavy and nearly immovable after curing. To keep weeds down and reduce decomposition of the twine, you can lay down newspaper before placing the bale on top. Position each bale so the straw is running vertically, which makes it easier to plant.

Start the curing process by wetting the bale daily for a few days. For the next few days, apply high-nitrogen organic fertilizer (including fish meal or bone meal) to the bale daily, and continue watering. For the next few days, stop applying fertilizer but continue to water. Then check to see if the decomposition has started to slow down. Stick your hand inside the bale—if it feels cooler than your body heat, it's ready. If it feels hot, then you'll need to keep watering for a few more days. Thankfully, curing isn't necessary the second year of use.

After the bale has cured, it's time to plant your garden. Use a trowel to create planting holes in the straw, fill the holes with some garden soil or compost, and then plant.

For the direct-planting method, transplants typically grow better than seeds. Tomatoes, peppers and eggplant do well when staked. Vining plants like cucumbers, squash and melons are great options, too, as planting in the raised bales keeps the vines off the ground. On the other hand, corn is too top-heavy for the bales, and root crops don't form as well in the straw medium. Because they grow so quickly, beans are a good option for growing from seed in a straw bale.