What the Heck Is Hugelkultur?
Want to grow bigger plants with less water? Try hugelkultur gardening. Learn how these earth-friendly raised beds work.
Lewis County Recycles at LewisCountyRecycles.org
A hugelkultur raised bed is built using layers of compostable materials. The exposed end of this bed reveals layers of woody items, compost and soil. 
We're sorry, there seems to be an issue playing this video. Please refresh the page or try again in a moment. If you continue to have issues, please contact us here.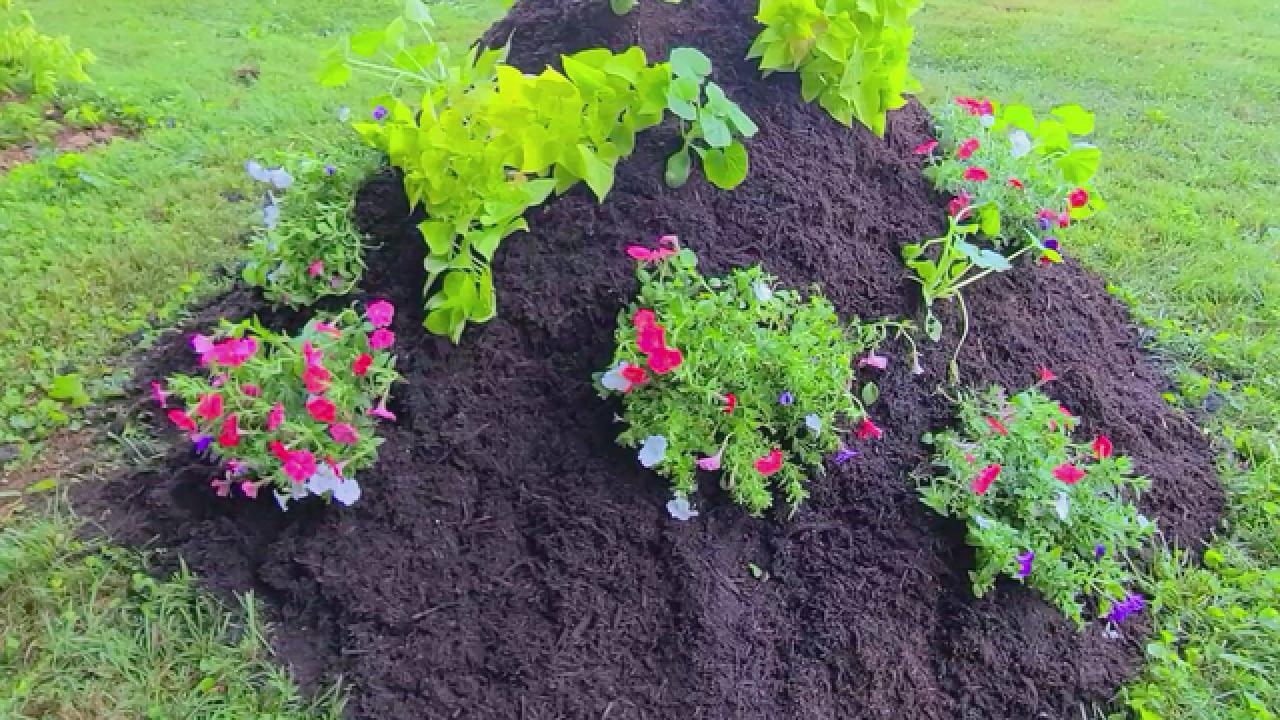 Try your hand at building your own raised beds using the ancient method known as hugelkultur, which is German for "hill culture." This compost-in-place method harnesses the natural process of decay and turns it into an ideal growing environment for plants. It also handily eliminates the pile of brush, twigs and storm-downed branches that every yard seems to accumulate.

When you build a hugelkultur bed, you layer materials, just like when you put together a compost pile. By layering carbon-rich brown materials (logs, branches, brush), which decompose slowly, with nitrogen-rich greens (weeds, grass clippings) and manure, which decompose quickly, you create a planting bed that's self-tilling and full of air pockets that help plant roots thrive.

Build the base layers of your hugelkultur bed with large pieces of wood. The wood can be fresh or dried. Wood that's already rotting works really well. The wood gets buried beneath layers of organic material, where it slowly decomposes and gradually turns into compost.

Decomposing wood becomes soft, porous and spongy. This spongy wood absorbs moisture—and it's the secret to why hugelkultur beds need very little—if any—irrigation. Plants growing in a hugelkultur bed seek out moisture and actually sink roots into these spongy, half-rotten logs. When you build a hugelkultur bed, you're building a secret water reservoir.

As you gather wood for your hugelkultur bed, avoid woods known to be rot-resistant, such as cedar or black locust. Black walnut releases a chemical into soil that's toxic to some plants, so that's not a good choice, either. Focus on other woods, like apple, birch, willow, maple or poplar. You can also include construction scraps, as long as the wood isn't treated or doesn't contain adhesives or chemicals. Let fresh wood age a few weeks before burying to allow any naturally occurring antifungal compounds to dissipate.

A typical hugelkultur bed rises above soil, forming a small mound. You can adapt hugelkultur techniques to resemble more traditional raised beds. Simply excavate a deeper base, burying wood below soil level and layering materials to the level you desire. You can even enclose beds in lumber or stones to hide any trace of the non-traditional mound. If beds extend three feet or less above soil, keep the width to four feet or less. Make taller beds wider to decrease the slope on the sides. Remember to keep your bed accessible for planting, weeding and harvesting.

As you build a hugelkultur bed, soak each layer of material thoroughly. After it's built, use soaker hoses or sprinklers to saturate underlying layers completely. During the first growing season, water the bed when the first two inches of soil are dry to the touch. After the second year, a two-foot-high hugelkultur bed retains adequate moisture to water plants for about three weeks. Build it higher, and you can skip watering even longer. A six-foot-tall bed won't need irrigation or rainfall for an entire summer. A hugelkultur bed makes a terrific home for those extra-thirsty plants that sink deep roots, like tomatoes, cucumbers, winter squash and pumpkins.

Over time, the materials in beds decompose, creating amazing soil and decreasing overall bed height. Beds that are three feet high take anywhere from 15 to 30 years to decompose completely. It really depends on climate, type of wood and how fresh wood was when you buried it. In general, beds decompose more quickly in warmer regions with longer growing seasons.