How to Care for a Snake Plant
If you tend to kill plants with neglect, then the tough-as-nails snake plant is the right choice for you. The key to success is knowing when to water.
Keep in mind: Price and stock could change after publish date, and we may make money from these links.
Virtually indestructible, snake plants grow best when you ignore them. They grow in any light level, including those shadowy corners indoors just begging for some greenery. There's just one tricky aspect to growing these classic houseplants, and that's knowing how often to water. The short answer is to water only when the soil is almost thoroughly dry. Even then, it won't hurt to wait another few days, especially if you tend to overwater plants.
Snake plants boast beauty that's more than leaf deep. These tropical plants are some of the best indoor air purifiers, removing formaldehyde and nitrogen oxide from interior air each night. They're like the housecleaning elves you dream about — except they clean the air while you sleep, which makes them a perfect choice for bedroom plantings.
Snake plants are familiar, popular houseplants. One of the most common types is the gold-edged green snake plant (Sansevieria trifasciata 'Laurentii'), with leaves that stand straight and tall as soldiers. You'll also find snake plants that are short with triangular leaves (Sansevieria trifasciata 'Gold Hahnii'), along with ones where the leaves almost form a cup as they grow (Sansevieria trifasciata 'Hahnii').
Leaves might be solid green or boast a blend of variegated tones, including silver, gold, white and green. Newer varieties include 'Bantel's Sensation' snake plant, with 36-inch-tall green leaves variegated with white and cream stripes, and the playful Glowee, with leaves that glow in the dark. Don't miss the round leaves of Cylindrica snake plant (Sansevieria cylindrica), which rise from soil like pencils.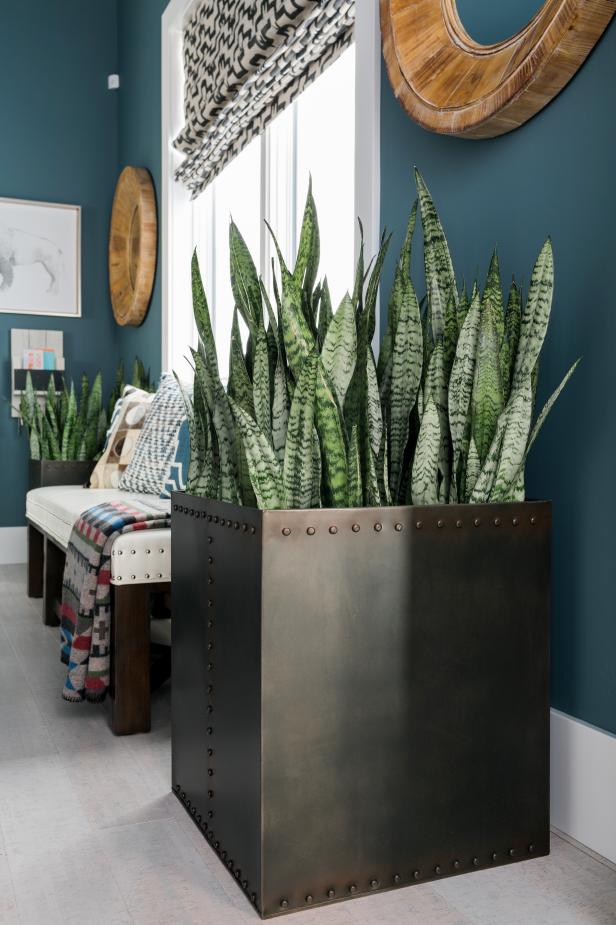 No-Fuss Plants
A pair of striking snake plants add texture and a touch nature to the mudroom. The contemporary style of the hardy snake plants fit the decor, and the plants also absorb toxins to help clean the air.
Robert Peterson, Rustic White Photography
How Often to Water Your Snake Plant
This is the most critical aspect of growing a snake plant. Remember that these diehard plants thrive on neglect. Water only when the soil is nearly dry. The quickest way to kill a snake plant is through overwatering.
More Snake Plant Care Tips
Light: Plants grow in any light level, from low to high. They grow more quickly in brighter light, but strong direct sunlight burns leaves, especially when plants are outdoors. An ideal spot is about 10 feet away from a west or south window.


Soil: When potting snake plants, use a commercial potting soil mixed 50:50 with a cactus and succulent mix. This creates a loose, fast-draining soil with lots of air pockets, which should help prevent overwatering.


Fertilizer: You rarely need to feed these slow-growing plants. Give snake plants a dose of any houseplant food twice each year — once in spring and again in summer. These are low-maintenance plants.


Temperature: Snake plants thrive in hot, dry environs. Consider placing potted ones outside for summer in bright shade. In regions where there's no frost or snow, they'll grow in the landscape. Just check with local nurseries to make sure these plants aren't invasive in your area.


Repotting: Snake plants are slow growers and rarely need repotting (they actually grow better when pot-bound). Plants in low light might need to be repotted every 5 to 10 years. For snake plants in brighter light, expect to transplant every 3 to 5 years.