How to Care for Monstera, the Swiss Cheese Plant
Caring for the Monstera tropical houseplant, nicknamed "Swiss cheese plant," is not as scary as it sounds.
Keep in mind: Price and stock could change after publish date, and we may make money from these affiliate links.
You may think that a plant called "Monstera" would be a scary thing to bring home, but that's not the case. As a large tropical houseplant, Monstera is taking a star turn among enthusiasts.
Monsteras are among the group of tropical plants called aroids — plants that bear tiny flowers within a leaflike bract called a spathe. But Monstera's blooms are a bonus; it's the striking, other-worldly foliage that is the main attraction of this houseplant.
A common name is Swiss Cheese plant because of the holes — called fenestrations — in their broad, heart-shaped leaves. As the leaves age, the holes widen and separate, leaving the foliage deeply lobed. Monsteras are vining plants, native to tropical regions of Mexico, Central and South America, where they can grow monstrously tall, clinging with aerial roots to trees or other support structures, in the warm, humid air.
Tropical houseplants — such as Monstera — and select design details can bring the island vacation vibe into your home.
The most common, Monstera deliciosa, is named so because of the edible fruit the plant produces, though they rarely flower indoors. The leaves of Monstera adansonii are somewhat smaller, and with more delicately pierced holes.
Typically, Monstera foliage is deep green, but there are also variegated varieties, which are popular among houseplant enthusiasts, growers say. "Variegated monstera is the number one tropical plant here right now," says Calvin Owen, owner of Tennessee Tropicals in Springfield, Tenn.
Gardens of Babylon/Emily Vogler
The common name "Swiss cheese plant" refers to the holes in the foliage. Monstera adanonsii is a generally smaller variety, with more delicate foliage.
Monstera is a relatively easy houseplant to grow, though not completely care-free. Here are the basics:
Light: Bright, indirect light is best, such as that from a south- or west-facing window.


Water: Neither too wet nor too dry is the rule. Allow the top inch or so of soil to dry out before watering. Overwatering may cause root rot.


Humidity: Tropical plants do best when the humidity level is 50 – 60 percent or higher. You may need to rely on a humidifier to create the environment they prefer, or mist the plant with a sprayer every couple of days.


Pots and potting mix: Plain, terracotta unglazed pots with good drainage allow for better aeration. A good potting mix for Monstera and other aroids may contain bark, medium to large perlite and horticultural charcoal. If you want it to climb, provide a pole or other sturdy support.
If possible, in summer, find a shady place outdoors, where tropical plants benefit from the heat, humidity and light. Take them outside when nighttime temperatures are at 50 or above; bring them back inside in late summer or fall before night temperatures drop into the 40s.
Owen, at Tennessee Tropicals, believes that new plants shouldn't be disturbed by repotting right away. If necessary, place them in the original pot in a decorative container, and if they do need repotting, wait until summer. "Typically, I tell people that if you haven't repotted by September, don't do it," he says.
We're sorry, there seems to be an issue playing this video. Please refresh the page or try again in a moment. If you continue to have issues, please contact us here.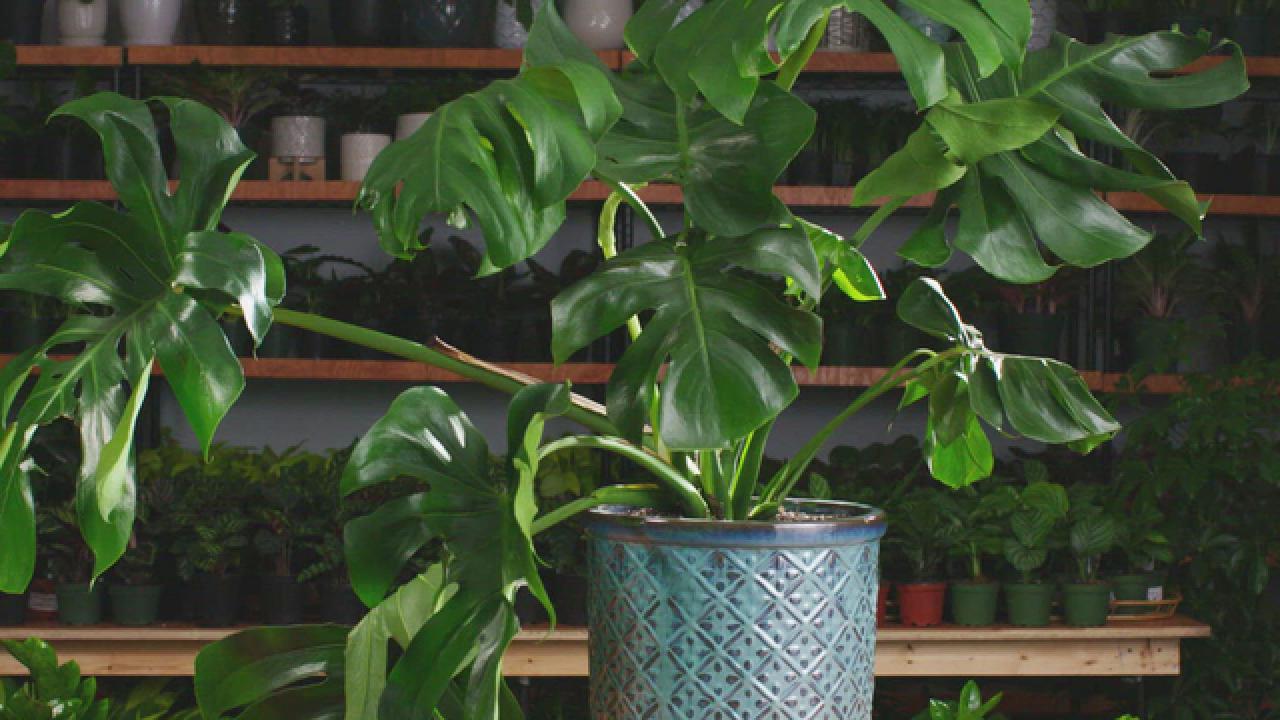 Buy Monstera Plants Online
Monstera plants indoors are susceptible to some of the same plant pests as many other houseplants. Mealybugs, aphids or scale insects all survive (and cause damage) by using their mouthparts to pierce the plant and feed on the plant's juices. Take action to get rid of them before they damage the plant or spread to other houseplants.
Aphids are tiny, sometimes wingless insects typically found on the undersides of leaves or stems. They can often be washed away with a spray of water. Insecticidal soap or horticultural oil will take care of heavy infestations.


Scale insects look like flattened discs or bumps stuck to the stems or on the undersides of the leaves. Leaves and stems playing host to scale insects may turn yellow. Washing the plant gently with soapy water should eliminate the problem.


Mealybugs are white or light, cottony spots at leaf joints or stem nodes, or some may feed on plant roots. Mealybugs have a coating that protects them from sprays, so removing them manually may be the best option. Use a cotton swab dipped in rubbing alcohol to wipe them away or tweezers to pluck them from leaves and stems.
Note About Monstera toxicity
Monstera tissue contains insoluble calcium oxalates — essentially tiny, needle-shaped crystals — so be sure to keep the plant away from your curious fur friends. According to the American Society For Prevention of Cruelty to Animals (ASPCA), if a dog or cat nibbles on Monstera, it can result in intense burning and irritation of the mouth, tongue and lips, excessive drooling, vomiting and difficulty swallowing.
Here's a handy guide on how to keep trendy houseplants like Monstera happy and thriving.