The Fiddle Leaf Fig Is Fashion-Forward
They don't call it the new "it" houseplant for nothing.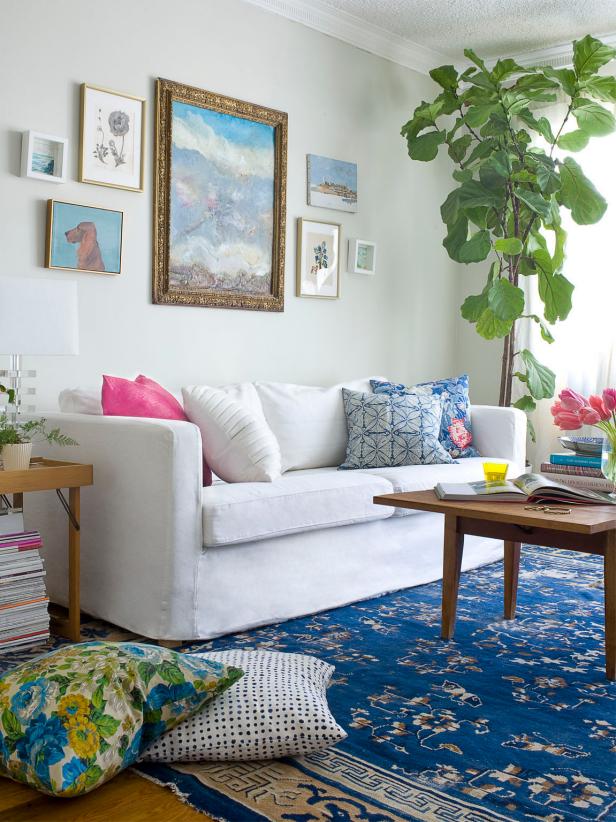 Fiddle Leaf Fig Tree
A fiddle leaf fig is the star of this bright, airy room designed by HGTV's own Emily Henderson.
A fiddle leaf fig is the star of this bright, airy room designed by HGTV's own Emily Henderson.
You have to wonder while leafing through those glossy decorating magazines about the houseplants shown in the photos of high-end living rooms. Was that plant a good choice for that spot in the house? Or did the interior designer just choose what looked great at the time of the photo shoot?
Here's one plant that for the last several years has been gracing the covers and spreads of magazines across the country, not just because it's a beauty but also because it makes the perfect indoor specimen: the fiddle-leaf fig.
You know you know it. Tall, columnar and sculptural but not bushy for those tight corners. Big violin-shaped leaves (hence the name) that lend dramatic structure. Waxy dark green foliage that forms a perfect contrast with light, neutral walls and furnishings. What's not to like, right?
Yet, plenty of homeowners bemoan their success with the fiddle-leaf fig, complaining they can't keep one alive for very long. Typically, the culprit is lack of bright, filtered light. As natives to the tropics, they also thrive in warm, wet conditions, which aren't always easy to provide indoors.
The good news is that the fiddle-leaf fig, Ficus lyrata, is a tough plant that adapts easily to conditions. Once acclimated, it can grow to 6 feet or taller. There are also other varieties of the plant that don't grow as tall and are bushier, such as 'Suncoast' and 'Compacta'.
Large, mature figs aren't cheap at garden centers and florists, but deals occasionally can be found at some of the big-box stores. Once you have it home, here's what the plant likes – and doesn't like:
Light: Give it bright consistent light, preferably by a sunny window. Turn the plant every few months once it begins to lean toward the light.
Drafts: Make sure that your window is properly sealed. Figs are used to the still, warm conditions of the rainforest. Cold drafts from windows, doors and air-conditioning units may cause its leaves to dry out and drop.
Soil: Rich, well-drained peaty soil. Plan on re-potting about once a year because once roots become crowded they will start growing through the container's drainage hole, causing circulation problems and even root rot.
Water: Water only when soil is dry to the touch. Then water thoroughly (until the water drains into the saucer) and allow to dry out again. If plants don't get enough water, new leaves will turn brown and drop; on the other hand, if they are overwatered, the oldest leaves (toward the base of the plant) will turn brown and fall off.
Fertilizer: Feed with a water-soluble plant food throughout the growing season according to directions.
Pests: Figs are vulnerable to aphids, mealy bugs, scale, mites and whiteflies, causing leaves to turn yellow and drop. Inspect the foliage regularly, and if signs of infestation occur, wipe down the leaves with a solution of ½ teaspoon dishwashing detergent and one gallon of water.