How to Grow and Care for Peace Lily Plants
What's not to love about peace lily, an easy-to-grow indoor plant that brings life and color to low-light spots while also purifying the air. Follow our advice for growing and maintaining peace lily and it'll soon become your go-to gift plant for friends and family, too.
Keep in mind: Price and stock could change after publish date, and we may make money from these affiliate links.
CostaFarms.com
Peace lily is a natural for filling a corner, including those with part sun as well as dark spots. Tuck it into a simple container to let glossy leaves and stately flowers steal the spotlight.
A beloved houseplant, peace lilies are renowned for their easy care. The peace lily is hardy, forgiving, and will even let you know when it is thirsty: Just look for the telltale droop. The name is a bit of a misnomer: Peace lilies are not true lilies (plant family Liliaceae), but a member of the Araceae family that also includes colocasia, or elephant ear. Otherwise, in terms of growing and care, peace — as in calm and tranquility — is pretty much what you get.
While peace lily plants can survive outdoors in Zones 11 and 12, that's limited to only Puerto Rico and parts of Hawaii in the U.S., so it's not a common usage. Instead, peace lilies are really grown only as an indoor plant. The peace lily plant is well known for its air-purifying abilities as a houseplant; it's great at breaking down and neutralizing toxic gases like carbon monoxide and formaldehyde. Peace lilies also make an ideal gift plant, in part because of their friendly name but also because they are so easy to keep alive — when you give a peace lily, rest assured that you're not giving a gift that will become a burden.
Peace lilies are among our top 20 plants that aid in the removal of pollutants.
Follow this growing advice and, with some experimentation, your plant should bring beauty to your house for years to come.
Peace lilies are a good choice for low-light spaces because they can thrive in shade or partial shade. They also tolerate fluorescent lights, so if you need a plant friend to liven up your desk at the office, peace lily is a good option.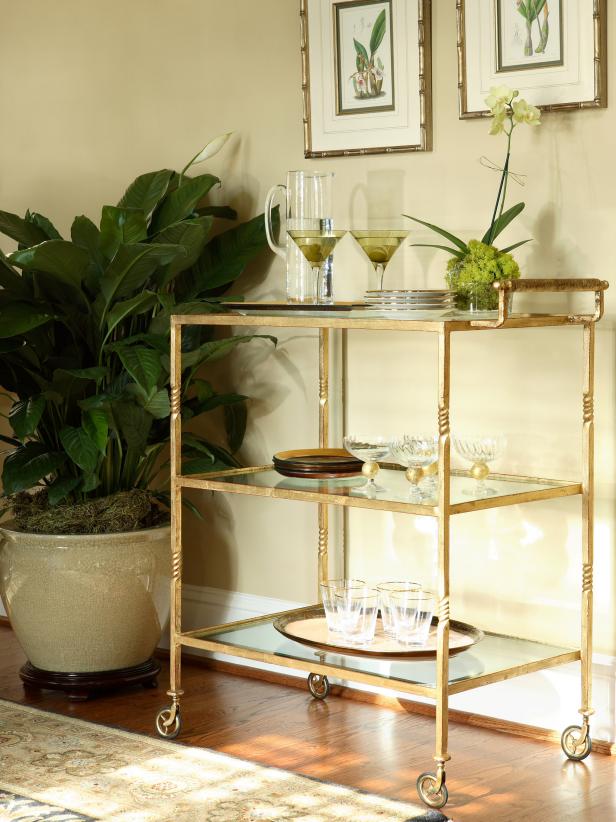 Gold Bar Cart With Glass Shelves
In this living room, a potted peace lily plant fills a dark corner next to an inviting, orchid-topped bar cart. The lush look comes together with botanical prints in bamboo-style frames on the wall.
In this living room, a potted peace lily plant fills a dark corner next to an inviting, orchid-topped bar cart. The lush look comes together with botanical prints in bamboo-style frames on the wall.
Peace lilies like a consistent temperature from 65 to 80 degrees Fahrenheit. Protect your plant from drafts and cold or drastic changes in temperature. So, maybe don't place yours by a door that opens out into the cold winter air.
In spring and summer, use an organic houseplant fertilizer to help your plant bloom. Keep in mind that peace lilies are sensitive to chemical fertilizers, so organic options are best.
Peace lilies like to be watered a lot at once, but also need a chance to dry out afterward. The plant will droop a bit when thirsty, telling you when it needs a drink. If you pay attention to when it usually starts to sag, you can plan to water one day before it generally happens. Watering about once a week and spritzing leaves with water throughout the summer will help keep your peace lily hydrated. If your plant seems to completely droop, don't give up — water and spritz and give it a chance to revive. If your water is chlorine-heavy, let a container of water stand overnight before watering the plant.
Peace lilies are susceptible to root rot, so it's very important to make sure the plant has a chance to dry out between waterings and that the container it lives in drains well. Choose a container with drainage holes and place a saucer under to catch water that drains out. If your plant starts to wilt, check the roots to make sure they are firm and light-colored rather than soggy. If they're soggy, you're overwatering or the soil isn't able to drain.
When your plant's roots show or your peace lily seems to be drinking up all its water within a few days, re-pot into a larger container. Your plant may need to be gradually moved into larger and larger containers, but generally peace lilies won't need to go into a pot larger than 10 inches.
Expect your peace lily to show off its familiar white blooms in the spring. (Technically, the bloom isn't a flower, but a bract, or modified leaf, just like a poinsettia.) Some very happy plants may bloom again in fall. After your bloom fades, you can remove spent blooms by cutting off at the base of the blooming stem. The plant won't bloom again in the same spot.
Peace lily caretakers typically encounter few problems, but potential ones on the list include small pests like spider mites and aphids as well as yellowing or browning leaves. For pests, wipe leaves clean and then spray with an insecticidal soap. If leaves are yellow, it may signal the plant is getting too much light. If they're browning at the tips, the plant may be getting too much water or fertilizer.
Peace lilies are mildly toxic to animals and humans, so keep away from small children and pets, and wash your hands after handling your plant as it produces crystals that can irritate skin.