How to Grow and Care for Bougainvillea
Nothing adds drama like a briliantly colored bougainvillea vine climbing up a wall or over an arbor. Here's how to plant and grow this tropical favorite.
Bougainvillea is a vibrant, blooming vine that climbs on trellises at seaside resorts and desert retreats from San Diego to Miami. If you need a tough, tropical with oceans of color that can stand up to heat and drought, bougainvillea's your plant.
Bougainvillea is tough as nails, fast-growing, and puts on a spectacular show of color year-round. These vines are flowering machines that look great climbing a wall, sprawling as a groundcover on hillsides, or pruned and grown in containers. Here's what you need to know about growing bougainvillea.
Bougainvillea is native to Central and South America and commonly cultivated in South Florida, Arizona, South Texas and Southern California. Established vines can withstand a light frost, but you'll need to bring them indoors for the winter in places where the temperatures drop below 25 degrees.
Valuable Vines
Vines such as bougainvillea can add privacy to your porch or romance to an arbor. The right vine makes any garden special.
Bougainvillea vines are fast growers and have stiff stems with thorns covered in heart-shaped leaves. Their vines can grow up to 40 feet tall with support. Low-growing, shrubby varieties only get a few feet tall and can be grown in containers.
Bougainvillea blooms come in purple, red, orange, white, pink and yellow. But those blooms actually aren't blooms at all. The paper-like structures are a modified leaf called a bract that hides bougainvillea's true flowers: small, trumpet-shaped blooms of white and yellow.
Botanical Name: Bougainvillea
Common Name: Bougainvillea
Bloom Time: Year-round
Hardiness Zones: Perennial in Zones 9 to 11 and can be grown as an annual in colder areas
Bougainvillea needs lots of sun. Plant one in a shady spot and you won't get the riot of blooms — the whole point of planting bougainvillea. You'll get vines and thorns. It needs at least six hours of sun per day.


The soil must be well-drained soil. They don't like to remain wet for too long and can get root rot in heavy soil. They like gritty, loose soil.


Handle the root ball with care. Bougainvillea roots are thin and can be easily damaged during transplanting.


Water after planting and then weekly until the plant is established. Once it's established (which generally takes one to two years), stop watering it except in times of extreme drought. Bougainvillea likes it dry.
Prune your plant throughout the year, but especially in the late winter before the new growth cycle.

For best bloom, trim all branches back to 20 feet or less. Bougainvillea blooms on new growth, so you can prune after each bloom cycle.


Pinch off the ends of vines that are about to bloom. You'll get a denser display of bracts.


If you're getting regular rain once the vine is established, you don't need to water. Bougainvillea likes it dry. It prefers a good, deep watering every three or four weeks to frequent shallow waterings. Give a bougainvillea too much water and it can get fungal diseases and root rot.


Bougainvillea blooms better when kept on the dry side. Too much water will give you lots of green growth and fewer flowers. Keep it dry.


Cold is a problem. These tropicals don't like to go below 30 degrees. They can withstand one or two nights of a light freeze but anything more and they'll die. Established vines can stand up to a periodic cold snap better than recently planted ones.


Don't fertilize it. This tough plant doesn't need it. But do feed the soil around it with compost. A 3-inch layer of compost in the spring is plenty. If you must fertilize, use a palm and hibiscus food.
Taller growing bougainvilleas need support or they'll be groundcover. Since they are twining vines and don't have tendrils to attach themselves to walls, you'll need to tie them up. They can be trained on a trellis, over an arbor, on a fence, or on a structure. Use strong ties and tie them well, because bougainvillea branches can be heavy.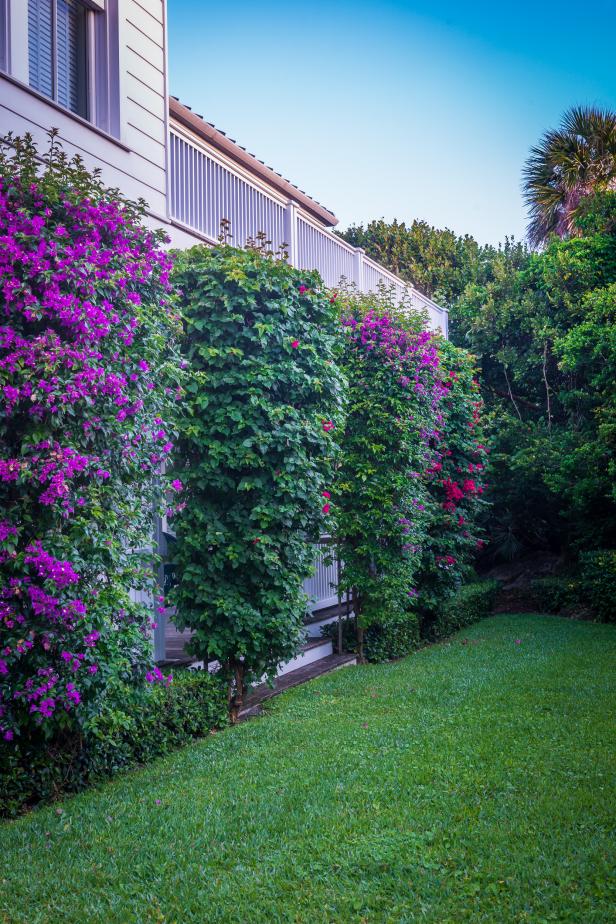 Pink and Purple Bougainvillea
Bougainvillea can be trained to grow on a trellises, over an arbor or on a fence.
Rob Cardillo Photography
Bougainvillea can be trained to grow on a trellises, over an arbor or on a fence.
The shorter, shrubbier types can be trimmed into hedges or topiary. Some people even train them as bonsai plants.
Growing Bougainvillea in Pots
If you aren't lucky enough to live in a place where it never freezes but you still want to grow bougainvillea, there's good news: Bougainvillea does great in containers. The vine actually blooms more when its roots are slightly crowded, so putting bougainvillea in a pot turns it into a flowering machine. When winter's chill arrives, bring your potted bougainvillea indoors and put it by a sunny window until warmth returns. Here's what you need to know about growing bougainvillea in pots.
Choose one of the shrubby, shorter varieties so it won't overwhelm the container. Some good choices include 'Vera Deep Purple,' 'Singapore Pink,' 'Crimson Jewel' or 'La Jolla.'


Use a well-draining potting soil that doesn't have a lot of peat moss. Peat moss retains moisture and may cause the bougainvillea to get root rot. A potting mix designed for palms or cactus is ideal.


Choose a container that has drain holes. Otherwise, you'll end up with a bougainvillea dead from root rot.

Pro Tip: Bougainvillea looks beautiful trailing out of a hanging basket.


If you want to put a trellis in the container with the bougie, do so when you pot it up. Putting one in later may damage the plant's roots, which are thin and shallow.


Water the bougainvillea often enough to keep the soil moist until it's established. Once it's established, water only when the top inch of the soil is dry. Bougainvillea blooms more if the soil's a bit on the dry side.

Pro Tip: Bougainvillea prefers infrequent deep waterings to regular shallow waterings. Dump water on the plant until it runs out the holes in the bottom of the pot.


Make sure the pot of bougainvillea is in full sun. More sun = more blooms. The plant needs at least six hours of direct sun per day to be its floweriest.


Fertilize every two weeks during blooming season. Bougainvillea in pots is a heavy feeder. Use a water soluble plant food mixed at half strength to keep the flowers coming.
Bougainvillea is relatively disease- and pest-free, but sometimes it's vulnerable to the following:
Recommended Bougainvillea Varieties
'Afterglow' is a heavy bloomer with yellow-orange blossoms.
'Barbara Karst' is a popular selection and a vigorous grower with large clusters of magenta blooms all summer and fall. Climbs to 40 feet.
'California Gold' is one of the best performing yellow bougainvilleas. Climbs to 30 feet.
'Imperial Delight' has pink and white blooms in the summer and is one of the more cold-hardy varieties, hardy grown to Zone 9.
'James Walker' has red-purple blooms and blooms year-round in frost free zones.
'Moneth' or Purple Queen has deep purple blooms and can grow 15 feet tall if supported, 1-1/2 feet tall when grown as a groundcover.
'Sundown Orange' has bracts that begin deep orange, mature to salmon and fade to coral. Climbs 20 feet and can stand high heat.
'Bengal Orange' has pink-orange blooms and grows just 1.5 feet tall, or 6 to 8 feet wide if grown as a ground cover.
'Rosenka' has golden pink blooms and gets 1 to 2 feet tall and3 to 4 feet wide.
'Singapore White' or Miss Alice has white blooms and grows 2 to 3 feet tall. It's a thornless semi-dwarf that's tolerant of high heat and humidity.
'Helen Johnson' is a true dwarf bougainvillea, a hardy little shrub that stays under 3 feet and has hot pink blooms.
'Pixie', another true dwarf, grows in tufts of thick branches and is more shrub than vine. It stays under 3 feet and blooms in pink. Imported from the Philippines, it's often trained as a bonsai.