Terrifying Halloween Treat: Zombie Breakfast Rolls
Take this year's Halloween party to the next level with a terrifying treat that will bring some life to the undead.
We're sorry, there seems to be an issue playing this video. Please refresh the page or try again in a moment. If you continue to have issues, please contact us here.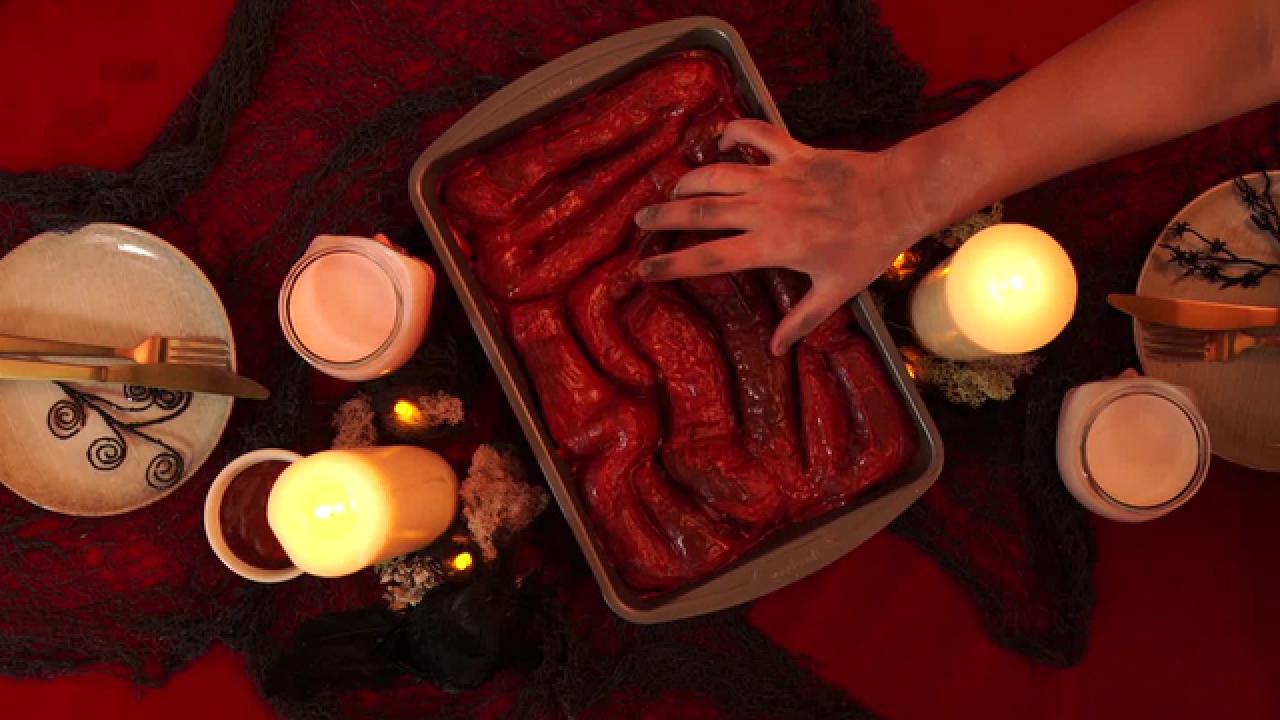 Hosting the perfect Halloween party is no easy feat. Unfortunately, all monsters have different needs. Zombies in particular have a very…specific diet. Luckily, everyone loves cinnamon rolls, so these gross-out guts are sure to be a crowd-pleaser.
1/2 cup sugar
1/2 cup brown sugar
2 tbs cinnamon
1 cup butter, melted
3 cans jumbo crescent rolls
plant-based red and blue food coloring
1/2 cup cream cheese
1 cup powdered sugar
1 tsp vanilla extract
2 tbs milk (more if needed)
Combine the sugar, brown sugar and cinnamon in a bowl and thoroughly mix. Unroll a can of crescent rolls on a cutting board and use your fingers to press and seal the perforated lines to create one large, flat piece. Coat the dough with melted butter and evenly sprinkle on the cinnamon-sugar mixture. Drizzle with more butter and roll up the dough lengthwise. Repeat this process three times, cutting the dough in half lengthwise to create smaller rolls for the small intestines.
Bend both the large and small rolls around each other in a pan to create the look of tangled intestines. Add two drops red food coloring and one drop of blue to the remaining butter and baste the top of each roll. Bake at 375 degrees for 25 minutes.
While the "cinna-guts" are baking, combine the cream cheese, powdered sugar, vanilla extract and milk in a mixer and mix until a thick, spreadable consistency is achieved. Add more milk as needed. Add a heavy dose of red food coloring to the mixture until icing is blood-like, then use a spatula to coat the cinnamon rolls thoroughly, making sure to work the icing into the crevices. Once coated, add a drop of blue food coloring to the remaining icing and spread this darker icing on top to add depth to the base layer of red. Just like that, you have a pan full of zombie-approved breakfast rolls that are sure to haunt the snack table!
More Frightful + Delightful Recipes
From sweets like cupcakes, candy and cookies to savory appetizers and dips, give your favorite fiends a real treat with these easy Halloween snack recipes that are sure to hit the spot.