Halloween Party Magic: Make a Wicked Wine Cauldron + Ghostly Garnishes
Channel your inner spellcaster to magic up a wine-dispensing cauldron along with tastefully terrifying (and delicious!) liqueur-soaked fruit garnishes.
plastic cauldron
box of red wine
large green grapes
apple, any variety
black raspberry liqueur
long bamboo skewers
drill, fitted with a large drill bit
utility knife or box cutter
grapevine wreath
string of orange mini lights
glass pie plate or shallow bowl
dry ice
tongs (for safely handling dry ice)
paring knife
chalk pencil or marker
bubble wrap or plastic grocery bags
We're sorry, there seems to be an issue playing this video. Please refresh the page or try again in a moment. If you continue to have issues, please contact us here.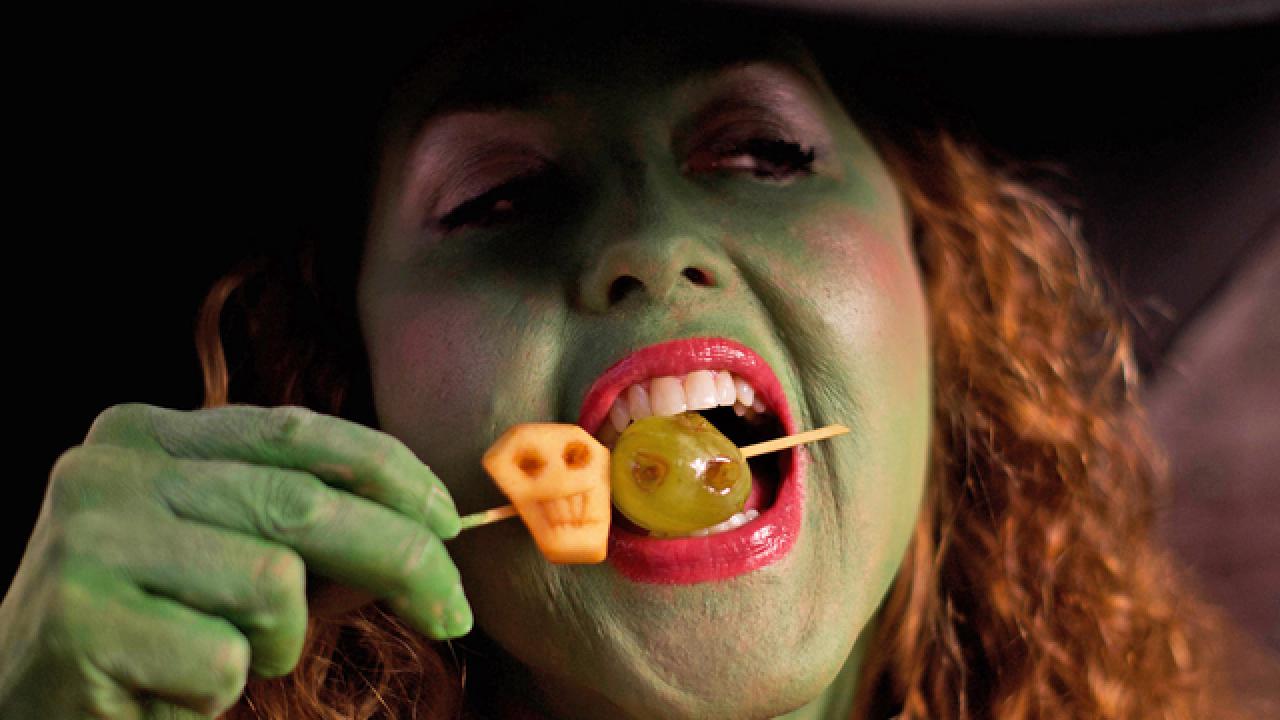 Wash and dry apple(s). Cut into long, vertical slices, each about 1/2" thick and discard the center cut containing the core. Cut away the sides of the apple slice to create a basic skull shape. Using a paring knife, and without cutting all the way through the apple, carve two eye holes near the top of the skull (Image 1), then carve in a grid pattern for the mouth (Image 2).
Wash and dry grapes. Using a paring knife, carve a pair of circular eyes, followed by an open mouth into one side of the grape.
Liqueur-soaked fruit is a delicious complement to red wine; soak overnight for maximum flavor (Image 1). Tip: Soaking in a colorful liqueur, like the deep burgundy hue we chose, highlights the faces' carved features and gives the fruit a ghastly appearance. Before guests arrive, slide 1 apple skull and 1 grape ghost onto bamboo skewers and display on a platter (Image 2).
Pop out the circular cardboard tab (for the tap) from the wine box and use it as a template to mark where you'll cut the cauldron. Using chalk, mark about 1/2" out from the cardboard template to ensure the wine spout can easily slide through. Using a drill fitted with a sharp drill bit, create a series of holes inside the marked circle, then connect the holes using a box cutter or utility knife and pop out the cut circle.
Remove wine bag from box, insert in cauldron and pull tap through hole (Image 1). Add bubble wrap, plastic shopping bags or a towel to fill in the remainder of the cauldron to ensure the wine bag stays upright so it can properly drain as guests fill their glasses (Image 2).
Create a flaming base by tightly wrapping the grapevine wreath with a strand of orange mini lights. Set cauldron on top of wreath, then top with a glass pie plate filled with dry ice and water (Image 1). Get our tips for safely handling dry ice. For dramatic effect, you can even add a small bit of dry ice to wine glasses but be sure to warn guests not to drink till the dry ice has completely dissolved (Image 2).
The self-service set up allows guests to help themselves while freeing you up to get your witch on and party like the undead.