Three Last-Minute T-Shirt Halloween Costume Ideas
Keep it casual this Halloween with these three easy-to-DIY T-shirt Halloween costumes.
For some, DIYing a Halloween costume for you or your child can be a daunting task, especially when you're short on time. Some ideas are just too involved and time-consuming, while most "last-minute" options seem too basic and uninspiring. These three super-cute Halloween costumes can be made quickly using T-shirts and basic crafting skills.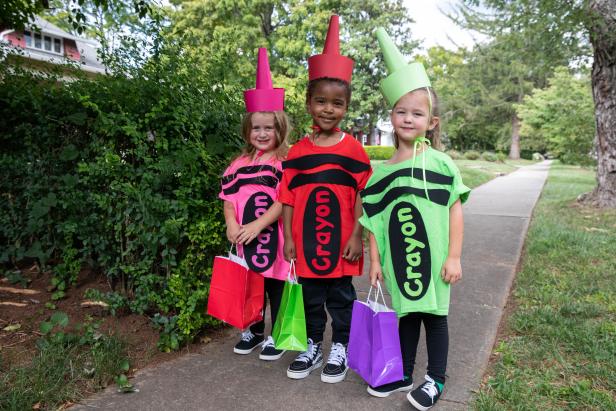 Three Crayon Halloween Costumes Made From T-Shirts
These three crayon Halloween costumes have been made using brightly colored t-shirts. Felt has been cut and glued to the shirts while card stock has been cut and glued to make crayon tip hats. The homemade costumes are the perfect last minute solution for Halloween.
To make this colorful ensemble, start with a brightly colored T-shirt and some thick black craft felt. Cut an oval out of the black felt, then cut the word "Crayon" out of craft felt similar to your T-shirt's color and hot glue to the black oval (Images 1 & 2). Once dry, hot glue the oval to the center of the T-shirt. Next, cut wavy strips out of the black felt and glue across the chest area of the shirt. To create a crayon-shaped hat, draw out an unfurled conical shape on a piece of brightly colored card stock, then cut it out using scissors. Roll up the cone and hot glue it in place. Trim with scissors if necessary, then place the large end of the cone on another piece of card stock (Image 3). Mark a circle that is slightly larger than the cone and cut it out using scissors (Image 4). Glue the circle to the bottom of the cone, then glue another strip of card stock around the rim (Image 5). To finish up, glue some brightly colored ribbon to fasten on the hat.
DIY Pineapple Halloween Costume Made From a T-Shirt
This DIY halloween costume is made from a yellow t-shirt that looks like a pineapple. The hat is made out of rolled up pieces of green felt and resembles the top of a pineapple. The last-minute homemade costume is the perfect solution for Halloween on a budget.
On a bright yellow T-shirt, draw several upside-down "V" shapes using a black magic marker (Image 1). Next, cut a spikey collar out of dark green felt and hot glue below the collar of the shirt. Set the shirt aside and pull out a few pieces of felt in various shades of green. Cut several strips out of the felt with one straight side and one jagged side (Image 2). Glue the strips together in a circle, layering the jagged edges at the top, to resemble the top of a pineapple (Image 3). To add a little realistic detail, use a pencil to curl the spikes. Paint a small disposable plate yellow and glue the felt pineapple top to it (Image 4). As a last step, glue the paper plate to a black headband and hold in place until dry (Image 5). Now you've got yourself the perfect pineapple costume.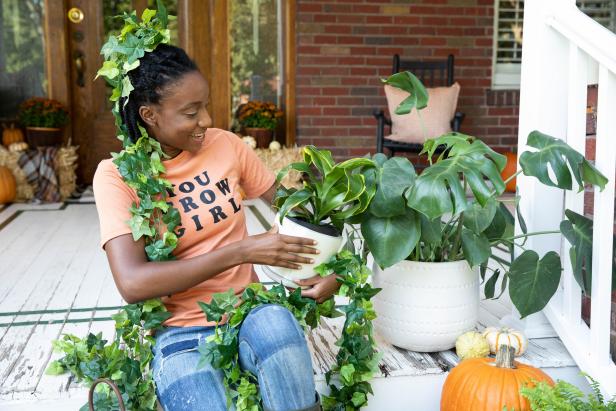 Houseplant Halloween Costume Made From a T-Shirt
This girl is wearing a houseplant Halloween costume made from an orange t-shirt. The shirt has been adorned with a clever saying on the front. The saying is made using iron-on letters. The costume is made complete with a leaf boa and a houseplant at the girl's side.
Lay a terra-cotta-colored T-shirt out on a flat, protected surface. Spell out the words "YOU GROW GIRL" in iron-on letters, place an old towel over top and use an iron to apply (Images 1 & 2). Once the letters cool completely, remove the paper backing (Images 3 & 4). This look is sure to flourish if you add a leaf boa and your favorite potted plant.