DIY Family Costumes That Are Out of This World
These space-centric family costumes have a cute factor that is otherworldly.
We're sorry, there seems to be an issue playing this video. Please refresh the page or try again in a moment. If you continue to have issues, please contact us here.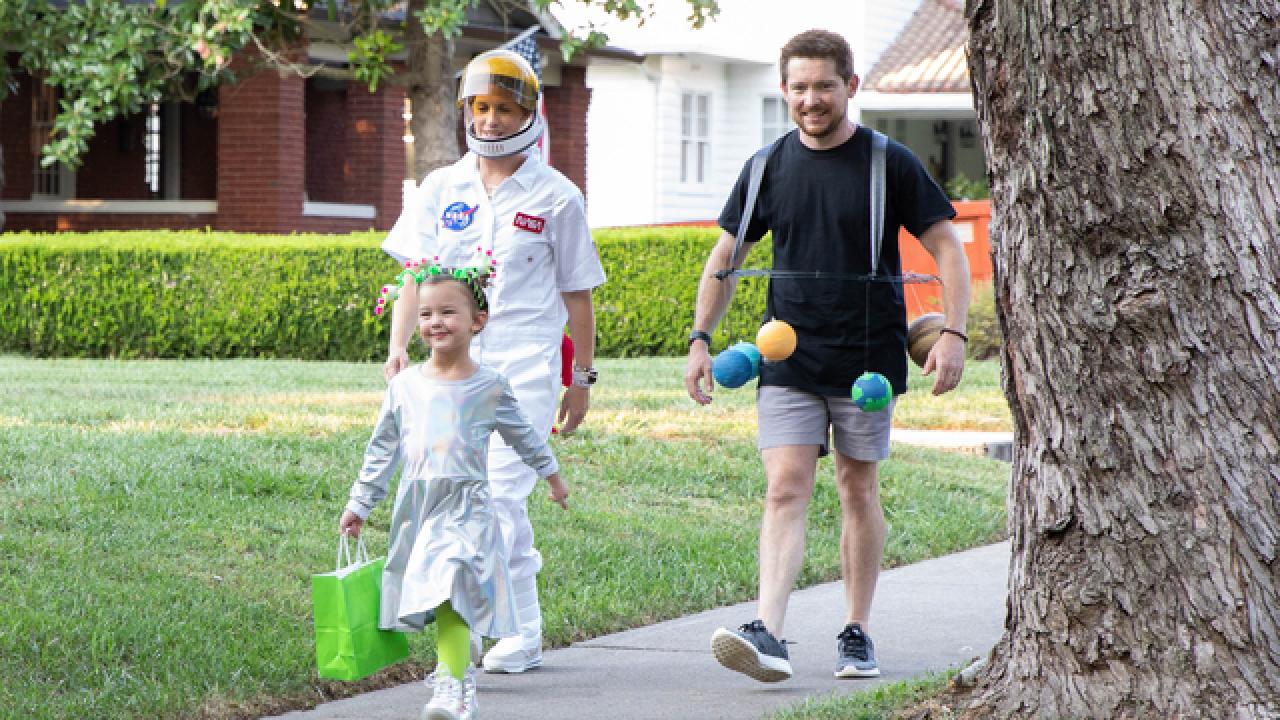 Looking for a DIY family costume that's out-of-this-world adorable but not rocket science to create? Try these galaxy-themed costumes. With minimal crafting supplies and beginner crafting skills, anyone can easily craft a solar system, astronaut and alien costume without launching their budget into orbit.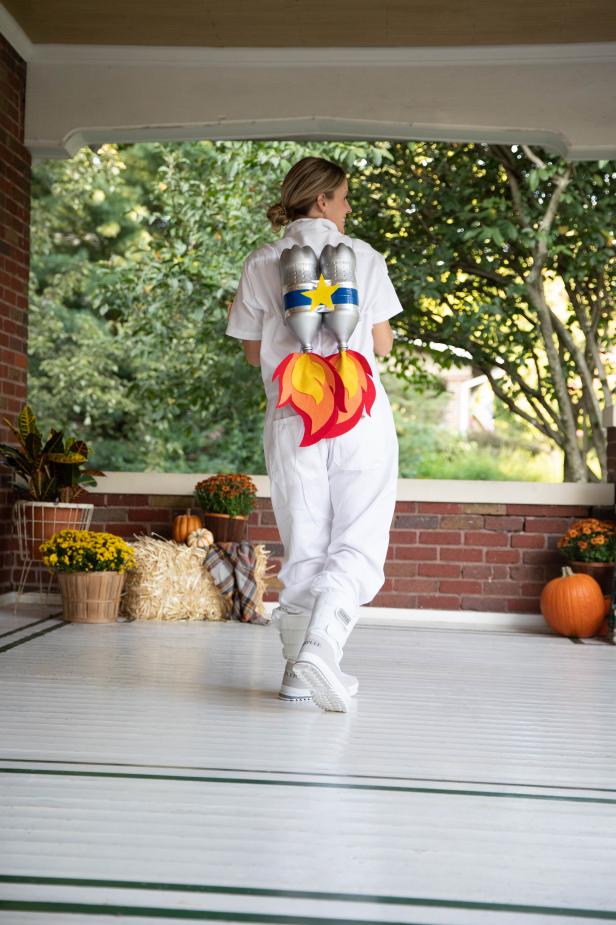 DIY Astronaut Halloween Costume With 2-Liter-Bottle Jetpack
This DIY astronaut costume is made using a white astronaut suit and a DIY jetpack. The jetpack is made from recycled 2-liter bottles that have been painted silver and decorated to look like rockets. Felt flames are glued to the bottom to make the jetpacks looks like they are flying.
The core DIY element in this astronaut outfit is the rockets. Start by painting two empty 2-liter bottles with silver paint and let dry. Use metallic duct tape to attach the two bottles around the area where the labels used to be, then finish off with contrasting blue duct tape in the center (Image 1). As a finishing aesthetic touch, cut a star out of yellow stick-on felt and place in the center of the blue stripe (Image 2). To make the rockets wearable, paint a piece of cardboard silver and punch holes in each corner. Slide string through the holes and tie off, leaving enough slack to wear like a backpack, then fasten the rockets to the cardboard using hot glue (Image 3). To finally light these rockets up, create flames using yellow, orange and red stick-on felt. Start by tracing a large flame on the red felt and cutting out with scissors. Place the cutout piece on the orange felt, trace it, and then cut a smaller version of the flame out. Repeat with the yellow felt. Once all pieces are cut, stick them together (Image 4). Squeeze hot glue into the opening of the bottle, roll up the end of the felt flames, and hold them in place in the opening until the glue sets (Image 5). You can blast this look to new heights by pairing with a white spacesuit, but some disposable painter's coveralls should do the trick without breaking the bank.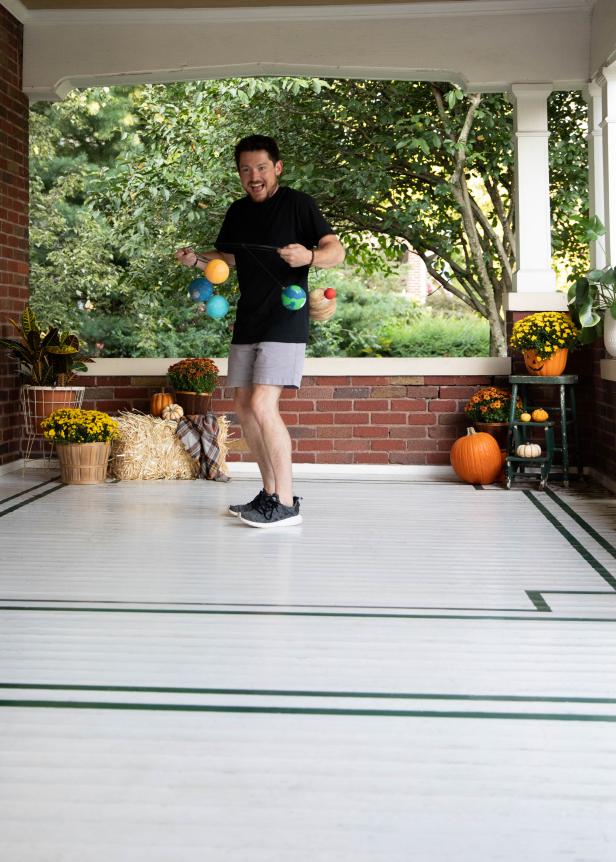 DIY Solar System Halloween Costume Made from Foam Balls
This DIY solar system Halloween costume is made from foam balls that have been painted to look like the different planets in the solar system, then suspended from a large floral wreath ring and placed on suspenders. The man wears a black t-shirt as the background.
Set your world in motion with this easy solar system suit. Start by buying varying sizes of Styrofoam balls and paint accordingly to represent each planet. For Saturn, use a Styrofoam ring and pair with a ball that fits inside. Use toothpicks to hold the two together. Screw plastic eye hooks into each planet, then fasten them to a large metal floral wreath frame using fishing line (Image 1). To don this solar system suit, simply tie ribbon suspenders to the wreath frame (Image 2).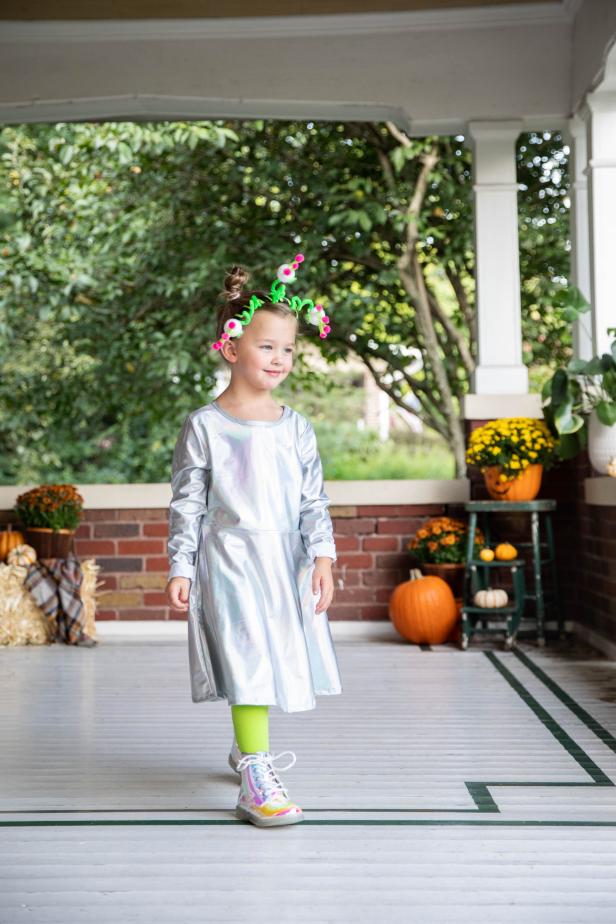 DIY Alien Headband With Silver Dress on Little Girl
This alien costume is comprised of a DIY alien headband with eyes paired with alien-like clothing items. A shiny silver dress and green tights help to complete the alien look. The costume is a super easy DIY that anyone can make for Halloween on any type of budget.
Don't forget about your little alien (or aliens)! Start by wrapping a plain black headband with bright-green mesh tubing and holding it in place with hot glue (Image 1). For the antennae, make eyes out of small Styrofoam balls. To do this, hot glue small segments of the mesh tube across the top of a Styrofoam ball, then top each one with a pink pom-pom (Image 2). Finish the eyeballs by gluing on a green googly eye. To fasten the eyeballs to the headband, use bright-green pipe cleaners. Wrap a few around each other for strength, then wrap around the headband on one end and poke through the eyeballs on the other (Image 3). For a more extra-terrestrial appearance, coil the pipe cleaners to give them a little spring. Pair the headband with a silver outfit and green tights to create the most magical Martian on the block.