Paper Bag Halloween Costumes 3 Ways
Save time and money this year by crafting these adorable paper bag Halloween costumes.
We're sorry, there seems to be an issue playing this video. Please refresh the page or try again in a moment. If you continue to have issues, please contact us here.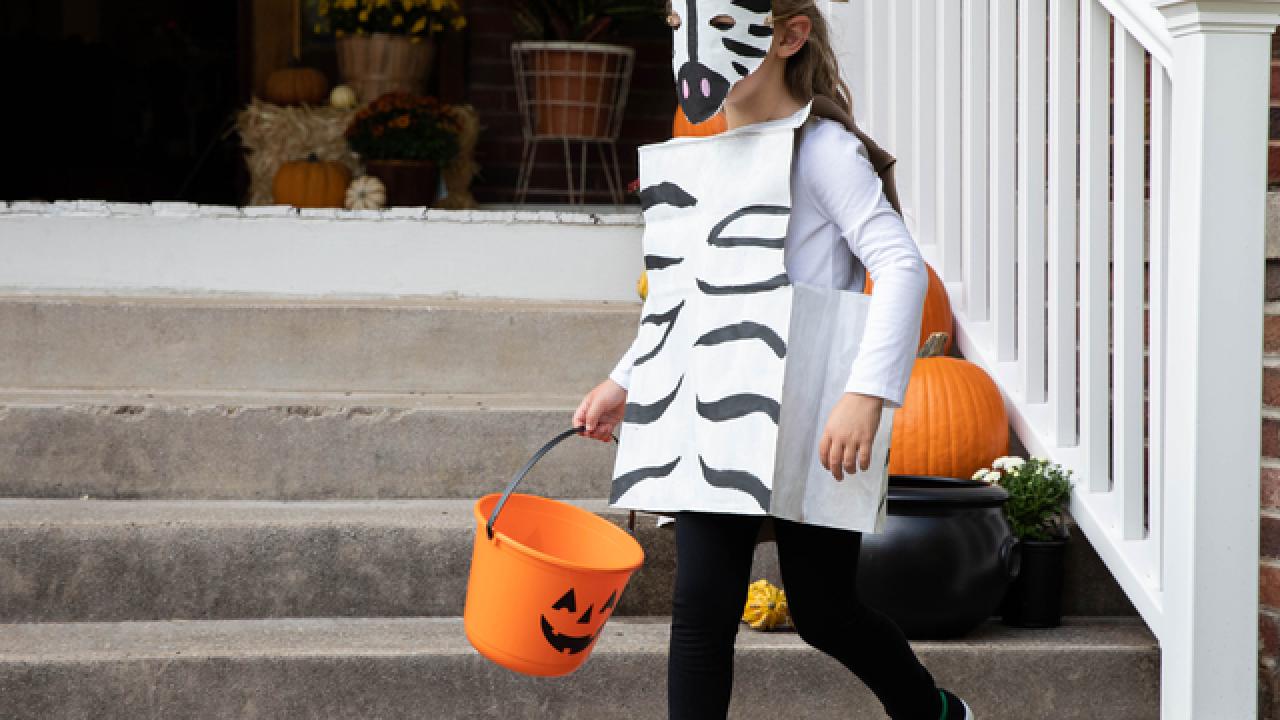 At some point, parents started buying Halloween costumes instead of making them. While we admit there are some pretty cool costumes available, nothing could be cooler (and more affordable) than a homemade costume. To make sure your child's Halloween goes off without a hitch, we've come up with three easy-to-make costumes crafted from paper grocery bags.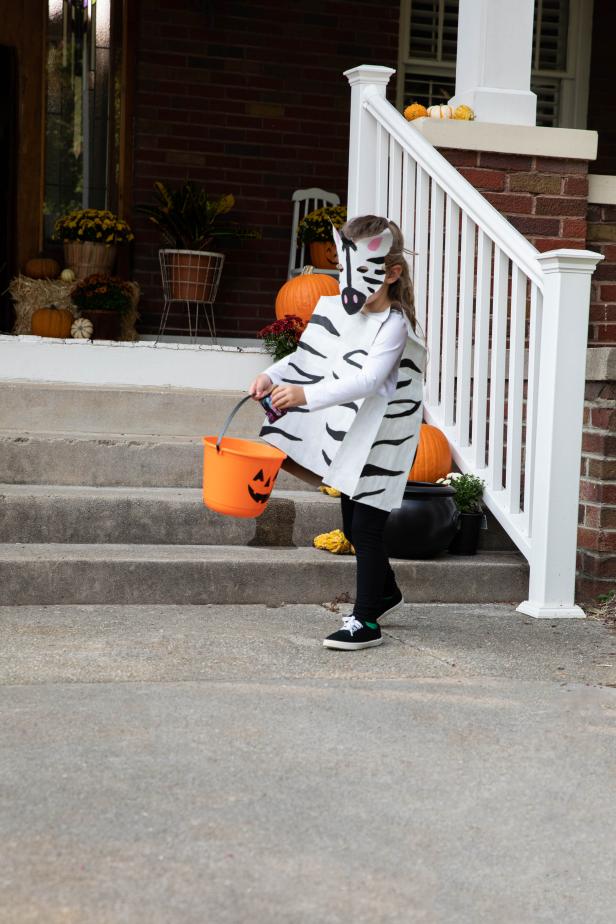 DIY Zebra Halloween Costume Made From Paper Bags
This zebra Halloween costume is made using paper grocery bags cut into a zebra mask and body and painted with black, white and pink paint to resemble the animals. This little girl is seen trick-or-treating in the DIY costume and carrying an orange pumpkin bucket.
Earn your Halloween costume-making stripes with this adorable zebra outfit. Begin by painting two large paper bags white (Image 1). Once dry, paint black zebra stripes on one bag and cut one hole on the bottom of the bag for a head and two on the sides for arms. Cut the second bag in the shape of a zebra head and paint to match the body. Use pink paint for the center of the ears as well as the two nostrils (Image 2). Once dry, use scissors to cut out eye holes (Image 3). Finish off the look by punching one hole on each side of the head to tie the mask on with twine (Image 4).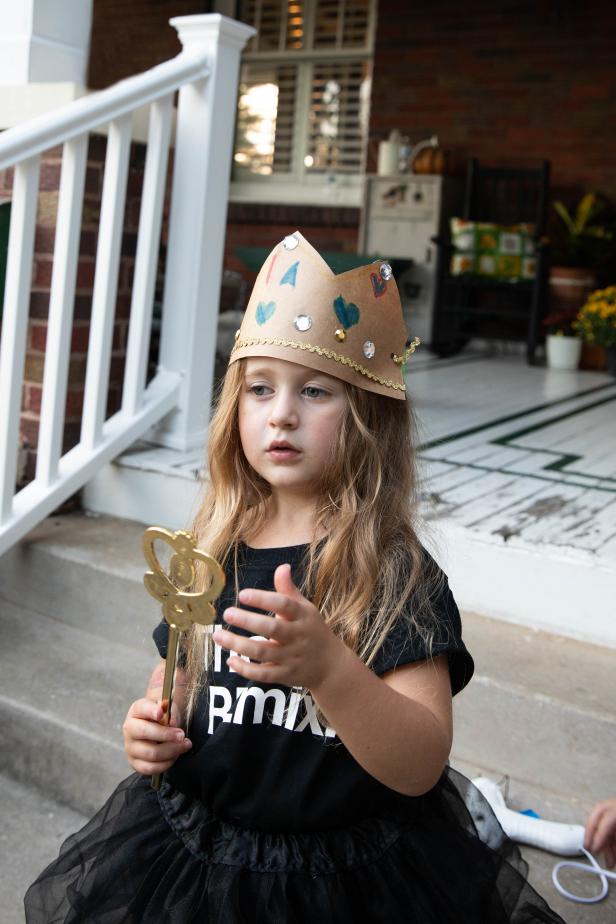 DIY Queen Halloween Costume With Paper Bag Crown
This DIY queen Halloween costume has been made using ordinary clothing and a crown made from a paper bag. The crown has been cut out using scissors and tied on using twine. It is decorated with stick-on jewels and marker drawings as well as other sparkling garnishes.
Every queen needs her crown, and paper bags are here to make it happen. To make a paper bag crown, simply cut a wide strip of paper out of the bag, leaving one side straight and cutting the other side into jagged points (Image 1). Punch a hole at each end of the strip to tie on with twine. For queen crowns, cut wider strips than for princess crowns, then let your kiddo get creative with the jewels and decorations (Image 2).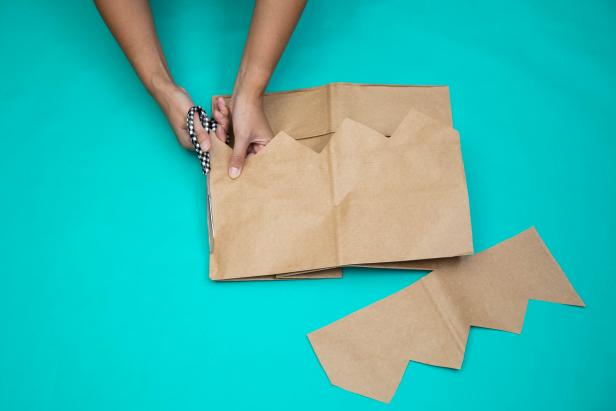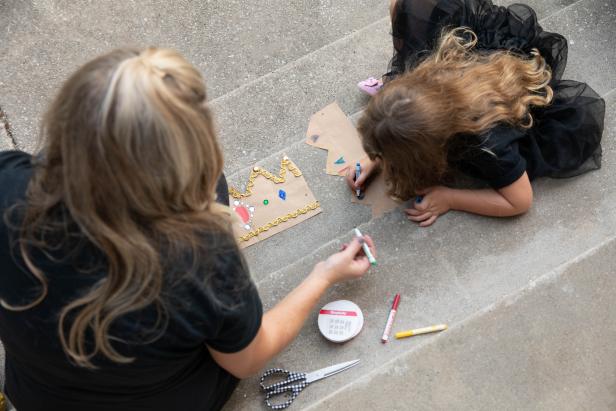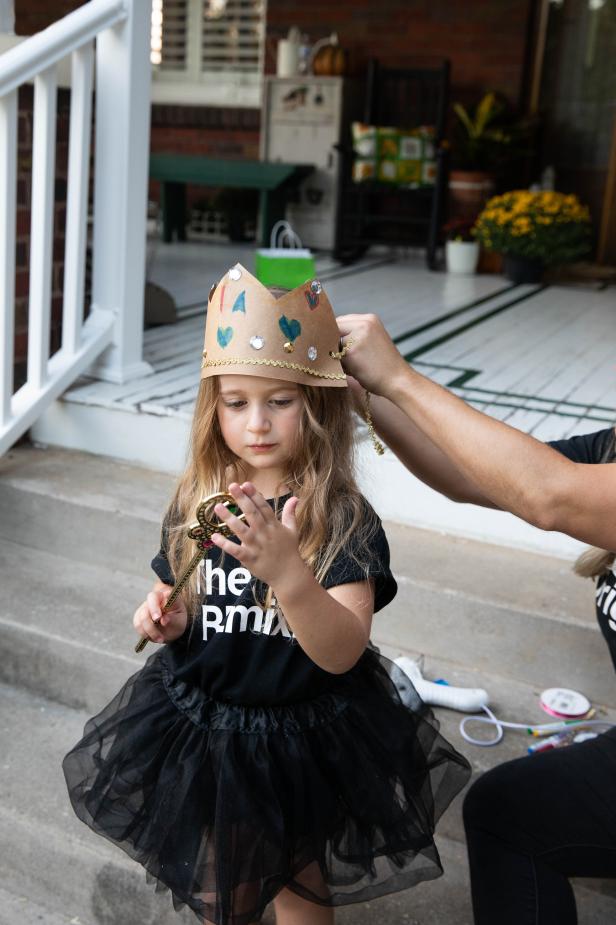 Paper Bag Crown Decorating With Stick-On Jewels and Markers
These crowns have been cut from paper grocery bags and decorated using stick-on jewels and markers. Other sparkling garnishes have been added to make the crowns stand out. The low-budget Halloween costume is quick and easy to create and requires ordinary clothing items to complete.
Queen's Crown Halloween Costume Being Tied On
This queen Halloween costume is being made complete with the addition of a paper bag crown. The crown was cut out of a paper grocery bag using scissors and decorated with stick-on jewels and markers to look beautiful on this little queen while she trick-or-treats.
Reel Cute Fisherman's Vest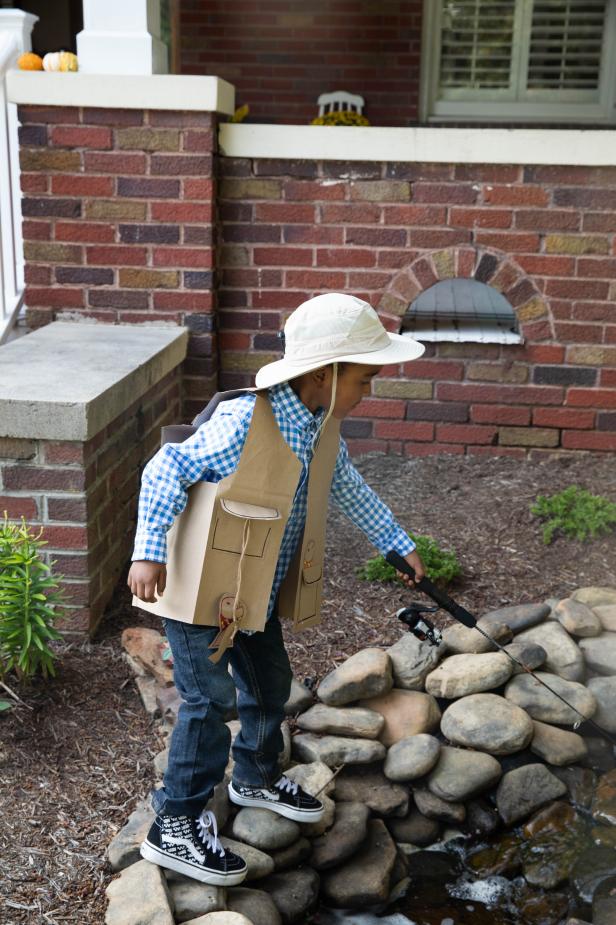 Fisherman Halloween Costume Made From Paper Bags
This little boy is wearing a DIY fisherman Halloween costume made completely out of paper bags. The vest has been cut out of a single large paper grocery bag and had paper fish and pockets glued to it. A fishing pole and fishing hat are added to complete the look.
Start by cutting a large paper bag in the shape of a vest. Keep it simple with two armholes, a larger head hole and a cut down the center of the front. Use a second bag to cut out pockets. This is as easy as cutting out rectangles and folding one side over (Image 1). Accent using a black marker, then glue the pockets on with hot glue (Image 2). With the remaining bag pieces, cut out fish shapes, then add in details using colorful markers (Image 3). Create a hole in the fish's mouth using scissors or a hole punch, then attach the fish to the pockets using twine and hot glue (Image 4). Take the costume one step further by adding a fishing pole and a hat.