How to Paint a Mudcloth-Inspired Pumpkin
Give your decorative gourds a globe-trotting look this Halloween with deep indigo paint and etched gold detail.
With their bright indigo color and hand-painted glam gold etching, these delicately-dressed gourds will stop your neighbors in their tracks. We're making a play on the shibori/mud cloth textile trend with unique pumpkins that will look sophisticatedly-chic on your front porch or dining room table!
pumpkin (real or faux)
navy blue spray paint
painters tape
serrated carving tool or citrus zester
liquid gold leaf
fine paint brush
Tape the stem of your pumpkin with painters tape and spray even coats of navy blue spray paint all over. Allow to dry fully before removing tape.
Using a serrated carving tool or fruit zester (anything with a sharp point really), etch out patterns down your pumpkin. Try combinations such as upside down V's and dots. Hatch marks are also inspired patterns for the Shibori look as long as they are repeated in a linear fashion. Don't worry about precision or cracking paint, these imperfections provide the perfect texture for that hand-dyed look!

Using a fine brush and liquid gold leaf, add gilding to your carved etchings.
Put Your Pumpkin on Display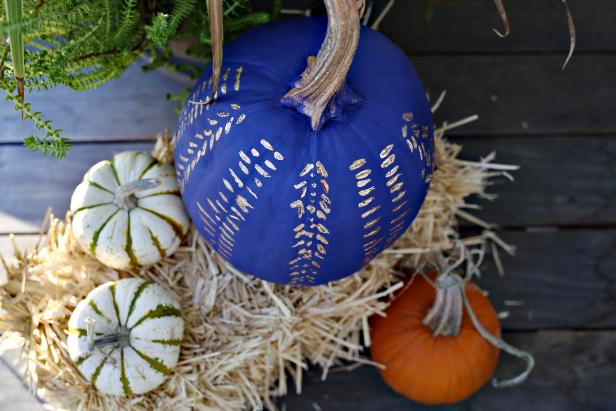 DIY Faux Copper Air Planter
Don't let those plastic straws end up in a landfill! When you're done slurping up your iced coffee, save your straws to make a few of these gorgeous faux copper air planters. P.S. - they make great gifts.
Allow gold leaf to dry and display indoors or out for a flameless look that is still on fire!
More Mudcloth + Shibori DIYs