3 DIY Pumpkin-Themed Yard Games for Fall Fun
Fall is finally here! Time to get outside and enjoy these autumn-approved yard games perfect for small Halloween gatherings, pumpkin patches or everyday family fun.
Depending on your location, fall can be the perfect time to enjoy your outdoor space. The scorching summer sun has settled down a bit and the fall foliage is beautiful. What better way to enjoy the backyard bliss than with a few fall-tastic yard games?
We're sorry, there seems to be an issue playing this video. Please refresh the page or try again in a moment. If you continue to have issues, please contact us here.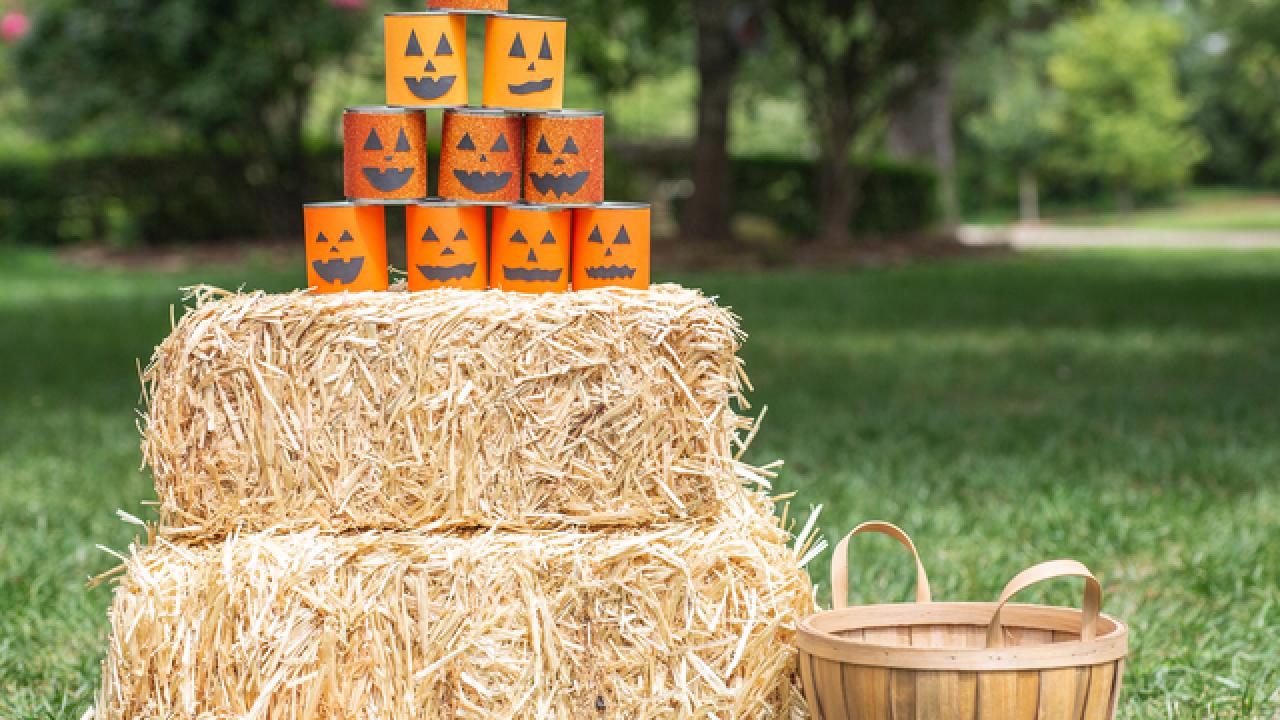 Perfect Pumpkin Tic-Tac-Toe
Pumpkin tic-tac-toe is like regular tic-tac-toe, except you use pumpkins instead of letters. To craft the perfect outdoor tic-tac-toe board, place decorative duct tape on your driveway or patio in a 9-square grid (Image 1). Use a straightedge to keep the lines even and equidistant (Image 2). For your game pieces, use faux or real mini pumpkins in orange and white to distinguish between the two teams.
Jack-o'-Lantern Tin Can Toss
To craft this classic carnival game, you'll need 10 equally sized tin cans. Measure the height and diameter of one can and use a sliding paper trimmer or scissors to cut 10 pieces of sparkling orange cardstock to size. If desired, sub in normal orange construction paper on a few to add texture and variety. Wrap the cardstock around each can and secure with hot glue. Once the cans have been wrapped, draw and cut traditional jack-o'-lantern faces out of black construction paper and hot glue the pieces to the cans. Stack some hay bales and place the cans in a pyramid at the top of the stack. Use orange and black bean bags to see who can knock down the whole stack first!
This oversized version of the classic college party game is reimagined for family fun. To set up the game, simply place 10 dollar-store candy buckets on the ground in a triangle (Image 1). Place rocks or sand in the bottom to help hold the buckets in place (Image 2). Standing about 6 feet from the first bucket, players take turns trying to toss a Ping-Pong ball into the buckets, removing one each time they score. The player with the most buckets at the end wins. Shake up the game by seeing who can get a ball in each bucket first or by placing higher points on specific buckets. The choice is yours!
From cakewalks to cake decorating and pumpkin carving to pumpkin painting, we've thought of games for every age to make your Halloween as freaky-fun as possible.