Warm Up With These Hot Cocktails From Cool Ski Bars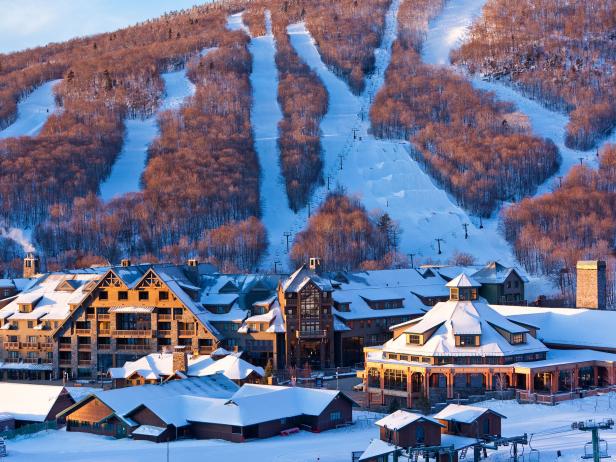 Ski Resort at Stowe Mountain, Vermont
The HGTV Dream Home 2011 is in the heart of Stowe's newest resort neighborhood: Spruce Peak at the Stowe Mountain Resort. At the foot of Spruce Peak and Mount Mansfield, the area is designed to be a four-season base camp for recreational activities, with ski lifts, restaurants, a golf course, a skating rink, tennis courts, a community pool and a performing arts center.
A day skiing or snowboarding is exhilarating fun, but after a few hours on the snow-covered slopes, you'll probably be in need of something to warm you up. Thankfully, there's a long tradition of après-ski cocktails served hot that is a comforting way to get the feeling back in your fingers, whether you've been schussing through the Alps or just trying to shovel your front walk.
Nobody knows how to make a tasty hot drink better than a bar in a ski town, where these tipples are a common order. So we asked three top mountain bars for a signature recipe, along with a few general tips for high-temperature mixology. This winter, you don't have to buy a lift ticket—or even go outside!—to warm up like you've just come off the slopes.
In Park City, Utah, the High West Distillery & Saloon claims to be the world's only ski-in distillery. And you definitely can ski in: The bar is in the center of downtown, right next to the bottom of a ski run called Quit'n Time. That slope lends its name to the bar's signature wintertime cocktail, which is simply a mix of one of High West's own tasty rye whiskeys and a spice-spiked house-made lemonade. Wade Williams has been tending bar at the saloon for six years, and he's made a lot of Quit'n Times. "In the wintertime, it's a very fun atmosphere. We are busy open to close. Lots of people come in right off the mountain," he says. "By 5 PM, we have a two-hour wait most nights!"
The key to serving a drink hot is that the balance of flavors is different from a drink served cold, Williams says. "With something hot, you can get away with some more rich flavors—drinks that might seem a little too sweet cold work pretty well hot." In the summer, for example, Williams serves a mix of the same lemonade and whiskey shaken over ice, and it contains more whiskey and less lemonade.

Quit'n Time Cocktail Recipe
Cocktail-loving skiers and snowboarders should definitely plan a trip to Jackson Hole, where The Rose offers some of the best mixed drinks not just in Wyoming but on the planet. The place is co-owned by Alex Day and David Kaplan, a pair of cocktail superstars who also run several of the other top bars in the country, including the famed Death & Co. in New York. One of The Rose's signature hot drinks is called the H8full 8. Created for a cocktail competition a couple years ago by bartender Jon "Hildy" Hildebrand when Quentin Tarantino's film of the same name was about to be released, it's become a fixture on The Rose's menu. "I'm a big Tarantino fan, and the movie is set in Wyoming, so it was a natural," he says. "The idea just kinda came from the fact that Wyoming winters are really tough and a great hot whiskey beverage is a great way to unwind. It's a play on the classic hot toddy that has little something extra in there."
Hildy's drink uses a pair of whiskeys and some seasonally appropriate apple butter, along with a reduced syrup made from pumpkin beer (the recipe calls for Uinta Brewing's Oak Jacked Pumpkin Ale, but any kind will do—Hildy says the darker the beer, the better). He also has a simple but critical tip for serving hot drinks: "Pre-heat the vessel! Make sure the mug or whatever container you're gonna put your drink into is heated up by pouring some boiling water into it while you prepare the cocktail. It keeps the drink warm for a significantly longer time than if you don't. It's the same idea as chilling your beer glass before pouring."
Now, we can't forget Canada! Our frozen neighbor to the north is home to great ski spots, too, along with plenty of nice bars to unwind in off the slopes. In Whistler, B.C., the Four Seasons Resort and Residences sits at the base of Blackcomb Mountain, and its bar/steakhouse, Sidecut, features no fewer than five winter warmers on the drink menu, all of which are also available in non-alcoholic "mocktail" form. Bartender Emily Ross created one of them, the Black Bear, which she calls "a real comfort drink, like a big hug." It uses a base of spiced rum and espresso, along with a pat of butter for richness. "We have a lot of guests ask for Hot Buttered Rum, but we'd never really had anything interesting to offer," she explains. To lighten that classic, she cut back a bit on the butter and added a shot of espresso, topping the drink with foamed milk to create kind of a cross between a hot buttered rum and a spiked latte.
The true secret ingredient to the Black Bear is Sortilège, a liqueur made from Canadian whisky and maple syrup. It's available in the US, though not terribly widely; thankfully, you can simply substitute your favorite Canadian whisky and a teaspoon of maple syrup if need be. Just keep everything nice and hot! Ross says guests love to order Black Bears while making s'mores outside in the resort's firepit, so it's important to make sure the coffee's very fresh and you serve the drink promptly after mixing.
Black Bear Cocktail Recipe
Here's the best part: With these three recipes, you can create the full apres-ski experience at home. No lift rides, waterproof jackets or towering mountain required!